The following is a summary of the conclusions of the fxempire.com weekly analysts' meeting in which we share thoughts and conclusions about the weekly outlook for the major currency pairs.
Here's a look at the top EURUSD drivers for this week.
Technical Picture: Bullish Momentum for the Pair And Underlying Risk Appetite
As expected, the EURUSD's weekly momentum mimics that of risk appetite as portrayed by the S&P 500. If you're unclear about why, see here.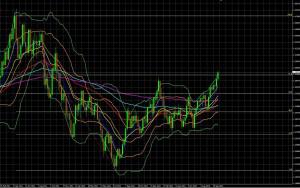 EURUSD Weekly Outlook October 29th: Bullish Sentiment Vs. Bearish Fundamentals, ECB Bank Tests

EURUSD Weekly Chart February 2011 - Week Ended October 25 2013
Source: MetaQuotes Software Corp, www.fxempire.com, www.thesensibleguidetoforex.com
03 OCT 271046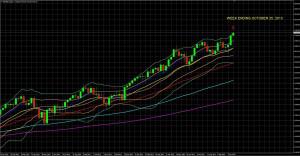 S&P 500 WEEKLY CHART JAN2012 - PRESENT
Source: MetaQuotes Software Corp, www.fxempire.com, www.thesensibleguidetoforex.com
02 OCT 270925
Basically nothing but entrenched long term uptrend that can withstand some dents without breaking
Both the index and EURUSD remain firmly in their double Bollinger band buy zone. See here for an explanation of the basics of double Bollinger bands and why they're so useful, especially when at historical highs and we've no support or resistance to reference (for the index). For the EURUSD the next resistance levels of note (for those with longer holding periods using this weekly chart)are the obvious round numbers around 1.38500, etc.
All EMAs trending higher, with shorter duration EMAs (the most sensitive and prone to change first) either layered above the longer term EMAs (in the case of the index) or getting there (in the case of the EURUSD) and crossing above the slower EMAs. Key: The 10 week EMA (dark blue), 20 week (yellow) 50 week (red) 100 week (light blue) 200 week (violet).
Fundamental Picture More Problematic For The Pair Consensus: QE Back On - But That News Is Already Out
The obvious big fundamental driver for the pair has nothing to do with EUR strength and everything to do with USD weakness, as the two normally drive each other in opposite directions. If you're unclear as to why that is seehere. That weakness stems from the consensus view that USD dilutive QE is back on, with little chance of any meaningful reduction (not just some symbolic start that maybe they'll discuss in March), until late in 2014. Sure, unemployment is at 7.2%, just 0.2% away from one of the Fed's metrics, but the official unemployment rate is the crudest and one least meaningful among the range of data the Fed watches (though it DOES make a nice easy headline number).
It can drop for the wrong reasons, like discouraged workers leaving the workforce altogether, or workers taking far worse jobs than what they had or are qualified for, etc. None of that shows up in the official unemployment rate.
With expectations so low for the USD, and EZ data and earnings no better than that of the US (actually a bit worse even without considering the dormant EU crisis, but never mind), we have to ask, where's the fuel for more relative USD weakness?
Could we see a further expansion of QE? That's not likely.
Perhaps not this week, but certainly going into next year, it's the ECB that's going to be looking relatively more dovish.
ECB Bank Stress Tests The Big Bearish Risk
As we wrote in our 2013 forecast, for risk assets to keep moving higher in 2013, we needed 2 things:
QE to keep working (and thus obviously be in place) unless the economy hit a self-sustaining recovery, which didn't seem likely. Global stock indexes and other risk assets had managed to climb higher without the support of the usual mix of improving growth and earnings (real earnings growth driven by growing sales not cost cutting or share buybacks) data.
No nasty black swan market crashing event that could stop the yield seeking QE cash from flowing into stocks and other risk assets. The most likely such event, we believed (and still do) would be a new outbreak of EU crisis, because while the EU crisis remains dormant, there has been no meaningful progress in fixing it.
US and German leaders facing elections did not encourage confronting thorny issues about who pays the bills coming due, how much sovereignty has to be sacrificed for the sake of centralized budget controls, etc.
Therefore it's not surprise that only now, with German elections out of the way and Ms. Merkel safely back in power (now if she can just secure her cell phone from those pesky American spooks) the first real attempt to return to messy task of fixing the EU and distributing the pain
The first real attempt is due to begin in November, as the ECB begins a long process of stress testing enough of the EU banking system to cover about 85% of assets held in it.
This is a necessary and positive step. However due the extremely controversial decisions that must ultimately be faced to make just this work, the EUR is likely in for some very volatile times, and there is a very real risk that the EU leaders will find, like their counterparts in Washington, that they really aren't able to do what needs to be done. Washington, (and ultimately the USD), unlike the EU and EUR, already DOES having a functioning currency union.
For details on just some of the challenges, see our recent post here.
The point is, November could begin to remind markets, rather quickly, how very much alive the EU crisis remains.
Coming Week's Calendar: Surprises Likely Bearish
As noted in our post on coming week market movers, there is plenty of EU and US data, as well as earnings reports, that are potentially market moving for the pair. However with so much USD weakness priced in, any surprises are likely to favor the USD and restrain the current uptrend in the very near term.
That said, the S&P 500 remains in a long term entrenched uptrend, and the EURUSD has been following it. We don't buck that trend until the markets tell us via a breakdown in that trend.
Meanwhile, if QE 3 is on and the EU crisis is quiet, that suggests a bullish bias for the pair until proven otherwise.
One Clear Lesson: That Currency Watchers Understand - Diversify Your Currency Exposure
While equities investors may have a harder time with this idea, anyone who is aware of what's happening with some of the most widely held currencies understands this much:
The Fed is back to creating $85 bln/ month to buy US treasuries and mortgages
Japan is committed to its own extended QE
The ECB is about to start stress testing banks, and correctly demands that the EU provide a "backstop mechanism" (aka money) to stabilize or close the insolvent banks they expect to find and guarantee at least a chunk of the deposits, bonds, etc. Will EU leaders hit voters for the money and risk losing their jobs, hit investors, depositors, and creditors, and risk a market crash, or will they ease the pain with printed money? Hmmm, now let me think….
The point is, anyone with most of their wealth denominated in or linked to the USD, JPY, or EUR needs to increase their exposure to currencies less likely to be debased and more likely to hold their value.
See here for details on a book designed to show how, using safe, simple methods that don't involve any more risk or complication than standard stocks or bonds.
Or, you could just trust these governments to protect the value of your money. You decide.
To be added to Cliff's email distribution list, just click here, and leave your name, email address, and request to be on the mailing list for alerts of future posts.
Disclosure/disclaimer: No positions. The above is for informational purposes only. All trade decisions are solely the responsibility of the reader.
Disclosure: I have no positions in any stocks mentioned, and no plans to initiate any positions within the next 72 hours. I wrote this article myself, and it expresses my own opinions. I am not receiving compensation for it. I have no business relationship with any company whose stock is mentioned in this article.