Introduction
Bring up the Apple Inc. (NASDAQ:AAPL) name in the world of investments and you will generally hear one of two very polarizing responses, either a skeptic scoff from the mouth of someone who claims to have foreseen the epic free-fall after the juggernaut's exponential rise, or a sense of smugness and safety, to the tone of blind faith, brought on by the absurd amount of cash on the company's balance sheet. I would like to offer a contrarian perspective, and will detail to you a more analytical approach somewhere in the between. I will explain to you why Apple is far too risky of an investment to justify the company's current market capitalization at approximately $462B, or roughly $508/s.
The Good
In many schools of financial research, Apple is touted as a model company, with a "fortress"-like balance sheet and outstanding financial statements. However, few look beyond the raw data on EPS and cash. Indeed, a careful examination of Apple's financial statements shows the jaw dropping amount of cash the company has earned. In the last three years, the company's income has grown from $27.68/s to approximately $40.04/s. In that same time frame, the company has accumulated only enough debt to buy back shares, and currently has grown from ~$85B in cash and equivalents with securities to ~$136B in cash and equivalents with securities. If your analysis stops here, only looking at the good side of things, then you see a rosy picture, however, I think there is more analysis to be done if we are to ascertain a true understanding of Apple's financial condition.
The Bad
The major risk I see in the Apple financials is not in the company's income statement or balance sheet, but in looking at the sources of the numbers in said financial statements. As we can see based on the following graphics, we can see the exorbitant proportion of Apple's business which comes from the company's line of iPhones and iPads, in both profit and revenue.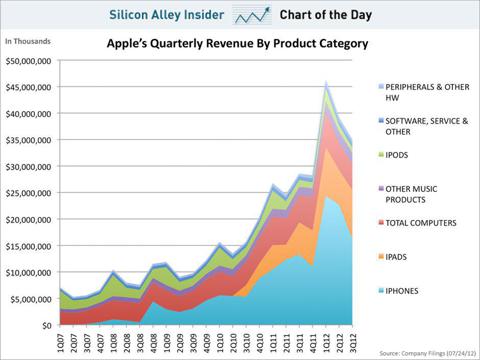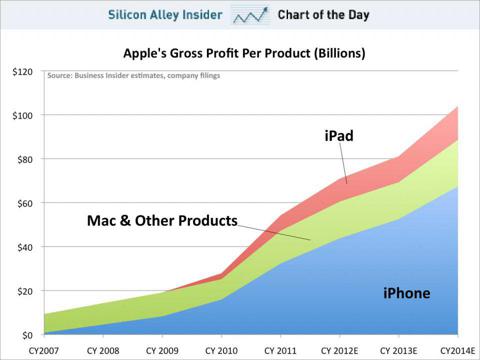 These products have proven exceptionally lucrative for Apple, however, one has to wonder how healthy it is for such weight in a company's future to be based off of one single product. That being said, the next logical step is to look at the trends.
The Ugly
The trends are unmistakable, and a simple look at year over year growth numbers will help to illustrate how dangerous this reliance on one or two products can be. The company's iPhone and iPad growth are showing signs of serious decline, with severe cuts in growth rates being marketed (sugar-coated) alongside "record" sales. This graph, courtesy of Business Insider, show a very unsettling picture of the future: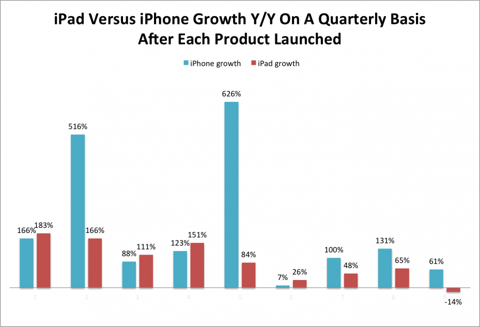 Oh, and what about the large cash hoard that continues to steadily grow, can I consider that my safety net if iSales plummet? While the company may have near $140B in cash and equivalents with securities, over 70% of that amount is held overseas and untouchable without paying some steep repatriation taxes. Furthermore, aside from this cash, the company has practically nothing on its balance sheet, save for a meager $27/s in property and plant assets. While the company has a large cash hoard, it doesn't have much else, and as a function of its share price this all sums up to be quite unimpressive at a price to book of ~3.7 (unimpressive sounding relative to the raw $140B in cash).
But as a technology company, this is all a non-issue, right? Using fundamental analysis of the balance sheet and income statement is second in importance to the high growth nature of the company's release of new products, right? Wrong, at least in this particular scenario.
The Invisible Elephant in the Room: Innovation is Dead at Apple (And Not Necessarily Because Jobs is Gone)
We can argue about the cutting edge technology that Apple pumps out in a variety of areas. Yes, the company sells Macs, has income from the iTunes Store, the iPod line, Apple TV and a myriad of sources, but considering the aforementioned reliance on two products, namely the iPad and iPhone lineups, I think that it is most relevant to consider what the company is doing in these two areas. To put this into context, with a 10-25% decline in iPhone and iPad profit, you would be looking at $5-20 less per share in earnings, a very scary scenario.
What made the iPad and iPhone the cream of the crop when they first arrived? I would argue that it was the impression, but not necessarily the reality, that Apple was the first in the market, the pioneer of the technology, and unequivocally the best in the business. Several years after the first iPhone and only three years after the first iPad's release, Apple is significantly behind (in the best case indistinguishable) its competitors in what it offers consumers. Looking at the comparison tables I have constructed will hopefully put to rest any confusion or disagreement on this topic. Details and specs were retrieved from the manufacturers' websites.
Flagship Smartphone Feature Comparison (Base Models)
| | | | | | | | | |
| --- | --- | --- | --- | --- | --- | --- | --- | --- |
| Model | Price (Unlocked, No Contract) | Screen Size (Pixel Density) | Processor | RAM | Storage (Base) | Camera | Battery (Talk Time) | "Unique" Features |
| iPhone 5s | $649 | 4 in (326 ppi) | Apple A7 2 Core 1.3GHz (64 Bit) | 1 GB | 16 GB (No Micro SD) | 8 MP Rear, 1.2 MP Front | 10 hrs | IOS & 64-Bit processor, build quality, fingerprint unlock |
| HTC One | $599 | 4.7 in (468 PPI) | 4 Core Snapdragon 1.7 GHz | 2 GB | 32 GB (No Micro SD) | 4 MP Rear, 2.1 MP Front | 26.2 | Beats quality double front speakers, build quality, Android, size, face scan unlock, price |
| Galaxy S4 | $605 | 4.99 in (441 PPI) | 4 Core Snapdragon 1.9 GHz | 2 GB | 16 GB (Micro SD Expandability) | 13 MP Rear, 2 MP Front | 17 hrs | "Swipe" feature and eye tracking, Android, size, face scan unlock |
| Nokia Lumia 1020 | $665 | 4.5 in (334 PPI) | 2 Core Snapdragon 1.5 GHz | 2 GB | 32 GB (No Micro SD) | 41 MP Rear, 1.3 MP Front | 12.5 hrs | Camera quality, Windows Phone 8 |
| Sony Xperia Z1 | $665 | 5 in (441 PPI) | 4 Core Snapdragon 2.26 GHz | 2 GB | 16 GB (Micro SD Expandability) | 20.7 MP Rear, 2.2 MP Front | 27 hrs | Build quality, Android, waterproof (with camera functionality), camera quality, Snapdragon 800, face scan unlock |
| LG G2 | $595 | 5.2 in (424 PPI) | 4 Core Snapdragon 2.26 GHz | 2 GB | 32 GB (No Micro SD) | 13 MP Rear, 2.1 P Front | 26.5 hrs | Vibrant display, Snapdragon 800, face scan unlock, Android, Price |
Flagship Tablet Basic Feature Comparison (Base Models)
| | | | | | |
| --- | --- | --- | --- | --- | --- |
| Tablet | Price | Display Quality (PPI) | Processor | RAM | Storage |
| Retina iPad Mini (iPad Air) | $399 ($499) | 326 (264) | Apple A7 64 Bit | Undisclosed (1 GB) | 16 GB (16GB) |
| Nexus 7 2013 (Nexus 10) | $229 ($345) | 323 (299) | Snapdragon Quad Core 1.5GHz (Dual Core Exynos 1.7 GHz) | 2 GB (2 GB) | 16 GB (16 GB) |
| Sony Xperia Z Tablet 10.1 in (Water Resistant) | $499 | 224 | Snapdragon Quad Core 1.5GHz | 2 GB | 16 GB |
| Amazon Kindle Fire HDX | $379 | 339 | Snapdragon Quad Core 2.2 GHz | 2 GB | 16 GB |
Smartphone Market Saturation
Apple no longer possesses competitive advantage in either marketplace, and at this point the only reason why consumers are purchasing iPhones and iPads is ignorance to the rest of the market, the perception that Apple remains the premier name-brand and as such deserves their purchase, or an honest and subjective love for the iOS environment. However, with the recent graphs showing the trends in iPad and iPhone sales, I would tend to argue it is ignorance to the rest of the market, and as more and more consumers realize the other options available, this problem can only get worse. Lastly, there remains one major threat to Apple's single most important product, the source of two-thirds of its profit and revenue.
It is getting more and more apparent that the high-end smartphone market is approaching a saturation point, and not just in the US, but worldwide. The following article details the growth slowdown in South Korea, and a glimpse at Apple's numbers reveals that the company experienced negative growth this year in China, with Cook admitting "it's not totally clear exactly what occurred." In the US, where significantly over half of the country's market has already been penetrated, the prospects for the domestic future of Apple are uncertain.

All of the above leads to a frightful conclusion, best illustrated by the following graph, that Apple is truly on the decline. Unless the company comes out with a truly revolutionary product that can create an entirely new market in the next 12-18 months before the saturation of the global smartphone market is fully apparent, the company's future (as far as shareholder returns go) is bleak. It will be a slow process, but an analysis that goes deeper than EPS and $140B in cash tells the startling truth.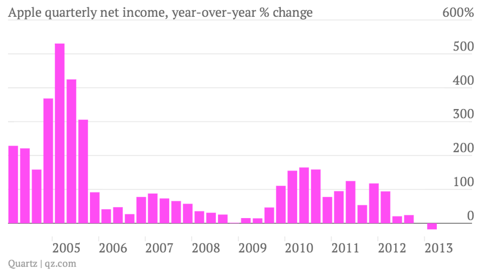 Alternative Strategies for the Smartphone Market: Qualcomm (NASDAQ:QCOM)
All this being said, there remains one strategy that could prove fruitful. In my previous article, I highlight a way for investors to get into the smartphone market via Qualcomm . The company has much more solid financials and a much safer business model. Measured on a ratio basis, the company is much cheaper than Apple to get into, with more bang for your buck.
Furthermore, while the smartphone and tablet gold rushes are approaching their apex, there remains significant opportunity in other price segments that Apple has already shown disinterest in pursuing, while Qualcomm and Snapdragon will continue to benefit from in terms of growth. As they always say, why prospect for gold when you can sell the shovels instead?
Disclosure: I have no positions in any stocks mentioned, and no plans to initiate any positions within the next 72 hours. I wrote this article myself, and it expresses my own opinions. I am not receiving compensation for it (other than from Seeking Alpha). I have no business relationship with any company whose stock is mentioned in this article.