Shares of Chesapeake Energy (NYSE:CHK) reached a new one-year high on Friday at $28.47 supported by a good earnings season that helped lift equities in a variety of sectors. Chesapeake Energy also got on the radar in August as Carl Icahn increased his stake in the second largest natural gas player in the US to 9.98 %. In addition, takeover rumors contributed to Chesapeake's strong performance recently. Mail Online reported on October 17, 2013 that Chesapeake Energy might soon be a stock-in-play as a potential acquisition target:
Billionaire US investor and corporate raider Carl Icahn recently increased his stake in Chesapeake Energy to 10 per cent. Dealers on both sides of the Atlantic are convinced that the man who began his career as a Wall Street stockbroker in 1961 is confident that the second largest natural gas producer in the US, which is heavily into fracking, will soon attract a foreign cash bid in the region of $40 a share.

Dealers heard that BP and Royal Dutch Shell (NYSE:RDS.A) could both be running the slide-rule over the Oklahoma-based company whose shares yesterday touched a 52-week peak of $27.67.
Buoyant equity markets rarely offer good deals for acquirers because of the risk of overpaying for acquisitions. Shareholders of target companies, however, can profit handsomely as acquirers pay substantial takeover premiums. In the case of Chesapeake I think those speculations are unrealistic and it is unlikely that the company will be a takeover target for BP, Shell or any other large-cap oil major for variety of reasons:
BP is currently preparing itself for ongoing litigation with regard to its Deewater Horizon Gulf of Mexico disaster back in 2010 and faces significant cash flow risk. The company is focused on managing oil spill costs and litigation expenses. Furthermore BP's shares are still down 27% from its pre-spill High of $60. Shareholders likely wouldn't support an acquisition that involves purchasing a US shale player worth $19 billion.
In 2012 Royal Dutch Shell purchased from Chesapeake Energy 618,000 net acres in the Permian Basin in West Texas. The move was intended to increase Shell's North American footprint. Low natural gas prices and cash flow pressures contributed to Chesapeake divesting those assets. Royal Dutch Shell and other major oil- and gas companies would probably be interested (if interested at all) only in select, high-prospect liquid projects rather than an all-out acquisition of Chesapeake Energy. As such, asset transactions would be a much more realistic option for large-cap companies seeking access to shale plays.
It is questionable whether other companies would want to acquire a target that has historically earned negative free cash flows (See Chesapeake's 2012 10-K). Low free cash flow profitability could be a major hurdle for an acquisition (Chesapeake has achieved negative free cash flows in four out of the last five years).
Chesapeake is a leveraged shale play with a heavy debt load of $13 billion which will need to be absorbed by any acquirer.
Ongoing consolidation in the E&P industry is likely to affect smaller capitalization players who can offer investors immediate production access in a concentrated location.
With Chesapeake Energy's shares approaching its five year High at around $35, a full-out acquisition at a premium price and at continued low free cash flows is not a bargain purchase. An acquirer would need even deeper pockets of cash in order to develop Chesapeake's portfolio assets (around 81% of estimated 2013 capital expenditures relate to drilling and completion).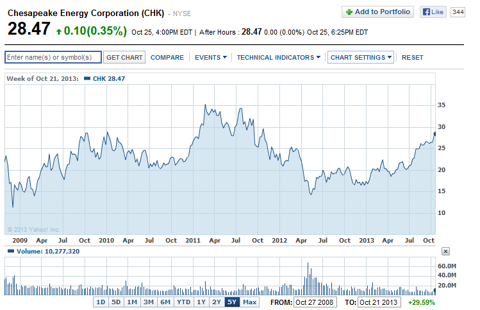 Conclusion
An all-out acquisition at this point seems not be the best deal an interested party could pursue. It is more likely that a company purchases select assets out of Chesapeake's oil and gas portfolio (if Chesapeake wants to sell chunks of its portfolio at all) that are quickly accretive to production and cash flow. A buy-out offer needs to deliver substantial value for shareholders and Chesapeake's low free cash flow profitability and premium price could prove to be deal-breakers. Investors should not act on rumors that name a $40 per share takeover price or any other price for that matter. Securities laws require involved companies to come forward with any material, non-public information that could affect the price of a security. Until then, rumors are what they always are: Not true.
Disclosure: I have no positions in any stocks mentioned, and no plans to initiate any positions within the next 72 hours. I wrote this article myself, and it expresses my own opinions. I am not receiving compensation for it (other than from Seeking Alpha). I have no business relationship with any company whose stock is mentioned in this article.