Reporting its third quarter results, Cabot Oil & Gas (NYSE:COG) delivered a fresh crop of "monster" Marcellus wells that further reinforce the productivity and consistency of the play's dry gas sweet spot in Northeast Pennsylvania. The results for the quarter also highlight a steady trend towards higher EURs per well.
Cabot provided results for 13 wells drilled on 4 different pads across the company's acreage position in Susquehanna County, Pa. These 13 wells were completed with a total of 272 frac stages and had a peak production rate of 323 MMcf/d, as summarized below:
4-well pad, total 109 frac stages: IP rate of 110 MMcf /d and 30-day rate of 90 MMcf/d.
3-well pad, total 68 frac stages: IP rate of 98 MMcf /d (online for less than 30 days).
3-well pad, total 50 frac stages: IP rate of 59 MMcf /d and 30-day rate of 57 MMcf/d.
3-well pad, total 45 frac stages: IP rate of 56 MMcf /d and 30-day rate of 52 MMcf/d.
Earlier this year, Cabot surprised the market by reporting a strong increase in its average EUR per well in the Marcellus to 14.1 Bcf, based on the results of its 2012 drilling program. Next February, when reporting 2013 results, Cabot will post another significant step up in average EUR per well. To date in 2013, Cabot's program has averaged three to four additional frac stages per well compared to the average of 17.7 stages in 2012. The ~20% increase is due to longer lateral lengths and tighter frac stage spacing, resulting in higher production rates and higher EURs. Assuming no change in productivity per stage, 2013 average EUR would be in the 16.5-17.3 Bcf range. However, the calculation may prove conservative. Given that Cabot has been continuously perfecting its frac design, productivity per stage may also surprise to the upside, as evidenced by the 13-well sample above.
The highlighted third quarter wells, on average, had an IP rate of 5.4 MMcf/d per 1,000 lateral feet and a 1.2 MMcf/d per completed frac stage, substantially above the 2012 averages (4.2 MMcf/d and 1.0 MMcf/d, respectively, as implied by the statistics on the slide below).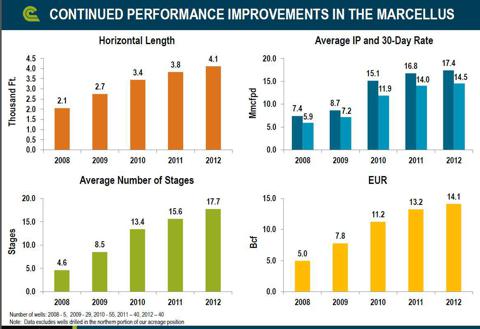 (Source: Cabot Oil & Gas September 2013 Investor Presentation)
While Cabot has not provided any specific EUR guidance, the company's commentary on the call last Thursday was very assuring:
There's nothing that we see right now that's going to deter us from our position that EURs will be higher in 2013 than they were in 2012.
For Cabot watchers who are familiar with the company's conservative guidance style, the comment should convey a great deal of information.
The progression toward longer laterals and more frac stages per well will continue for at least another two years, although at a slower rate. Cabot confirmed that it anticipates longer lateral lengths and more stages per well in its 2014 drilling plan compared to its 2013 program. Additionally, 2015 program will provide yet longer laterals and more stages. Barring deterioration in well productivity due to well locations outside of the most productive fairway, Cabot's average EUR per well has potential to approach 20 Bcf already during the company's 2014 drilling campaign.
While Cabot anticipates a moderate increase in well completion costs due to the increase in the number of stages (current cost per stage is less than $90,000, according to the company), total well cost will likely remain in the ~$6.5 million range. As a result, Finding and Development cost would fall to a staggeringly low ~$0.40/Mcf and drilling economics would show further improvement from the very attractive current level (slide below).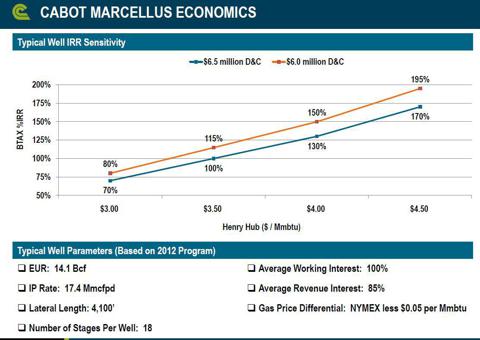 (Source: Cabot Oil & Gas September 2013 Investor Presentation)
What is the break-even natural gas price for a 20 Bcf well? The question is almost irrelevant. These wells are arguably the most economic natural gas wells, including both dry gas and liquids-rich gas plays, and therefore will be drilled irrespective of natural gas prices, as long as take-off capacity exists.
Driving the exceptional well productivity in Susquehanna is the confluence of several critical petrophysical attributes that characterize the geology in this area. The Marcellus Shale in this particular location is uniquely thick compared to the rest of the play (picture below). The rock is characterized by perfect thermal maturity, very low amount of connate water (water that is trapped in the pores of the sedimentary rock as it was deposited), and high brittleness that allows it to be extensively fractured. These factors result in very high recovery factors and confidence in sustained permeability throughout the life of the well. High initial production rates are amplified by relatively low decline rates that drive very high EURs. This makes this area the best spot for dry gas production, as far as reservoir quality, in the entire Marcellus play.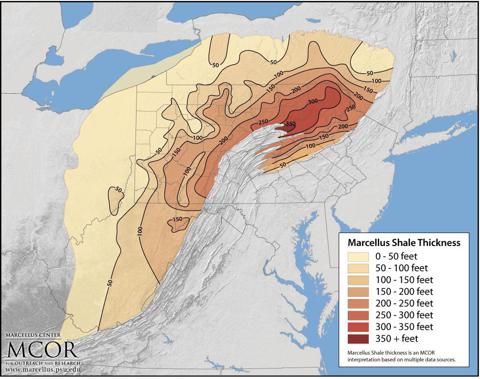 (Source: Marcellus Center for Outreach and Research, PSU)
Cabot is not the only operator blessed with the exposure to Susquehanna's generous geology. Chesapeake Energy (NYSE:CHK) and its JV partner Statoil (NYSE:STO) hold a significant position within the dry gas sweet spot in Northeast Pennsylvania (slide below). Chesapeake estimates that it has a total of ~100,000 net acres in what it calls the play's "core of the core" with expected EURs exceeding 10 Bcf per well (the green contour on the map below).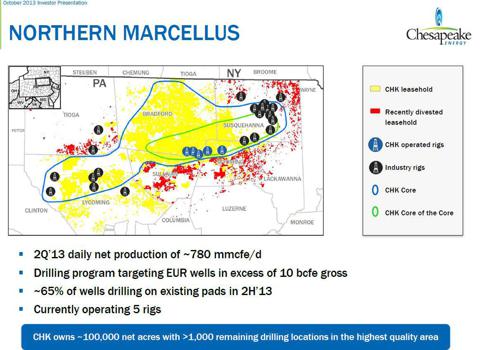 (Source: Chesapeake Energy's October 2013 Investor Presentation)
Southwestern Energy (NYSE:SWN) is the third operator with acreage within the super-productive sweet spot that has already been proven by well results. Southwestern's acreage position (shown in yellow on the map below) encircles the center of the sweet spot which is dominated by Cabot on the right hand side and Chesapeake on the left hand side. So far, Southwestern's best wells appear to be in its Range Trust and Greenzweig areas. SWN is yet to prove up large tracts of acreage that it recently acquired from Chesapeake. While Chesapeake's map implies that the acreage it divested lacks the "core of the core" characteristics, positive surprises certainly cannot be ruled out, at least for portions of the acreage. In the event the sweet spot proves to have a wider contour than already established with existing wells, Southwestern may end up endowed with a significant super-productive drilling inventory in the area.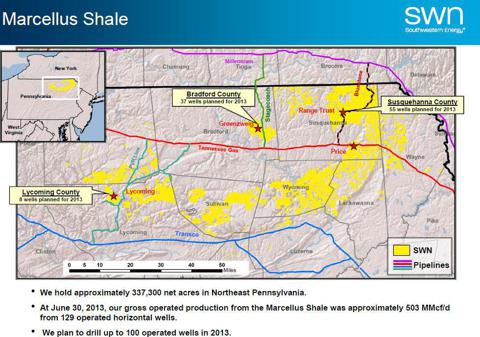 (Source: Southwestern Energy's August 2013 Investor Presentation)
So far, Southwestern's best wells have come reasonably close in productivity to Cabot's: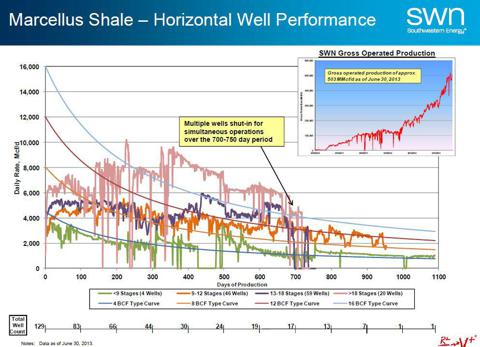 (Source: Southwestern Energy's August 2013 Investor Presentation)
The strong initial test results from Cabot's Reilly Pad (map below) which is located by Susquehanna's eastern border, is highly encouraging and gives hopes that a significant portion of Southwestern's acreage may also be highly productive in that area.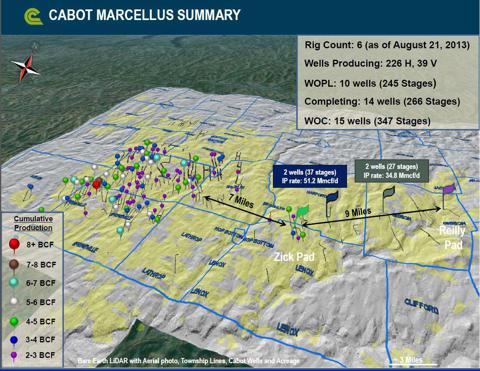 (Source: Cabot Oil & Gas September 2013 Investor Presentation)
Carrizo Oil & Gas (NASDAQ:CRZO) and WPX Energy (NYSE:WPX) also have acreage in Susquehanna, however, their well results have lagged far behind the top three operators'. While geology is the primary differentiating factor, the weaker results may also be attributable to differences in well and completion designs.
Motivated by 100%+ returns, Cabot is accelerating its drilling program. The company's gross Marcellus production volumes have recently achieved a record gross production rate of 1.3 Bcf/d. The company has added a sixth rig to its drilling program in August and has announced the addition of a seventh rig in early 2014. The company expects to drill 130 to 140 net wells in the Marcellus Shale in 2014. Assuming average EUR of 20 Bcf per well, the company will develop 2.6-2.8 Tcf of reserves next year alone.
The company reiterated its 30%-50% production growth guidance for 2014, following the 60%+ year-on-year growth reported during Q3 2013. In light of the very material expansion of the company's drilling program - from five rigs to seven rigs, combined with a substantial increase in rig productivity and the average number of frac stages per well - the company's guidance may prove very conservative. With the addition of the Constitution pipeline, Cabot's Marcellus volumes growth should continue unabated in 2015.
Southwestern may also discover that it has under-promised on its volumes growth and achieve its target production rate of 800 MMcf/d much earlier than its initial 2018 plan. Again, a lot will depend on Southwestern's ability to put in place gathering infrastructure and secure off-take capacity for its volumes.
Total production from the compact "core of the core" area in Northeast Pennsylvania is rapidly approaching 3 Bcf/d, which is approximately equal to production from the entire Fayetteville Shale. However, recent well results confirm that substantially higher production volumes can be sustained over a long period of time. In fact, highly economic production volumes from the dry gas sweet spot may double from its current levels in two-three years, driven by off-take solutions that are currently being discussed.
Disclaimer: Opinions expressed herein by the author are not an investment recommendation and are not meant to be relied upon in investment decisions. The author is not acting in an investment advisor capacity. This is not an investment research report. The author's opinions expressed herein address only select aspects of potential investment in securities of the companies mentioned and cannot be a substitute for comprehensive investment analysis. Any analysis presented herein is illustrative in nature, limited in scope, based on an incomplete set of information, and has limitations to its accuracy. The author recommends that potential and existing investors conduct thorough investment research of their own, including detailed review of the companies' SEC filings, and consult a qualified investment advisor. The information upon which this material is based was obtained from sources believed to be reliable, but has not been independently verified. Therefore, the author cannot guarantee its accuracy. Any opinions or estimates constitute the author's best judgment as of the date of publication, and are subject to change without notice.
Disclosure: I have no positions in any stocks mentioned, and no plans to initiate any positions within the next 72 hours. I wrote this article myself, and it expresses my own opinions. I am not receiving compensation for it (other than from Seeking Alpha). I have no business relationship with any company whose stock is mentioned in this article.