Wal-Mart (NYSE:WMT), the gigantic international retailer, has had a shaky time in the middle of this year. News of the dissolution of its partnership in India and its worse than expected results in the prior quarter have created a rough year for the retailer. Added to this, the recent government shutdown will likely have a strong impact on the coming Q3 earnings due November 14th.

Q2 2014 (April 27 - July 26, 2013)
Wal-Mart disappointed investors with its most recent quarterly earnings result. While EPS only lagged estimates by a penny at $1.24, the overall comparative store sales figure showed a 0.3% decline and a slowdown in store traffic in the U.S. operations, its bread and butter. Overall U.S. sales grew at a pace of 2.1% including new stores and International operations showed growth of 2.9% resulting in total sales growth of 2.4% including Sam's Club operations.
Operating income margins increased in the U.S. from 7.79 in 2012 to 8.0% in the quarter, while international margins slid from 4.6% to 4.4%. In that same time, Wal-Mart's shareholder returns program returned $3.4B in dividends and share repurchase.
Store Count Growth and International Expansion
As shown below, its U.S. store count has grown at an average pace of 1.9% over the last 5 years. On the other hand, the international segment added stores at an average rate of 14.5%, though many of these were fueled by international acquisitions.

While the international growth in itself is a positive factor, Wal-Mart has not been fully successful with its International ventures. The pinnacle of this is the expansion into India with Bharti Enterprises through the Joint Venture Bharti Wal-Mart Private Limited, which has built 20 stores since it was formed in 2007. The joint venture was dissolved in the current year and since the dissolution, Wal-Mart has found itself in some legal problems with Indian regulations regarding small supplier sourcing and foreign investment rules.
This has thrown a wrench in Wal-Mart's plans to open hundreds of stores in India over the next couple of years. This expansion is starting to resemble the company's prior failed ventures into Germany and South Korea, where its unique style did not catch on and resulted in full withdrawals in 2006.
Wal-Mart seems however to be undeterred from its expansion plans elsewhere in the world. The largest expansions are expected in China where it plans to add hundreds of stores to its over 400 store portfolio and continue to invest in its supply chain. It is currently tied for second place as the largest retailer in China behind the Sun Art Retail Group and continues to face stiff competition.
Revenue Growth
My biggest concern with WMT is the slowing pace of revenue growth as the retailer has maxed out its growth in its largest markets and is expanding into more difficult markets.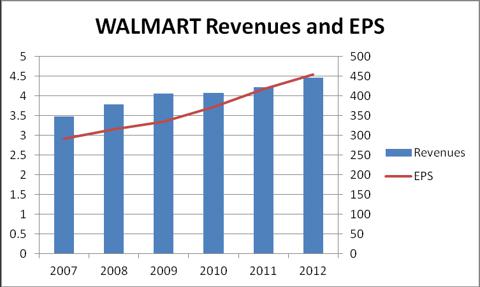 While sales have increased year over year, the bulk of these increases was fueled by acquisitions rather than organic growth through sales in existing stores. For the past 3 years, Wal-Mart's same-store sales have grown between -0.6% and 2.4% while the overall increase in revenues in the same period was between 3.4% and 5.9%

While increasing sales by opening new stores is not inherently a bad thing, these new stores are not driving the same results as would be expected. Wal-Mart's new stores are primarily opening in its International Segment and these new international sales are occurring at lower operating margins. Margins earned in the International Segment over the last 5 years are in the range of 5% compared to the U.S. sales earning around 7.7%. Wal-Mart's overall gross profit margins for the past three years have correspondingly shown a trend of decline from 24.8% in 2011 to 24.4% in the most recent year.
This declining growth in margins shows that Wal-Mart's valuation should not fully reflect its growth in sales as they cannot be counted on to earn the same margins as the existing sales.
Decrease in U.S. Consumer Spending
The 16 day government shutdown will certainly affect the upcoming quarter for Wal-Mart's U.S. segment (approximately 60% of the company's total sales). During this period, consumer confidence was pushed downwards and while furloughed employees were staying put, others were cutting down their shopping lists.
Wal-Mart did not provide any estimations of the impact it would have on sales or revenues, but did mention they would expect shoppers to spend less. With 2 of the 13 weeks in the upcoming quarter affected directly by this shutdown, it would not surprise me to see a noticeable impact on Wal-Mart's revenues for the quarter.
This decrease may be partially offset as Wal-Mart continues to roll out its new E-Commerce Expansion to compete with rival Amazon (NASDAQ:AMZN). With the increase in online order fulfillment centers, and strategies are being tested involving using existing stores as fulfillment centers, Wal-Mart is developing a strong new potential to help push its U.S. sales base.
Valuation
WMT remains consistently profitable with a 23% return on equity and 5 year EPS growth of 9.13%. The stock is attractively valued compared to its rivals with a P/E ratio of 14.9 compared to Target's (NYSE:TGT) 15.4 and Costco's (NASDAQ:COST) 25. Costco's much higher P/E ratio may be overdone considering expectations for the company's growth; however, it also points to a potential undervaluation for WMT.
The stock yields 2.5% in dividends compared to Target's 2.7% and Costco's 1.1%. WMT and TGT both supplement these dividend yields with extensive dividend buy-back programs, further adding to shareholder value.
WMT's Price to Book ratio of 3.5 is significantly lower than Costco's 4.7; however, it does not seem to be undervalued when compared to Target's 2.5. The price to sales ratio for all three companies is consistent in the range of 0.48 to 0.55
Wal-Mart's valuation seems to adequately reflect the fact that the company's growth going forward will be limited. The International expansions are successfully increasing sales; however, margins are consistently decreasingm leaving a small bump in earnings. While still growing, the U.S. operations are very mature and can be counted on to provide consistent earnings, albeit with limited growth.
Conclusion
Wal-Mart's International operations have struggled to provide the same sort of high margin sales found in its U.S. operations. The company continues to seek growth in international segments, with strong growth particularly in China, however, the market is unconvinced that this growth will deliver much in terms of results, and the company is finding itself undervalued relative to competitors.
Wal-Mart is due to release Q3 2013 earnings on November 14th, 2013. Analysts expect EPS of $1.13 compared to the prior quarter's $1.25 and the prior year's $1.08. With a range of one cent in three of the last four earnings releases between analyst estimates and actual results, it's safe to say investors will be counting on a consistent earnings release. However, a slowdown from the two week government shutdown in the current quarter could lead to weaker results and a buying opportunity for patient investors.
Wal-Mart remains an excellent company to own and has a very strong base of sales in the U.S. that will continue to provide consistent earnings and cash flows. Its current valuation is lower than that of its competitors and presents buyers with a great opportunity to own the company at a reasonable price. Coupled with the 2.5% dividend yield and the significant share buybacks in progress, the company will continue to provide strong returns for investors.
Disclosure: I am long WMT. I wrote this article myself, and it expresses my own opinions. I am not receiving compensation for it (other than from Seeking Alpha). I have no business relationship with any company whose stock is mentioned in this article.