Thesis
I believe that Landec (NASDAQ:LNDC) is a good long-term investment because of these reasons:
Lifecore, the segment with the highest gross margin, is expected to see the largest increase in sales
The company is expanding its product lines and focusing on locking in new contracts
Windset will be a main catalyst in growth through the technology partnership and the financial investment
Company Overview
Landec operates in three segments: Food Products Technology, Food Export, and HA-based Biomaterials. The food products technology segment, through its Apio subsidiary, markets and packages fresh vegetables utilizing the BreatheWay specialty packaging, which allows produce to have a longer shelf life. The food export segment participates in international trading of produce, mainly apples, cherries, stone fruit and broccoli. The biomedical segment, through its Lifecore subsidiary, is a leading supplier of hyaluronan in ophthalmology and orthopedic markets.
There are a couple of key points that I want to touch on in the guidance for FY14 that Landec issued, which marked the beginning of the stock price depreciating. There was some cause for concern once it was announced that revenue was only expected to grow 6% this year, especially considering that sales increased ~39% from the year prior. However, that 39% is somewhat inflated due to the acquisition of GreenLine (the leader in fresh-cut green beans) by Apio, which accounted for an $86M increase in revenues according to the most recent 10K. To normalize the numbers, if we removed the GreenLine revenue for the year, it would bring growth to ~13%. The number one factor that the company forecasts will hinder revenue growth is the expected 10% decrease in revenue in the food export segment; I'll touch on that more later on. Despite the disappointing sales, the company predicts annual net income to grow 20% for the next five years. In order for Landec to meet these estimates, margins are going to have to improve significantly.
Lifecore is Expected to Lead Sales Growth
Greg Skinner, the CFO, told shareholders that Lifecore was expected to grow between 10-15% in FY14. The main driver behind the growth is anticipated to be new FDA approvals for certain aseptic filling products. Lifecore received FDA approval last year, and now that inventory has been manufactured, the company will have a full fiscal year to benefit from these new products. Below is a table representing the sales and gross margins of the three subdivisions within Landec for FY13:
| | | | |
| --- | --- | --- | --- |
| (in thousands) | Food Products Tech | Food Exports | Biomedical |
| Sales | 320,447 | 78,568 | 41,281 |
| Margin | 11.6% | 6.7% | 46.3% |
| Gross Profit | 37,077 | 5,274 | 19,102 |
As you can see, Lifecore has margins that cannot be touched by the other two segments. However, it is important to note that aseptic filling business typically receives lower margins than other areas within Lifecore. It's no surprise then that since this area has grown, margins in the biomedical segment have declined. In fact, margins have consistently decreased every year since 2010 when Landec acquired Lifecore. This does pose some concern for investors. There is some good news, though. The company reported that Lifecore's facilities have expanded to include additional aseptic filling capabilities. As a result, Lifecore l be well positioned to move up the value added chain, and margins should benefit because of this. When comparing year over year results for the most recent quarter, margins in the biomedical segment increased ~100 basis points.
Expanding Product Lines and New Contracts will make up for the Decline in Indonesian Sales
The underlying factor as to why revenue growth is expected to slow, as stated previously, is due to a 10% decrease in sales from the food export business. More specifically, it is due to new import quotas enacted by Indonesia.
As you can see from the graph above, Indonesia made up about one quarter of food export sales in Q1 for FY13, prior to the new import quotas. When you compare that to the most recent quarter, after the import quotas had been implemented, Indonesian sales decreased ~4M, which resulted in a ~16% decline in food export revenue for the quarter. Despite this, the impact on gross profits is relatively small. Since margins are razor thin in the food export business, the ~4M decrease potentially only represents a loss in gross profits of ~$224,000 (using the average margin in Q1 of 5.7%), which would have only increased corporate gross profits 180 basis points for the quarter. Gross profits actually decreased 900 basis points in Q1 compared to the previous year, which can be attributed to the food technology subdivision.
Apio's margins have been the most unpredictable over the past years, mainly due to weather conditions. The company's biggest source of revenue, through the GreenLine acquisition, is green beans. Unlike the crops that the company purchases in California that are based on contractual prices, Apio is forced to go into the green bean market and pay whatever the current market price is at the time. If the green bean yield is low due to poor weather conditions, the company is forced to pay a higher price, or on the other side, the company could benefit financially from a high yielding crop. A key point to note is that the company is "looking at aligning the contracting approach [in the bean market] so they are more similar" to the strategy in California. This would help stabilize gross margins, but until then, the company has very little control.
Apio also expects that new system capabilities will result in new sales due to cross selling between the Eat Smart and GreenLine brand. From the company's Q&A for FY13 results:
"We recently added several new food customers as part of the cross selling effort, however, this continuing effort will take some time since most opportunities are based on contracts expiring or coming up for a bid"
As these contracts expire, expect Apio to lock in new customers with contracts of its own. To supplement this, the company is also focused on expanding its product line. Last year, the company hit a home run with its Sweet Kale Salad, which boosted revenue growth significantly. Although this most likely won't happen every year, Apio is cashing in on the health trend that is occurring as of late.
The Investment in Windset will Continue to pay Dividends
No, I'm not referring to the $1.1M annual dividend Landec receives in regards to its 20% stake in Windset (although this is a bonus). I'm referring to the relationship that is forming between these two companies. Windset is a hydroponic greenhouse located in Canada that is able to grow 10 to 20 times as much food in the same area compared to traditional farming methods. This is largely due to crops being unaffected by weather and hydroponics. Apio supplies its BreatheWay technology to Windset, and sales from Windset have increased at an annual rate of ~23% since Apio made the investment in 2011. Windset believes that its process of growing produce makes the vegetables superior in freshness and quality, so it only makes sense that a rewarding partnership would form between them and Apio with its BreathWay technology. In fact, earlier this month Windset announced that they have launched a new package for its cucumbers featuring Apio's BreatheWay technology.
Windset is also in the process of doubling the size of its facility from sixty-four acres to 128, and have begun harvesting from the first thirty-two acres. This represents a huge potential in revenue growth that I believe Landec can cash in on. Through the technology partnership and the financial investment, Windset is going to be a major facilitator in Landec's growth.
Valuation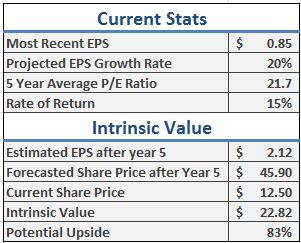 If we were to take the annual net income growth expected by Landec at 20%, and an average P/E ratio over the past 5 years at 21.7, the EPS growth model gives us an intrinsic value of $22.82. This means there is ~83% upside for the long term. When a margin of safety is factored in between 25-50%, this gives a range between $11.41- $17.11. Since the current price is on the lower end of this range, the stock offers an attractive entry point and is a strong buy.
Risks
A shortage of green beans due to poor weather conditions
The partnership with Windset dissolves
FDA regulations prevent new products and obstruct growth
International regulations continue to cut into sales
Conclusion
Landec is a strong company selling at an attractive level compared to its future earnings. The near-term future could still pose some problems pertaining to margin uncertainty, especially in certain quarters, but long term it looks like Landec will begin to stabilize. The main takeaway is that even though sales growth is expected to decline this year, the bottom line will not be affected due to higher margin segments propelling corporate-wide sales.
Disclosure: I am long LNDC. I wrote this article myself, and it expresses my own opinions. I am not receiving compensation for it (other than from Seeking Alpha). I have no business relationship with any company whose stock is mentioned in this article.