Earlier this summer, I wrote an article highlighting the undervalued uranium miners (NYSEARCA:URA) and why it could breakout in the second half of this year. Even the big banks such as JPMorgan are predicting uranium prices could move to $90 in 2016.
This means that from a conservative estimate investors may see a double according to the JP Morgan forecast over the next two years, but some uranium bulls such as myself believe there is the potential for a ten bagger or a price spike that mirrors the 2007 bubble on the near term horizon.
(click to enlarge)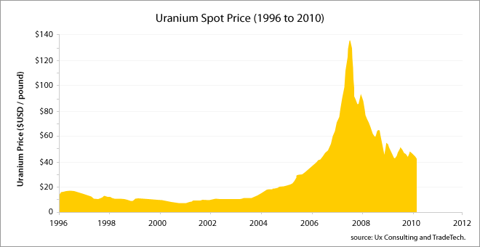 Remember 2007 when Cigar Lake was delayed from flooding the uranium price ran to $135 a pound. That is around $100 higher from today's price.
However, uranium could eventually break above that high again especially if we see some catalysts that could make the price jump. It is no coincidence that the smart growth minds such as Bill Gates and the value investors such as Warren Buffett believe in the long-term viability of nuclear.
The high volume breakout in the uranium may have occurred this past Friday when the uranium mining ETF soared over 6% on more than five times average volume. The uranium mining ETF's largest holders are Cameco (NYSE:CCJ), Denison (NYSEMKT:DNN) and Paladin (OTC:PALAF).
Uranium (OTCPK:URPTF) soared seven years ago and it could soar again as demand begins exceeding mine supply. I believe long term investors in high quality junior uranium miners could see potential gains of over 1000% if they are patient. We are already in a shortfall which should only increase with time as more reactors are being built now than ever before.
The real reason for the jump last week was the decision of the Greenland government to overturn a 25 year old ban on uranium and rare earth mining. One of the positions in the uranium miners ETF which benefited from this move is Greenland Minerals (OTCPK:GDLNF) which soared over 60%.
This reminds me of the move by the Australian Government to overturn the uranium mining ban in Queensland back in 2012. Countries are realizing that there is great demand for uranium as more nuclear reactors are being built now than before the Fukushima Accident. Uranium and rare earth mining (NYSEARCA:REMX) could be two areas where Austrailia and Greenland could create a lot of wealth over the coming decade when uranium demand will exceed supply. Outside of Germany, governments around the world support uranium mining and nuclear power.
Despite the low spot price, M&A activity in the sector is increasing. Notice the acquisitions of Hathor, Fission, Strathmore, Uranium One and Alpha Minerals from larger players such as Rosatom, Denison, Cameco and Rio Tinto. Expect a lot more over the next few years as this consolidation trend should continue. Increased M&A despite a low spot prices indicates to me that the smart money believes that now is a buyers market.
The Russian Megatons to Megawatts program is coming to a conclusion in sixty days. No extension has yet to be granted. Russian nuclear weapons were converted to useable fuel for over 20 years for U.S. reactors. That will be no longer and the U.S. utilities will need to buy around 24 million pounds off of the market. Remember the U.S. mines less than 8% of what it currently consumes. The State of Wyoming is granting advantageous loans to new junior uranium producers. This could be a great area for junior mining investors to position themselves as I believe Rosatom or Cameco may be looking to expand their strategic positions in Wyoming and the Southwest US.
Disclosure: I am long DNN. I wrote this article myself, and it expresses my own opinions. I am not receiving compensation for it (other than from Seeking Alpha). I have no business relationship with any company whose stock is mentioned in this article.