Chipotle Mexican Grill (NYSE:CMG) appears to be everybody's darling. Rapid restaurant expansion and double-digit growth in revenue and net income got investors so excited that shares jumped 16% to $509.74 after the company announced Q3 results on October 17. Highlights for the first nine month of trading included a 17% increase in revenues to $2.4 billion, a 14% increase in net income to $247.8 million and an increase of 17% in diluted EPS to $7.93 per share. Chipotle also opened 129 new restaurants YTD of which 37 were opened in the third quarter. Comparable restaurant sales increased 4.3% YTD and 6.2% in the third quarter. With those kind of results it is easy to forget the price investors pay. But investors should pay attention because valuation matters. In the case of Chipotle the market valuation currently incorporates a gigantic growth premium that the marginal investors needs to pay upfront.
Share performance
Chipotle's shares have done well over the last year with a plus of 107%. Share gains have accelerated after Q3 results in October and shares are up 20% since results release.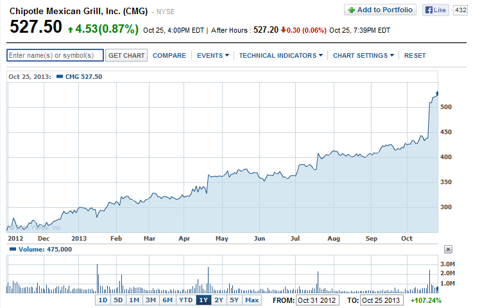 Generally, the restaurant sector provides an inconclusive picture in terms of share performance with investors mainly chasing high-growth companies like Domino's Pizza (NYSE:DPZ) and Chipotle.
Chipotle has gained 75% since the beginning of this year and has hugely outperformed other companies in the sector.
The one-year share performance for each peer group firm is presented below:
Darden Restaurants (NYSE:DRI): -2%
Yum! Brands (NYSE:YUM): -5%
Tim Hortons (NYSE:DHI): +23%
McDonald's (NYSE:MCD): +9%
Burger Kind Worldwide (BKW): +33%
Domino's Pizza : +66%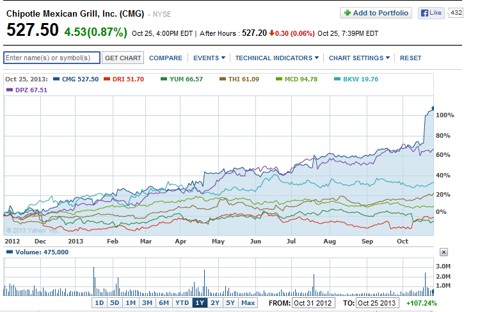 Free cash flow
Chipotle's historical free cash flow generation suggests that the company is very profitable. Noteworthy is the absence of long-term debt transactions. Chipotle's historical cash flows as well as my estimates regarding 2013 and 2014 full year cash flow figures are presented below. With $206 million in estimated 2014 free cash flow the company books $6.58 in FCF per share.
Chipotle presently trades at $527.50 which represents a multiple of 80.14 times estimated 2014 free cash flow. The initial free cash flow yield stands at only 1.25% indicating that investors indeed pay a substantial upfront premium.
The accelerating share gains in light of Chipotle's Q3 results also raise the suspicion that Chipotle's share price is being driven by speculative elements in the market. The premium investors need to pay incorporates huge expectations with respect to future restaurant growth, comparable sales growth and profitability.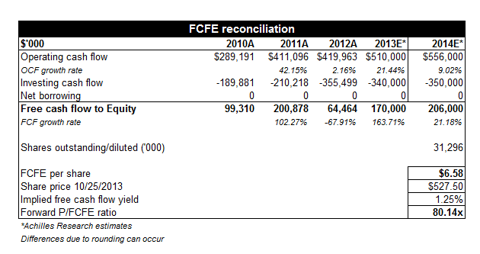 Market valuation
In terms of market valuation Chipotle operates in its own league. Considering a variety of businesses in the restaurant space, Chipotle is by far the only company with a forward P/E of 40. The peer group average P/E stands at 22.22 but only because Chipotle biases the average upward. Without Chipotle the peer group average P/E ratio is 19.14. Put differently: Chipotle trades at a 112.5% premium to the peer group average of which it isn't a part of.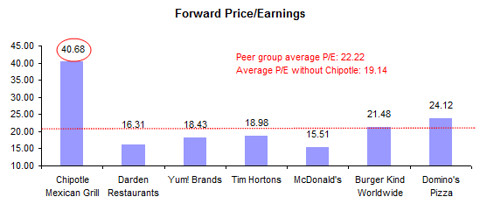 Even if Chipotle was included in the peer group the company would still demand a 83% premium to the peer group average P/E ratio. Chipotle is also the only company that doesn't pay a dividend.

Conclusion
Chipotle is probably the one company in the restaurant peer group that has the highest growth potential. Strong operating cash flow- and earnings growth do deserve a premium. But that premium must still be justifiable and related to the underlying fundamentals. Like other companies, such as Amazon (NASDAQ:AMZN) or Tesla (NASDAQ:TSLA), that fetch extreme valuations, growth expectations are so high that the company will ultimately disappoint. Investors now pay almost double the sector average P/E of 22 which by itself is already reflecting a premium multiple (Yum! Brands for instance also seems to be a significantly overvalued company in the restaurant business). Investors also pay a massive 80x multiple of estimated free cash flow which limits further valuation growth. I think Chipotle shares now trade at irrational levels and rationality usually returns to the market with force. I would advise investors to stay away from Chipotle and from the restaurant sector, too.
Disclosure: I have no positions in any stocks mentioned, and no plans to initiate any positions within the next 72 hours. I wrote this article myself, and it expresses my own opinions. I am not receiving compensation for it (other than from Seeking Alpha). I have no business relationship with any company whose stock is mentioned in this article.