Computer Modelling Group (OTC:CMDXF) is a Canadian software company headquartered in Calgary, Canada with sales and tech support at that location and in Houston, London, Caracas, Dubai, and Bogota. Their market is the oil and gas industry and they are the market leader in software for reservoir simulation, especially for difficult or unconventional recovery techniques such as with tight oil or shale gas. This company is a play on the increasing complexity of hydrocarbon recovery as traditional reserves become scarcer.
Over the past ten years, Computer Modelling Group (we will abbreviate as CMG in this article) has been extremely good to shareholders; to be long Apple (NASDAQ:AAPL) over the past ten years is to have a lower total return than that of investors in CMG. Starting ten years ago today, CMG has returned over 5000% compared to AAPL's 4500%. Even in the ten year period leading up to AAPL's peak in mid 2012, where it returned an astounding almost 10000%, CMG has it beat by over 50% returning over 15000% to shareholders.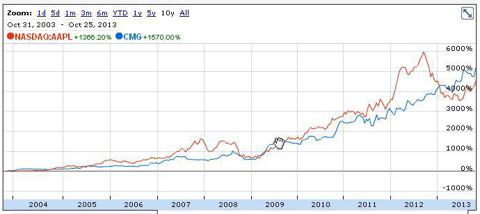 Shares are illiquid in the OTC markets, on the TSE it trades as CMG with over 30,000 shares traded daily, and interested investors should purchase it there. Information for this article has been taken from publicly-available financial information and annual reports unless otherwise noted.
One of the most compelling arguments to be a CMG shareholder is that hydrocarbon recovery is getting increasingly complex and reservoir simulation is becoming increasingly important for the decision making process. Unconventional sources such as tight oil and shale gas will show the fastest growth in the next decade. As the market leader in simulation software for unconventional sources, CMG's market share for modeling software will only increase with production from unconventional sources. Simulation of reservoirs is important as it allows companies to both lower costs and recover more hydrocarbons from the same reservoir; simulation is far cheaper than moving a drilling rig or trying techniques on real wells. Furthermore, major competitors, including Halliburton (NYSE:HAL) and Schlumberger (NYSE:SLB), have put most of their modeling effort in simple recovery reservoirs, and may have even given up on competing against CMG as SLB has reportedly gave away its software for free, and HAL has licensed CMG's gas shale software. CMG provides its software to 540 customers in 56 countries.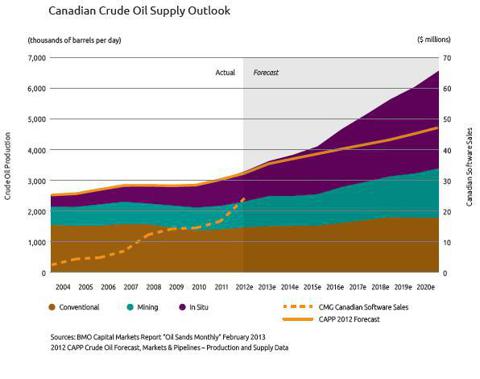 Its moat is provided by the intellectual capital needed to run such a business and its devotion to maintaining its market-leader position by strong funding of research and development. Of its 173 employees, 36 possess PhDs, 56 have Masters, and 56 have Bachelor degrees; half of all its employees are dedicated to research and development, and it targets a 20% investment of total revenue in R&D. As a result, its software covers processes from hydraulically-fractured reservoirs, conventional oil, shale gas and liquids, greenhouse gas sequestration, gas hydrates and any type of oil and gas recovery process and it continues research in enhanced oil recovery and new methods of reservoir simulation. For example, the company is currently in a 5.5 million dollar research project (funded entirely with cash flow) with Shell (NYSE:RDS.A) and Petrobras (NYSE:PBR) for a new simulation system. Finally it is the industry leader for its interactions with customers, offering same day turnaround for support. Of its three competitors, only one is solely focused on reservoir simulation and its competitive advantage is provided by its recognition and international presence.
CMG makes money not just by the licensing of software to customers, but also training them to use it, reservoir engineering consulting for new problems, and customer consulting to maximize reservoir opportunities. In financial year 2013 (the year ending March 31, 2013), 92% of revenue was based on licenses of its software and 8% from non-recurring professional service revenue. The company is not focusing on growing its professional service revenue, but rather view it as an opportunity to learn what the industry desires. Despite this, in the 3rd quarter 2013, a new training room in Calgary was established to increase the number of training courses by 29% from the previous fiscal year. During this same period, there was a 19% year-over-year growth in training attendance.
Revenue from software licenses is of two types. The first is annuity/maintenance revenue which is a fee charged for software use for a period of a year or less. Historically, this is a reliable revenue stream as a result of high renewal rates. The second is a perpetual license that is purchased once and that version can be used in perpetuity; however, the majority of license holders purchase maintenance packages for support and access to the most current versions. In financial year 2013, 87 % of total revenue came from annuity/maintenance charges and 13 % from the purchase of perpetual licenses. In financial year 2012, these percentages were 77% and 23%, respectively. Arguably, it is more important to focus on the annuity/maintenance revenue as sales of perpetual licenses vary between quarters and annuity/maintenance revenue makes up 80% of license revenue. The following chart sourced from the company's annual report illustrates this nicely.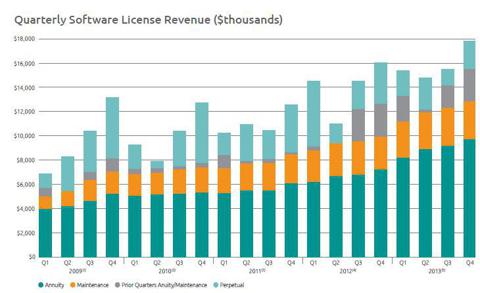 Financial year 2013 marked the 11th consecutive year of double-digit growth in the annuity/maintenance revenue base, and it came with a 33% increase in total dividend on May 22, 2013. The company announced a $0.18 quarterly dividend and a $0.05c special dividend, up from $0.16 quarterly and $0.10 annual special dividend. This continues its long tradition of being committed to providing return to shareholders and its dividend has over doubled in the past five years, for an annual return at today's price of 2.72%. The software industry is great at producing high margins and CMG is no exception; in the past five years, its gross profit margin has been a relatively constant 78 to 80%, and over the same period net margins have ranged between 32 and 38%. The return on assets was 30% in fiscal 2013. With these strong cash flows, research and development is financed entirely with produced cash, although CMG does have access to a 0.8 million line of credit with a Canadian bank, where it also has 59.4 million, or over 7% of its market cap, in cash as of end of financial year 2013. As a result of being able to finance in-house, CMG has no short-term or long-term debt.
The stable Canadian market continues to be the leader in total software license revenue generation, comprising 38% of software revenue in fiscal 2013. During this period, the quarter-over-quarter revenue increase ranged from 17 to 37%. The USA, South America, and Eastern Hemisphere regions contributed 18%, 17% and 26% of fiscal 2013 revenue, and license sales increased in all regions except the Eastern Hemisphere which declined 12% due to lower perpetual license sales; however, as mentioned before, perpetual license sales are not as important as annuity/maintenance revenue, which did show growth in this region. EPS increased by 5% in fiscal 2013, 31% the prior year, and 17% the year before that. Return on equity remained relatively constant since previous years at 48%.
Over the past year, fundamental performance of CMG has also been seen, SGA expenses as a percent of gross revenue decreased to 9% after seeing a maximum of 13% in 2010 as a result of increasing brand recognition. Year-over-year cash flow did decrease in fiscal 2013, but this was not due to a decline in sales, but rather a difference between when sales are made and when the receivables are collected. The above chart with quarter-over-quarter revenue illustrates the fraction of revenue that can come from annuity/maintenance revenue that was produced in a previous quarter.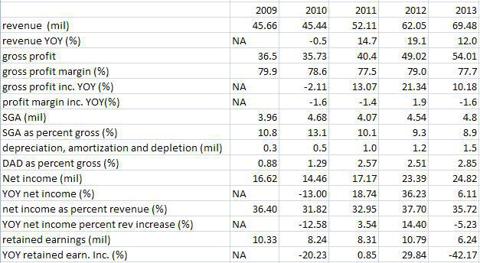 CMG has also bought back 91,000 shares for $1,551,000 (average price of $17.04/share) in fiscal 2013 and has announced for the current year to buy back $3,538,000 worth of shares. During fiscal 2013 employees and directors exercised stock options to purchase 913,000 common shares.
Finally, CMG has a partial hedge against fluctuations in the CAD/USD exchange rate as 67% of its revenue is in USD and only 23% of its costs are US denominated.
Conclusion
Computer Modelling Group's leading position in a niche market and the projected growth of hydrocarbon recovery from unconventional deposits place this company in a very strong position for the future; its dedication to remaining at the forefront of this field with investments in R&D only reinforce this. The company's business strategy with a large portion of income recurring from software licenses has led to very strong finances including over 30% net margins, no debt, and double digit year over year revenue and gross profit increases. The P/E may be getting ahead of itself, or it may be factoring in future demand and growth so we currently have initiated a partial position and will be adding on any weakness over the coming year in the process of establishing a full position. This stock lies beneath both the institutional investors as well as the general investing public's radar making it ripe for delivering alpha.
Disclosure: I am long OTC:CMDXF. I wrote this article myself, and it expresses my own opinions. I am not receiving compensation for it (other than from Seeking Alpha). I have no business relationship with any company whose stock is mentioned in this article.
Additional disclosure: I have a small current position in TSE:CMG and will be growing it in the future.