The cellular market in Israel is increasingly becoming everyone's business, as new entrants storm in. Over the last two years, there has been at least six new entrants in a market of roughly 10 million subscribers.
Industry veterans like Cellcom (NYSE:CEL), the market leader by subscribers and Partner (NASDAQ:PTNR) second largest, along with global heavyweights like Orange (NYSE:ORAN) have experienced performance shocks in the country as the new entrants came in guns blazing, with aggressive pricing for their products and services.
Nonetheless, I believe with time, this "promotional type" of pricing, just like any kind of a promotion will come to an end. And as reality dawns to the on rushing customers, it won't be long before they consider using services from more established providers like Cellcom.
Cellcom continues to explore new markets within the country, including IPTV services and Fix Line, which I believe could be integrated seamlessly into the company's business setup. Additionally, the company is also focusing on expanding its 1,600 km fiber infrastructure to customers, as it seeks to extend its wireline services. This will help widen its market share and cement its leadership position in Israel's cellular market.
Right now, the dust seems to be settling as the impact caused by the new entrants begins to wane. Additionally, a majority of the threats caused by the new entrants along with challenging regulations from the government seem to have already been priced into the market. This means the risks attached to the stock's current price level are minimal, and pose no major threat to a continuous uptrend.
Overview
Cellcom is the market leader in Israel's cellular market in many ways. It currently controls about 31% of the overall market with 3.151 million subscribers. The company is already up nearly 40% YTD, at the backend of unimpressive results over the last two quarters.
In the company's most recent quarter, earnings fell 44.6% year-over-year to 67 million shekels ($19 million). Revenue also declined by 17.5% to ~1.236B shekels. However, the company's free cash flows grew by 21.5% to 345 million shekels, as the efficiency measures undertaken from the previous year began to pay off. Additionally, the company cut down on the purchase of cellular handsets, as the sale of such handsets slowed.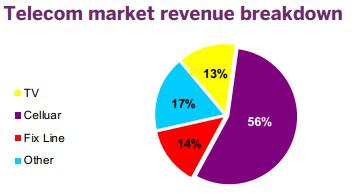 The cellular market contributes the biggest chunk of the telecommunications industry in Israel accounting for about 56%, while TV and Fix Line make up for 13% and 14% respectively. Cellcom is looking to establish itself as a telecommunications group by expanding its services to TV and Fix Line. Bezeq (OTCPK:BZQIF) is the country's biggest telecommunications company, overall with a market cap of about $4.74B. It has already expressed its desire to explore the IPTV market subject to some changes in regulation that would make the cost/benefit trade-off favorable. Therefore, Cellcom's dream of providing TV services to its customers could come true sooner, if the communications regulator in Israel softens its stance.
Cellcom, which merged with Netvision in 2011 also plans to capitalize on Israel Electric Company's entry into the wholesale infrastructure market to expand its wireline services to Fix Line. The merger with Netvison, a leading ISP and ILD provider in the country will also play a big role in Cellcom's planned service extensions. The company is also in advanced stages of launching a cellular credit card after signing an agreement with Cal, an Israeli credit company.
Upside Triggers
Cellcom is expected to announce more updates on the developments with regard to Israel Electric Company's wholesale fiber infrastructure deployment. Even though the deployment process has been slow, reports suggest that Cisco (NASDAQ:CSCO) has already expressed full commitment to the project, as it is the main supplier of materials and equipment. Cellcom had initially tried to use Bezeq's wholesale infrastructure but the negotiations for a deal fell through. Electric Company's entry into the market is therefore expected to offer a welcome alternative.
"As we previously stated in the last conferences, we've had a lot of negotiations with Bezeq and weren't able to reach an agreement in terms of the pricing of the wholesale..."
"..in regards to the electric company, I think the limitation on how fast and how aggressive we can deploy services over the electric company services mainly depends on their roll out...So obviously we are very anxious and eager to see them entering the market, and we'll be doing the utmost to gain share over their network..."
A positive comment in regard to the steps made towards venturing into the wholesale market would suggest an impending extension of Cellcom's services to include Fix Line among others. This should be deemed as a step forward towards becoming a fully-fledged telecommunications group, which in turn should trigger an upside surge in the shares of the company.
Secondly, in the company's recent quarter results, it highlighted cellular payments and IPTV as some of the opportunities it is likely to pursue in the near future. It has already made giant steps in cellular payments, while IPTV relies a to some extent on Israel telecommunications commission's regulatory stance.
The cellular market is incredibly dynamic and fast changing, and along with this, we have also faced the fastest regulatory challenges our industry has ever known.
Setting up an IPTV platform requires a huge investment. This would require the companies to generate as much from current operations, which based on current regulatory policies on pricing of tariffs and services seems impossible. For instance, Bezeq has already asked the communications commission to review its policy on the same, as exhibited on the earlier link.
Furthermore, new entrants into the cellular market affected prices significantly and this is evident from Cellcom's 11.7% decline in Average Revenue Per User [ARPU] to 79.7 shekel's ($22.26) in Q2 from a year ago.
Therefore, the IPTV venture remains a long-term goal, as regulatory policies on pricing and competition try to find a favorable common ground.
Cellular payments on the other hand seem a more likely achievement in the near term considering the advances made in the usage of smartphones and tablets. Ecommerce is becoming one of the most popular activities in global transactions, as transition from desktop to mobile continues to showcase promising appetite from consumers. Having already signed an agreement with Cal, Cellcom is on the right track with this one. it is actively involved in ISP and cellular, which are critical for cellular payments and ecommerce.
Valuation
Cellcom currently trades at a market value of $11.71 per share, or 3.22x in forward P/E for next year. This translates to ~$3.64 in estimated diluted earnings per share for the year ended December 2014. Now, if Cellcom is bale to at least maintain a mid-level single digit P/E by December 31, 2014, and deliver on the expected earnings, then this would translate to a price of late teens to low $20s.
I believe that Cellcom has the potential to trade at even higher P/E going forward given the impending projects that could help extend its services thereby increasing its market share. The biggest challenge to the company has been the decline in ARPU, which should improve going forward as the dust settles in the cellular market. Note that, following the entry of the six new rivals, Cellcom lost ~200,000 subscribers, from its initial number of more than 3.3 million. While I do not see many of these coming back in the near term, I expect a good umber to make a u-turn once the promotion frenzy ends. Cellcom offers a wholesome package for its customers, covering international calls, internet, and cellular internet+sms+calls, among other customized services.
Last year the company launched a package for small businesses allowing up to 5 cellular subs, internet up to 100mbps, virtual operator and 500mins of long distance calls per subscriber. The company also launched a lucrative package for family and another for two people. Unfortunately these were brought in at the height of competition, which means uptake may have been distracted. However, with things now cooling down, the subscriptions to these new packages should increase. These should help leverage the ARPU for the company.
Improving the ARPU will be key if indeed Cellcom is to meet its earnings expectations or better still, outperform them. This would then trigger late teens to low $20s price for its stock, which would result in an upside not less than 70% to be achieved by December 2014. Note that my valuation depends on two things; EPS, which should be boosted by improved ARPU, and an attractive P/E, which depends upon the progress made in the prospective new markets discussed earlier.
Conclusion
Cellcom investors have already shown a good appetite for the stock despite its recent quarter earnings, EBITDA, revenues and ARPU declining significantly from the same period last year. If the company manages to improve on ARPU, and continues to efficiently control its costs, then earnings will improve. This should boost the company's chances of meeting the estimated earnings of $3.30 per share for the current year, and December 2014's earnings of $3.64. This is the company's biggest challenge.
Nonetheless, with its new packages, and with competition cooling down, there is a big possibility of meeting these estimates. Additionally, for an addressable market of just about 10 million subs, it would be difficult for the new entrants to make sound profits with low pricing, so I expect the promotional type of prices to be phased off eventually, thereby ending Cellcom's temporary nightmare. I wont be surprised to see some of them lumping together to try and forge a better market share, or better still, market veterans like Cellcom acquiring them.
The bottom line is, nearly all the risks are already priced in the market for Cellcom, with investors willing to buy the stock despite its recent woes. There are positive signs that ARPU could get better, as new entrants who disrupted ARPU cool their storming debuts. Cellcom is also targeting new markets, and I expect investors to be willing to pay a good premium for the stock in order to get in the act. For these reasons, Cellcom presents a compelling upside with nearly all the risks priced in.
Disclosure: I have no positions in any stocks mentioned, and no plans to initiate any positions within the next 72 hours. I wrote this article myself, and it expresses my own opinions. I am not receiving compensation for it (other than from Seeking Alpha). I have no business relationship with any company whose stock is mentioned in this article.