Beam Inc. (NYSE:BEAM) is a company that I'm drooling all over. A line-up of power brands that many people are attached to, an addictive product, an inventory that can only be copied with huge capital investments over a time frame of 5-10 years and a market that is expanding in size. What more can you wish for?
power brands
addictive product
unique inventory/assets
expanding market
BEAM data by YCharts
Business Summary
Beam Inc. manufactures and sells distilled spirits worldwide. The company''s principal products include bourbon whiskey, tequila, Scotch whisky, Canadian whisky, vodka, cognac, rum, cordials, and ready-to-drink pre-mixed cocktails.
Brands include: Jim Beam Bourbon, Maker''s Mark Bourbon, Sauza Tequila, Courvoisier Cognac, Canadian Club Whisky, Teacher''s Scotch, Pinnacle Vodka, Laphroaig Scotch, Knob Creek Bourbon, Basil Hayden''s Bourbon, Kilbeggan Irish Whiskey, Cruzan Rum, Hornito's Tequila, Skinnygirl Cocktails, and Sourz Liqueurs, as well as combined Local Jewels and Value Creators brands.
The company sells its products to wholesale distributors, state governments, third party distributors, global or regional duty free customers, other spirits producers, and joint ventures.
The company was formerly known as Fortune Brands, Inc. and changed its name to Beam Inc. in October 2011. Beam Inc. was founded in 1904 and is headquartered in Deerfield, Illinois.
Source: Yahoo Finance
Market Growth
The market for spirits is growing. In the U.S demand is still increasing. Robert F. Probst Beam's CFO backs up the story with cold hard numbers in the latest q2 2013 conference call:
For the first half of 2013, reported net sales growth was 8%. On a comparable basis, first half sales were up 4%.
Investment bank Demetergroup published a State of the Spirits Industry [pdf] with a lot of interesting figures. These are a few of the key charts: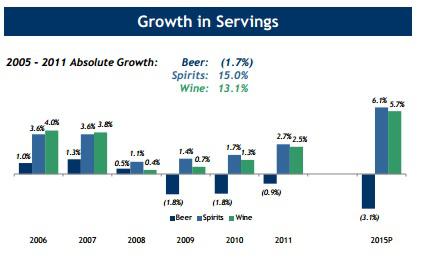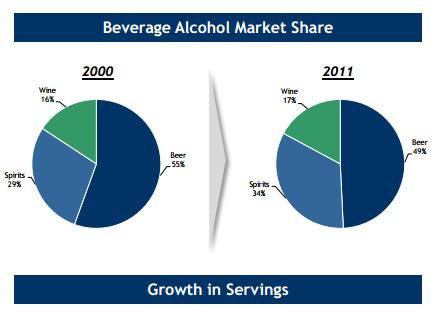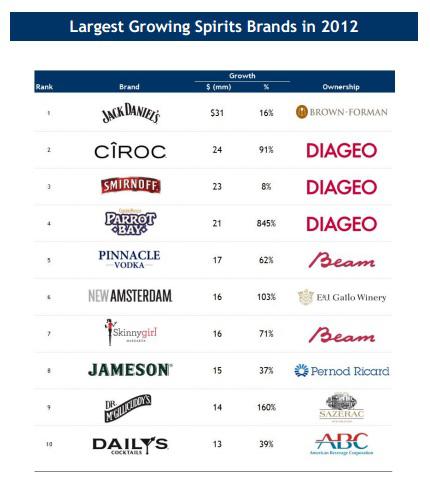 Competitive Advantage Spirit Producers
Recently I realized many spirit makers have an interesting competitive advantage in addition to the economies of scale and customer preference that some of them enjoy. Many types of spirits require years to age. It requires careful planning to produce a product that you will bring to market 10 years later. In addition this start-up time makes it incredibly difficult for incumbents to enter the space.
Raising capital for a venture that may be profitable in 5-10 years time is difficult. Not to mention that significant investments into customer awareness or brand building may be required at the time of launch.
Because of this dynamic I expect it's much more likely for existing players to be able to capitalize on a growing market and not necessarily inspire a flood of capital to start-ups.
Competition
There are a few spirit producers that are true global players and I discussed them in my earlier article. Even though these companies will be competing I expect the overall expansion of the market to be powerful enough to decrease the need for these competitors to go after each other's market share at the expense of profits. When investing in Beam it's a good idea to keep an eye on Brown-Forman Corporation (NYSE:BF.B), Diageo PLC, (NYSE:DEO), Pernod Ricard (OTCPK:PDRDY) and Davide Campari - Milano SpA (OTCPK:DVDCY).
Valuation
Unfortunately the story of the growing demand for spirits is not a secret. From my research in the area, I know valuations tend to be rich. Beam is no exception.
TTM P/E stands at 28+, forward P/E is still 23+, if you are into PEG ratios you will be unhappy to find out it's just shy of 3. Even enterprise value/EBITDA comes in at 16+. The only modest valuation is the Price/Book which is only 2.34, of which a sizeable part consists of plants and inventory. The company has a huge inventory of what is essentially liquid gold stashed away. At least tangible assets like these provide a cushion when disaster strikes. Although you can ask yourself, what will those be worth when an unlikely event like a 2nd prohibition occurs?
BEAM Book Value (Per Share) data by YCharts
From the price that investors have to pay to gain access to the cash flow or earnings power of BEAM it appears to me the market is aware of both the long term competitive advantages of the company and its prospects regarding the growing market of premium spirits. I don't see an opportunity to invest in BEAM and take advantage of an undervalued aspect of the company unfortunately.
Conclusion
BEAM is a great company, with a fantastic line up of brands, strong and durable competitive advantages and active in a global growing market. I just don't see how to take advantage of this because the market realizes this very well. The company trades at a P/E of 28+ and is expensive looking at a range of valuation metrics. I'd love to be proven wrong but at this time I think there are better investments to be found and made.
Booze Tip:
A story about one of the leading bourbon producers of the world isn't complete without a solid booze tip... I haven't tried this one myself. It's a little outside of my budget, but the WhiskeyAdvocate highly recommends the Parker's Heritage Collection, 'Golden Anniversary'. A Tennessee Bourbon about which they write:
This is a fabulous whiskey: seamless and incredibly complex, with an impeccable marriage of youth and maturity. It's also very even-keeled throughout.

Tobacco leaves, polished leather, and teasing bourbon barrel char round out the palate, emerging more prominently towards a warming finish. A classic!
Disclosure: I have no positions in any stocks mentioned, and no plans to initiate any positions within the next 72 hours. I wrote this article myself, and it expresses my own opinions. I am not receiving compensation for it (other than from Seeking Alpha). I have no business relationship with any company whose stock is mentioned in this article.