Stora Enso (OTCPK:SEOAY) is a leading Finnish wood & forest company, being among the largest paper manufacturers in the world. However, it has been suffering from structural woes in its core business pulp and paper, leading the company to transform itself towards a renewable materials focused company. This transformation obviously carries some risks which are reflected on the company's relatively high-dividend yield of 4.5%, but can also represent an opportunity for long-term investors as the company builds a stronger business model. Stora Enso has a market capitalization of about $7.2 billion and its primary listings are in Helsinki and Stockholm, but is also traded in the U.S. in the over-the-counter market.
Company Overview
Stora Enso was formed by the merger of Swedish mining and forestry products company Stora and Finnish forestry products company Enso-Gutzeit Oy in 1998. The company has nowadays about 29,000 employees in more than 35 countries. The Finnish state is the largest shareholder with an equity stake of 12.3%, but holds about 25% of voting rights.
Stora Enso operates under four main business segments, which are relatively cyclical and face competitive industries with commoditized products: Printing and Reading; Building and Living; Biomaterials; and, Renewable Packaging. Stora Enso's annual production capacity is about 5.2 million tonnes of chemical pulp, 12.1 million tonnes of paper and board, 1.3 billion square meters of corrugated packaging and 6.0 million cubic meters of sawn wood products, including 3.0 million cubic meters of value-added products.
Stora Enso procures most of its wood from private forest owners, state forests and companies in Finland, Sweden, the Baltic states, Continental Europe and Russia. Its main customers include publishers, printing houses and paper merchants, as well as the packaging, joinery and construction industries.
Paper Industry
Finland is by far the most densely forested country in Europe, leading to a large forest industry in the country. The share of the forest sector in the country's GDP is about 7%. Finnish forest companies are among the largest in the world, of which Stora Enso stands out as the largest one. One of the largest sub-segments of the forest industry is pulp and paper. The pulp and paper industry comprises companies that use wood as raw material and produce pulp, paper, board and other cellulose-based products. The industry is dominated by North American, northern European (Finland, Sweden, and North-West Russia), and East Asian countries. The world's largest paper producer is International Paper (NYSE:IP) followed closely by Stora Enso.
Paper demand in Europe is declining rapidly and its outlook is not bright. Since 2007, the European paper demand has declined by about 25% on a cumulative basis, and it is not expected to rebound in the near future. Technological innovations like smartphones and tablets have reduced paper demand, which is used for newspapers or magazines for instance, leading to a structural change in the pulp and paper industry.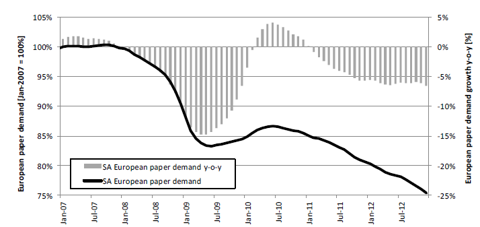 Stora Enso has been adapting to this structural change in paper industry's fundamentals, selling and closing down some of its mills in Finland, Sweden, and Germany. Since 2006, the company has permanently reduced pulp, paper, and board capacity by 3.2 million cubic meters and sawn wood capacity by about 1.9 million cubic meters. At the beginning of 2013, the company decided the closure of high cost newsprint capacity, totaling about 475,000 tonnes of paper capacity which is more than 6% of the group's total European paper production capacity. Given the overall weak environment in the European paper industry, Stora Enso has recently announced additional restructuring measures aimed at streamlining the group's business setup and overhead functions. It expects annual cost saving of around $275 million, which will have full impact in 2014. These restructuring and capacity closures should help to support a more cost efficient business in an industry challenged by structural demand pressure. Additionally, it also expects to sell non-core assets which will help raise cash and lead to a simpler structure.
Business Transformation
The printing and reading business segment remains the company's largest measured by revenues. It is responsible for about 40% of the group's sales but its business margins are very low, so its current weight on the group's profitability is practically negligible. However, as demand continues to decrease and the company is plagued by overcapacity, it can turn loss-making over the next few quarters. To address this issue, Stora Enso's strategy is to transform itself from a European pulp and paper company to a renewable materials company, specifically focused on the packaging segment.
Stora Enso will focus more on growth markets in China and Latin America, and fibre-based packaging, plantation-based pulp and competitive paper grades. Fibre-based packaging offers steady long-term growth in most segments and has vast innovation potential, offering sustainable new solutions for its customers. Three major capacity expansion projects have been decided, in Poland, Uruguay, and China. These projects constitute the bulk of Stora Enso's transformation programme, with contribution from the new containerboard mill (Poland) fully in 2014, the new Uruguay pulp mill from the start of 2014, and the first revenues from the China expansion will come from early 2016. These projects should deliver better long-term growth prospects and higher exposure from emerging markets. Compared to 2008, the paper business has a much lower weight on the group's revenues mix, a trend that should intensify over the next few quarters.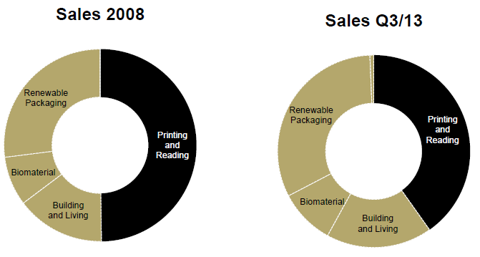 Financial Results & Dividends
Stora Enso's financial performance has been weak over the past few years due to the structural challenges it faces in the paper industry. In 2012, its revenues declined by 1.4% to almost $15 billion. Its profitability has also been declining, with EBIT margin worsening from 7% in the first quarter of 2011 to about 3.5% at the beginning of 2013. However, Stora Enso's financial results have improved over the past two quarters due to the measures already taken to overhaul its business and new production coming from Poland. In the third quarter of 2013, the company's EBITDA increased 25% from the same quarter of 2012 to $430 million, reaching an EBITDA margin of 12.2%. This compares to 11.2% in the second quarter of 2013 and 9.2% in the same quarter of the past year, showing some good early signs of successful business turnaround. Its EBIT margin also improved from 4.6% in Q3 2012 to 7.2% in Q3 2013, the highest level since the beginning of 2011. In the last quarter the business segment Renewable Packaging had its biggest EBIT contribution ever, accounting for about 55% of Stora Enso's EBIT.
Regarding its dividend history, Stora Enso has cut its dividend in 2008 following several years of unchanged dividend. Over the past two years, it paid the same dividend per share of €0.30 ($0.41) which should remain stable over the next three years according to analysts' estimates. At its current stock price, Stora Enso has a dividend yield of almost 4.5%. Although the company is facing issues on its paper business, its cash flow generation has remained quite good and should improve in the next few years due to lower capital expenditures as new projects are completed.
The dividend is also supported by Stora Enso's relatively strong balance sheet. At the end of the third quarter of 2013, its net debt amounted to $3.7 billion or a net-debt-to-EBITDA ratio of 2.5x. Stora Enso also has the possibility of selling some non-core assets to fund the business transformation, which could reduce its balance sheet leverage and further support its dividend.
Conclusion
Stora Enso faces structural headwinds in its core paper business, but the company is taking steps to address it focusing on different growth areas. The company's strategic investments should offset declining paper revenues, and together with a lower cost structure, improve margins and returns for Stora Enso. Moreover, the attractive dividend yield of 4.5% provides some downside support for the share, which together with the impact of transformational investments should lead to positive returns over the long term.
Disclosure: I have no positions in any stocks mentioned, and no plans to initiate any positions within the next 72 hours. I wrote this article myself, and it expresses my own opinions. I am not receiving compensation for it (other than from Seeking Alpha). I have no business relationship with any company whose stock is mentioned in this article.