Summary
In May of this year, Quiksilver (NYSE:ZQK) launched an impressive, overarching profit improvement plan that was expected to turn around a company that had not grown revenue since 2007 and had not turned a profit since 2006. The company hired new CEO Andrew Mooney to head up this overhaul. We briefly covered this overhaul in a previous article. Today, we want to investigate how this turnaround is going in the context of the demise of Billabong. Both companies have taken much different routes since 2010 and understanding the failures of Billabong highlights the potential success for Quiksilver's turnaround.
The Plan
The plan of action is very well laid out by the company on their website already here. The key ideology by the overhaul was to cleanse the company of unprofitable segments, reduce SG&A costs, streamline the business, and refocus on the company's core business. What we want to do today is talk about the company's changes by uncovering for investors how a major turnaround by Billabong (OTCPK:BLLAF) failed a few years ago and how the plan that ZQK is taking is significantly different than Billabong. This original analysis that we are doing will delve investors into the mistakes of Billabong and juxtapose them with Quiksilver's plans.
Quiksilver has three main brands: Quiksilver, Roxy, and DC. The three brands market to three different aspects of the action sports industry. Quiksilver is a surf and surf lifestyle brand. Roxy is a general female action sport line, and DC is a skateboarding-based brand.
ZQK's most important plan has been to rededicate these brands to their core and original success. Since Mooney came into office, the company still has not seen a dramatic benefit to their brand. The problem for the company is that designs for the brands were already out through several seasons, and the company would not be able to see dramatic improvements to the lines until the fall of 2014. The company hopes to create more brand strength by divesting their non-core products, globalizing product design (so that products are similar across all regions), and licensing secondary and peripheral products. By creating brand strength, the company believes that they can create better growth and redefine what Quiksilver stands for.
Prior to Mooney, there were 30,000 SKUs that were being produced with many differences from country-to-country as each acted as a separate entity (with only around 4000 of these SKUs actually creating a profit). The company has appointed Eric Kergolot as a global leader for retail stores and Nicolas Foulet as the global leader for e-commerce. By appointing these global leaders along with others, the company is globalizing their brand.
Learning from Billabong
Yet, can the company be successful at transforming itself over the next several years. The best way to know is to understand what a very similar company in Billabong did wrong. In 2011, Billabong wanted to expand its business. The company was mostly a wholesale company that worked with small retailers, and as small retailers disappeared in 2011, the company decided to make several moves. Now, Billabong can be viewed as a failure story. The company lost over $250M in 2012 and is in dire straits currently.
What were the main mistakes that Billabong made:
Entering retail
Missed trends
Lack of internet exposure
Mixed brand messaging
Retail explosion
The first main mistake Billabong made was entering retail. In 2004, when the company's growth was at its highest, they only owned a handful of retail stores. By 2011, the company had 600+ stores along with purchasing several new brands, such as Element, Rush, DaKine, and many others. The company spent a lot to expand, and the fruits of their labor were very bare. The company reported $536M in losses for the back half of 2012. What went wrong? An expansion of retail is not necessarily a bad thing. Yet, the company had spent a lot acquiring brands, and it appears to have missed significant trends and became unpopular. More is not always better.
Quiksilver appears to have much different ideas of how to approach this issue. Billabong decided to expand by acquiring and expanding retail. ZQK is taking a much different approach by divesting businesses and closing down underperforming stores. Yet, the company does believe direct-to-consumer is the future for them. The company, currently, has over 800 owned or licensed company retail stores. In the latest quarter, the company closed 15 net stores year/year in Q3 2013. Further, the company has done a great job of divesting their company.
The company sold off Merlin Manufacturing, which makes Gnu snowboards and Lib Tech. As part of the deal, the Roxy brand snowboard will be licensed out to the buyer as well. The company only has Moskova (an underwear line) and Hawk Skateboarding Apparel Systems left to divest. The company's appointments for global heads of the business are showing that they are working hard to globalize their business. The plan appears to be working well already. The company saw brick-and-mortar sales rise 2% in Q3 with 33% growth in e-commerce. The company, additionally, is focusing on e-commerce as direct-to-consumer, realizing that retail stores are not the future. The company, though, does believe wholesale will continue to be less important:
Going forward, we expect to see direct-to-consumer sales increase as a percentage of net revenues, with a positive effect on margins, higher SG&A levels and an overall positive effect to the bottom line… we offer our brands kind of, to use the term in all their glory, we have a Boardriders retail concept in Europe, where we put all 3 brands together. It very much caters to both the core consumer and the lifestyle consumer. The results from those stores are very, very encouraging. And you're seeing a number of action sports players, like Vans would be a good case in point, continuing to invest in some form of branded retail. And we're definitely going to continue to do that wherever the economics make sense.
The company appears to be learning from Billabong's mistakes, but what does it mean for investors and share value. The company is closing down underperforming stores and dedicating themselves to e-commerce (as we will discuss extensively moving forward). That means that the company should see margins expand, and it means that the brand strength grows rather than declines.
Missing trends…
The other main problem for Billabong that led to their demise was that they were not able to keep up with trends, and they failed to execute on what was popular. While this problem is a constant source of volatility for all apparel companies. Billabong seems to have failed miserably:
Coloured denim was a huge trend globally, and one which Billabong arrived too late to the party, having only dropped styles into store in May of 2012. Their peach coloured women's skinny jean arrived in Surf, Dive 'n' Ski on the 22nd May 2012 and held its AU$89.99 price point, selling out of the majority of sizes by September. By the time Billabong introduced their next round of colours (neons included) in December 2012, it was too late…It doesn't stop there; they were late with the coloured chino trend, which has seen big menswear success, having only just dropped their £60 red men's chinos into store at Zalandos.
The failure by Billabong is hard to predict for any company, but Quiksilver seems to have some of the most respected brands in action sports, and the company wants to move away from trends to more of a lifestyle brand that can be bought year round:
A classic example would be DC in apparel. We feel that the pants category for young men in apparel for DC is a category that we feel that we can make a lot of progress in. Similarly, shorts for Quiksilver. Quiksilver should be a very significant player in shorts beyond just board shorts. There are any number of -- the shorts categories, that could go above and beyond, both within the core channel and beyond the core channel.
Following trends is actually the opposite of what Quiksilver wants to do. They want to be come a lifestyle brand, which means that people will buy from them that are not surfers or skateboarders. They will have shorts, pants, winter wear, etc. to appeal to clients year-round. At the same time, though, the company understands that they are a surf/skate company primarily, and they want to strengthen that part of their brand. Maximizing the core channel and then bringing in other channels as well is the key. It will still take more time to see how this plays out for ZQK, but the fact that the company has taken this approach and sees opportunities is bullish for the company. How much value does this offer to shareholders. The company believes that they can add 3% revenue growth by 2016. This area, though, needs to be monitored.
Lack of Internet exposure
One of the biggest issues for Billabong was that the company had very poor Internet exposure. The company ranks 36K on Alexa ratings for their website traffic. The company has been noted as lacking any type of story on their website. The company was not able to get a strong e-commerce presence, and in this day and age, it is crucial for apparel companies.
How does that rank compare to Quiksilver?
ZQK ranks just over 10,000 for e-commerce, and the company has identified the website as one of the top priorities. In the latest quarter, the company saw a 33% rise in e-commerce revenue, and they have identified its web business as one of the most important catalysts for sales growth. Additionally, the company has identified digital and social media as one of the best ways it market the company, which will lead directly to e-commerce.
The important thing for Quiksilver to do, though, is to invest in e-commerce at a high level. Retailers tend to believe that they can simply put up a website, and it will sell itself. Ralph Lauren (NYSE:RL), for example, has one of the best-ranked e-commerce businesses in the luxury field. They invested $75M in e-commerce in the last quarter alone. The company hired Nicolas Foulet as the head of global e-commerce. Foulet appears to be the perfect fit for Quiksilver's e-commerce. Foulet was behind ZQK launching ten European retail sites using Demandware. The websites' focus around the company's image incorporating community, social media, videos, and sophisticated search. We visited the Quiksilver site to take a peak.
What we found in comparison to Billabong was a website that was more about a lifestyle than selling clothes. On the homepage, for example, the company has broken down clothing by sport - water, surf, and snow. They break down men and women sections by styles first rather than clothing item. Each style features a photograph at the top of the page to identify what its image is and the clothing matches that style.
Here is the homepage: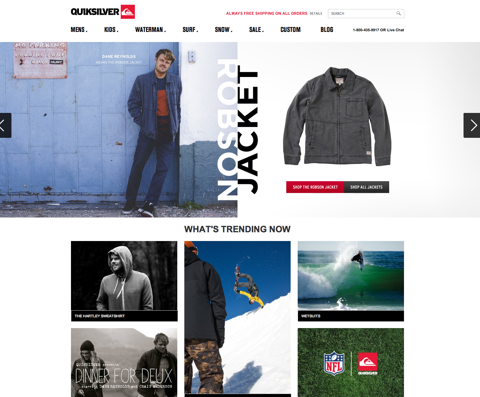 Here is the style page: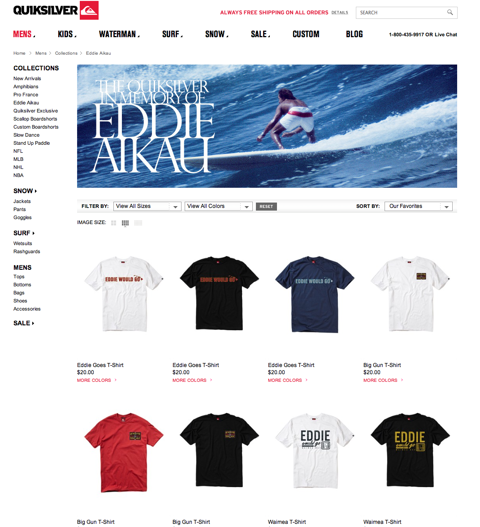 When one visits Billabong.com, the site immediately asks to go to a region rather than take one right to the needed location. The website, from there, is picture heavy but the pictures lead nowhere. The main difference we noticed was that style crossovers seemed confusing. On the tees page, the company features nearly every style of tee without breaking out styles. On ZQK, instead of tees being in one main grid, the site allows individuals to sort by colors, change the image size for pictures, and sort by price, favorites, etc. The Quiksilver site also loaded much more quickly.
ZQK's dedication to e-commerce, and its ability to quickly produce websites for different regions using Demandware that they can push in new markets is going to be a big win for the company.
Mixed brand messaging
The final issue that led to the demise of Billabong was its brand message. From 2010 to 2011, the company signed on Plan B, skateboard company; Becker Surf & Sport, surf retailer; West 49, action sports retailer; RVCA, action sport apparel; Surf Dive 'n' Ski, Australian retailer; and Jetty Surf. The company diluted its brand and did not leave a lasting image of what Billabong stands for. In apparel, brand is the key, and Billabong decided to take on a large amount of images all at once. It led to a heavy amount of debt and a lack of image.
The opposite is happening right now at Quiksilver. The company has decided its best to divest brands that are not part of the big three. So far, the company appears to be doing a solid job of divesting core products and licensing periphery products while globalizing product design and manufacturing. The company sold off Merlin Manufacturing, which makes Gnu snowboards and Lib Tech. As part of the deal, the Roxy brand snowboard will be licensed out to the buyer as well. The company only has Moskova (an underwear line) and Hawk Skateboarding Apparel Systems left to divest.
The company, further, has identified brand strength and creating it as their #1 priority for creating growth and income. Without brand strength, the company realizes that they have very little to create lasting relationships with their clientele and maintain it for a long time. By moving away from other brand cleavages, the company can focus on their core brands, and CEO Mooney appears to believe this will be fundamental to seeing progress in sales growth and income growth.
Moving forward, pricing the shares
So far we have talked a lot in the theoretical, but as one can see, Quiksilver is taking their next five years in a much different path than Billabong did. The company is slimming down the business and focusing on the core brands. They are cutting down on unprofitable retail stores and brands, and they are realizing that direct-to-consumer is the future with a large focus on e-commerce growth.
Yet, what does this all mean for investors? Are shares to be bought? Does the company have upside?
Let's put some numbers to the theoretical to understand the future for Quiksilver.
Revenue growth: The company believes they will see a CAGR rate of revenue at 2.5% by 2016. The company has not grown revenue in five years, and they will continue to see a dip through 2014 as the company continues to reinvest in the brands, loses certain lines, and closes down stores. Yet, in 2015, we should start to see the turnaround in revenue. By 2017, we could see 5-10% growth in revenue again, putting the company at approximately, $2.1B - $2.2B by 2017. Revenue will likely drop to $1.9B in 2014 based on the cuts and start to build again in 2015.
Income: Income, though, is a place where the company can likely start to see better margins more quickly. In fact, the company already started to see better margins in the latest quarter. The company is focusing in on several initiatives that will create better profits like cutting down on SKUs that are unprofitable, globalizing the business that is fragmented by country divisions, and closing unprofitable stores. The company believes they can get EBITDA to 13% of revenue by 2016. Currently, that level sits at 11%. The company has not seen their labor pay off yet, but it's still early in the game. With these calculations, however, the company should likely see EBITDA at around $280M by 2017.
Depreciation/Capital Expenditures: These should likely decline as the company wants to cut costs and bring down expenses, but we may start to see them cycle back up in 2016-2017.
Price Target: We used these numbers in a discounted cash flow analysis model and were able to come up with a price target of $10. The company has significant upside still left. While investors are still weary about this company's turnaround, they seem to be taking every move the right way to take their company back to where it needs to be.
Conclusion
Quiksilver has a lot of upside still left in its shares, and we believe that the company can continue to offer speculative investors some more upside. We need to continue to see positive momentum on some of the main initiatives that the company is operating.
Disclosure: I have no positions in any stocks mentioned, and no plans to initiate any positions within the next 72 hours.
Business relationship disclosure: Disclosure: I have no positions in any stocks mentioned, and no plans to initiate any positions within the next 72 hours. Business relationship disclosure: I have no business relationship with any company whose stock is mentioned in this article. The Oxen Group is a team of analysts. This article was written by David Ristau, one of our writers. We did not receive compensation for this article (other than from Seeking Alpha), and we have no business relationship with any company whose stock is mentioned in this article.