(Note: This article discusses micro-cap stocks. Please be aware of the risks associated with these stocks.)
The corn ethanol crush spread, which measures the difference between the market prices of corn feedstock and ethanol product, has fallen sharply since mid-September after remaining largely positive throughout Q2 and Q3. According to data from Iowa State University it has averaged -$0.14/bu so far in Q4 compared to $0.28/bu and $0.39/bu in Q2 and Q3, respectively. This decline has coincided with a fall in the share prices of independent ethanol producers such as Biofuel Energy (NASDAQ:BIOF), Green Plains Renewable Energy (NASDAQ:GPRE), Pacific Ethanol (NASDAQ:PEIX), and REX American Resources (NYSE:REX) since the beginning of September, especially relative to the S&P 500 (see figure). That both declines have coincided isn't surprising, as the share prices of two of these producers (GPRE and REX) have gained 87% and 55% YTD, respectively, due to a rebound of the crush spread from the lows experienced in the immediate aftermath of the 2012 drought.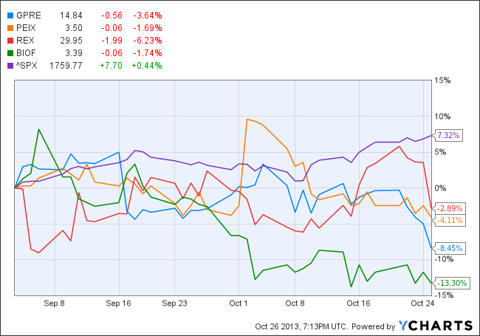 The decline of the crush spread itself is rather surprising, however, because corn prices have actually fallen relative to gasoline prices since July (see figure). Ethanol is a substitute for gasoline so the price of the former generally tracks that of the latter. Gasoline prices have remained relatively flat YTD, however, so the price movement since July would normally indicate a strengthening crush spread. This is not occurring at present, however, indicating that the price of ethanol has declined relative to that of gasoline.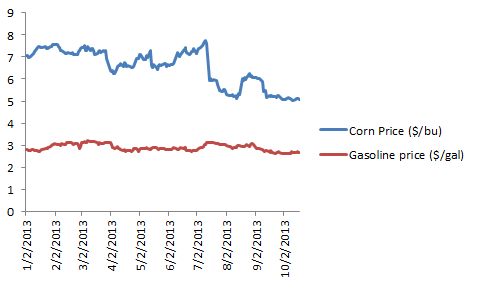 Sources: EIA (2013) and CARD (2013)
That has indeed been the case, reversing the trend of a growing ethanol premium relative to gasoline on an energy-equivalent basis that has prevailed since the ethanol blender's credit expired at the end of 2011. The 30-day moving average of ethanol's price premium to gasoline (energy-eq.) is the lowest that it has been in 19 months, recently falling to 100% (see figure). The ratio's fall below 100% earlier this month represents only the third time it has done so in at least 6 years. Furthermore, the ratio was likely skewed down prior to 2012 due to the presence of the blender's credit, which allowed blenders to offer ethanol for retail at significantly discounted prices, so ethanol's current price relative to gasoline may be even lower in reality than the historical numbers suggest.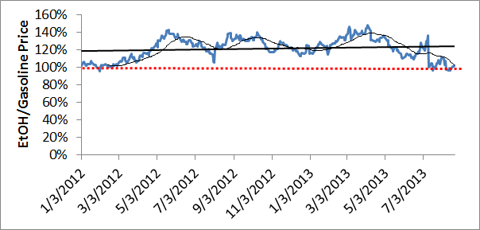 Ethanol/gasoline price on an energy-equivalent basis. Dotted red line denotes 100%. Sources: EIA (2013) and CARD (2013)
RINs continue to work...
A likely explanation for ethanol's recent price decline relative to gasoline is the surge in corn ethanol [D6] Renewable Identification Number [RIN] prices since the beginning of the year. RINs are the compliance commodity that underpin the revised Renewable Fuel Standard [RFS2], which mandates the blending for consumption of set volumes of different biofuel categories through 2022. The largest biofuel by volume under the mandate at present is corn ethanol. Ethanol is an imperfect substitute for gasoline, however, and is generally only consumed in blends of up to 10 vol% [E10] as a result. This limitation creates a "blend wall" that is encountered when U.S. ethanol consumption reaches 10 vol% of U.S. gasoline consumption. It became apparent earlier this year that the mandate will require the consumption of more ethanol by 2014 than the blend wall permits. Refiners, which are obligated to blend specific volumes of biofuel into the transportation fuel supply each year and then submit a corresponding number of RINs (which are generated when biofuel is produced and separated when it is blended) to the EPA at the end of the year to demonstrate their compliance, responded to the news by trying to quickly purchase their annual RIN quotas. D6 RIN prices soared from $0.04 at the end of 2012 to $1.45 by mid-July 2013 as a result.
While the conventional wisdom has been that RINs operate to incentivize production, their increase in value in response to the blend wall suggests that they also operate to incentivize consumption. Blends of up to E15 are permitted in the U.S. but have largely been avoided over concerns that they will damage vehicle engines. Blends of up to E85 are also available at many retail locations but can only be used in specially-modified flex-fuel vehicles, which cost roughly $100 more to produce than unmodified vehicles. One theory for the RIN price increase in 2013 is that it will allow the RFS2 to overcome the blend wall if the high RIN value is used to incentivize the consumption of E85 in the form of discounted ethanol prices relative to gasoline. As recently as August the 18-month trend had the premium moving higher, although even then there were early signs of a Q3 2013 downturn. The ethanol premium peaked in early April and, with the exception of a spike in late June, has steadily declined ever since. While inconclusive in and of itself, this new trend adds to a growing body of evidence that high RIN prices have been used to offer ethanol at a discount in recent months and thereby incentivize consumption of higher blends of ethanol.
...but for how much longer?
As I've detailed in the article hyperlinked immediately above, the EPA has responded to strong pressure from the refining lobby by indicating that it will reduce the 2014 volumetric mandate to a level that does not exceed the ethanol blend wall. In August it announced that it will account for the blend wall in making its determination and in October its proposed rule, which would reduce the mandate to the blend wall volume, was leaked. While the proposed rule must still undergo a public comment period prior to being finalized, this uncertainty has caused RIN prices to collapse since peaking in mid-July (see figure); the D6 RIN price has fallen by 84% in just over three months. The EPA's proposed rule would, among other things, decrease the share of the volumetric mandates attributable to corn ethanol from 13.8 billion gallons in 2013 to 13 billion gallons in 2014. This would result in overproduction and likely drive D6 RIN prices to their 2012 range of $0.02-$0.04, eliminating the incentive for drivers to consume higher blends of ethanol and thereby overcome the blend wall. Again, the reduction to the mandate has yet to be finalized, but the RIN market is certainly behaving as if the final rule will closely resemble the proposed rule.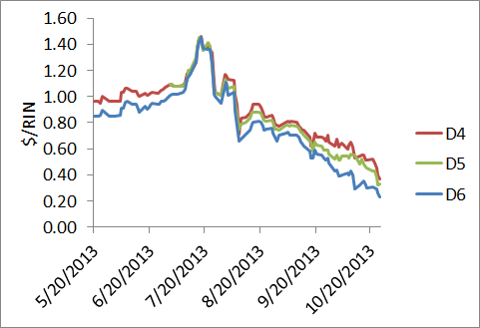 Source: EcoEngineers
Investment implications
While greater consumer acceptance of higher blends of ethanol is necessary if independent ethanol companies are to experience long-term earnings growth via increased ethanol production, it is possible that these same companies could receive a short-term earnings bounce if the EPA's final rule on the 2014 volumetric mandates ends up being substantially the same as its proposed rule. A finalized reduction to the 2014 mandate would indicate that the EPA believes ethanol will be unable to overcome its blend wall, in which case the post-2014 mandate volumes would also be reduced. This would result in approximately 2 billion fewer gallons of annual corn ethanol production per year than has been expected since the mandate was created in 2007, eliminating demand for 750 million bushels of corn and pushing corn prices down still further while also sinking RIN prices. Lower corn prices would cause the crush spread to increase (assuming gasoline prices don't collapse at the same time and thereby push down ethanol prices), which would provide corn ethanol producers with a short-term earnings increase. The industry would stagnate beyond that quarter due to a shrinking market size, of course, but the described scenario could present bold investors with a short-term investment opportunity in GPRE, PEIX, and REX (investors are advised to avoid BIOF due to its current financial state).
Diversified corn ethanol producers will also be impacted if the mandate is reduced, although to varying degrees. Refiner Valero (NYSE:VLO) is one of the largest corn ethanol producers in the U.S. but doesn't perform sufficient blending to meet its share of the mandate as a refiner. As a result it estimated earlier this year that it will spend up to $800 million on RINs in 2013 to comply with the mandate. The company has seen its share price increase by 18% in the two weeks since the EPA's proposed rule was leaked and any further reduction to RIN prices will benefit it still further, regardless of what this would mean for future ethanol consumption.
On the opposite end of the spectrum is diversified corn ethanol producer The Andersons (NASDAQ:ANDE), which has large exposure to grain production trends via its grain terminal and plant nutrient operating groups. A reduction to the RFS2 mandate to the volumes permitted by the ethanol blend wall would immediately reduce the amount of corn used by corn ethanol producers in 2014 by 300 million bushels and steadily reduce it further each year thereafter (due to anticipated reductions in U.S. gasoline consumption over the next decade). Such a reduction would negatively impact the company's earnings both short-term (via reduced demand for its agricultural services and products) and long-term (via reduced demand for corn ethanol). It would also similarly impact the earnings of another diversified corn ethanol producer, ADM (NYSE:ADM), although to a lesser extent due to that company's larger scope and greater degree of diversification.
Conclusion
Shares of independent corn ethanol producers have underperformed the S&P 500 by a substantial margin since the corn ethanol crush spread began to turn negative in September. While producer share prices tend to track the crush spread over time, the most recent decline comes even as ethanol prices have fallen sharply relative to gasoline prices, and the two now trade at an equal price on an energy-equivalent basis. This reverses an 18-month trend of a growing ethanol premium. One theory for the disappearance of the ethanol premium is that ethanol blenders are passing the value of recent high RIN prices to consumers in the form of cheaper ethanol in an attempt to spur E85 consumption over the ethanol blend wall, and the last few months have seen mounting evidence that this is indeed occurring.
The EPA's recent proposal to cut the RFS2's ethanol mandate to a level that doesn't exceed the blend wall has caused RIN prices to collapse, removing the incentive for E85 consumption growth. The finalization of the EPA's proposal could result in a short-term earnings increase for corn ethanol producers by causing the ethanol premium (and thus the crush spread) to rebound, although it would also force producers into a declining market size beyond that. Similarly, finalization would also negatively impact diversified ethanol producers with exposure to the broader agricultural markets by slashing corn demand in 2014 and steadily decreasing it further each subsequent year.
Disclosure: I have no positions in any stocks mentioned, and no plans to initiate any positions within the next 72 hours. I wrote this article myself, and it expresses my own opinions. I am not receiving compensation for it (other than from Seeking Alpha). I have no business relationship with any company whose stock is mentioned in this article.