Introduction
Since the publication of the second-quarter results, the already healthy appetite for solar stocks has increased valuations of most of the Chinese companies. In the third quarter, EU levy resolutions have changed business for a number of the Chinese, positively impacting some, but perhaps creating problems for others - mostly tier-2 or 3 entities. Potential gap is being replaced. The domestic market in China is heating up, supported by policy moves and, this time around, genuine demand. As a result, tier ones are selling off full capacities once again. There is no risk of guidance being missed, but there is a possibility of guidance increases.
Chinese and international ASP (average selling prices) for modules increased during the quarter. Big names exposed to Europe had to find a replacement market as they have possibly run out of the European quota, and they found it in China. Some smaller operators, who strategized to diversify, seem to gain in Europe. Others, who are using outsourcing models and even their own production lines abroad, like China Sunergy (NASDAQ:CSUN), are able to reap more benefits. Gross margins are expected to grow, but being cautious, we set a modest growth this time around.
General views
In our review, we are looking again at seven solar stocks. The first two profit contenders are Canadian Solar Inc. (NASDAQ:CSIQ) and JinkoSolar Holding Co. (NYSE:JKS). Both are high flyers among their peers, and both received high price targets from a couple of expert brokerage houses recently. The cat is out of the bag for those two names, and the market is counting on profits for both.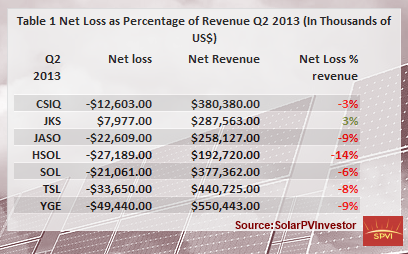 Canadian sold two solar plants for some $92M, which we believe will be part of the third-quarter income statement. We are quite certain to predict ASP rising for both in their module business, where JinkoSolar and Canadian are advancing global exposure over the second quarter. While Canadian is not delivering to Europe from China directly, Jinko is still available heavily in the area. Both companies are expected to have quota left for Europe during the second part of the year.
Another intriguing situation is JA Solar Holdings (NASDAQ:JASO) though still short of positive earnings, is also having a decent quarter with modules destined for international markets. Having smaller module capacity, JA's gross margin remains compressed by processing cost due to underutilization of its cell lines. It would be intriguing to see if there is a guidance boost from the company in a few days. JA has not helped its market potential by having a flat guidance for the quarter and keeping annual sales at the same level since the first quarter of the year.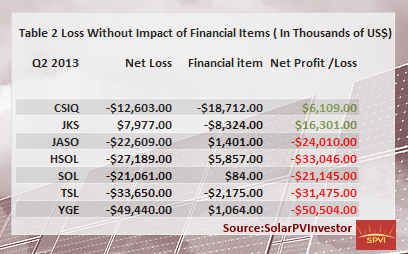 ReneSola Ltd. (NYSE:SOL) is in transition in more than just one place. First a wafer company, ReneSola has since grown to become a strong module shipper, by the quantity and quality. Globally, the company has been outsourcing modules in India, South Africa and Poland, sending wafers and cells to these locations. On the surface, ReneSola may be affected by the EU limit when it comes down to China's production lines, but fully outsourced modules, made in Poland, should improve sales. ReneSola's Achilles' heel is its polysilicon plant, a potential advantage which has not shown any benefit to date. The poly manufacturer has added cost to the bottom line since poly expansion started, and the story was no different in Q2, far away from its goal of $18 per kg. In addition, the plant was impacted by flooding during the second quarter. The company expects 1300 to 1700MT of poly production during Q3, which should help reduce the cost of underutilization. ReneSola has announced ASP of $0.66 per watt for modules in Q3, with sold out capacity for the rest of the year. According to its recent equity issue prospectus, on September 2nd, ReneSola had 341MW of modules contracted through OEM (original equipment manufacturer) arrangements. It is possible that Q4 guidance could see the company shipping over 500MW of modules. JinkoSolar also declared the sale of its total capacity, suggesting the potential for exceptionally strong fourth-quarter.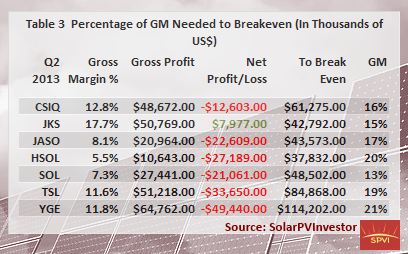 In a recent presentation by Yingli Green Energy (NYSE:YGE), the company had hinted at a single-digit percentage increase on volume, and expansion of margins within range of 11 to 13%. The conservative 12% is on the upside, based on ASP, but reaching 13% may contain more shipments to the EU. In this trend, YGE also expects 27% in Europe and about 30% to China in Q3, an assessment based only on revenue, not amount of MW. The names are becoming more distinct in this reporting season, CSIQ and JKS being in their own categories, Trina Solar Limited (NYSE:TSL) leading the rest of the five companies. From earnings perspective, Trina and Yingli look like they are still in the solid (operational) red, despite heavy improvements.
Review
Starting with Canadian Solar having $461M in revenue, this includes around $90M of solar plant sales. Those sales are also expected to raise CSIQ's margins to 16.7%, and net income of $25M translates to $0.59 per share. This estimate includes a hike to shipments for a total of 450MW. We include a $5M loss in Forex, and taxes of about $10M, accounting for tax benefit; tax expense is about $5M.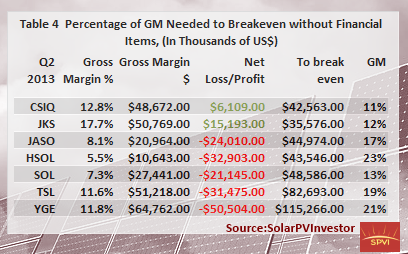 JinkoSolar's general and administrative expense will be normalized at around $11.2M. Only minor changes are expected for the financial items, but we see ASP and volume growth to shipments of 500MW with GM of about 18.85%, generating net income of $0.43. We do not recognize any electricity sales under the FiT program, which could add to revenue and net income.
From the perspective of the least loss per share, ReneSola is the number one candidate. We anticipate an improvement on the guidance here, but plan for a decent 762MW sold, with 462MW in modules. Modules are priced as per the company statements at $0.66 per watt. We believe ASP for wafers to have a slight uptick and in-house poly to establish a loss improvement. In all, those are contributing to gross margin expansion, which we see at 9.3%. There is a small reduction of interest expense, which could be further reduced if the recent offering has paid some debt. OPEX is kept at the same levels rationalized over the volume increase, with a $5M drop in R&D expenses, which could be moved to CAPEX in order to improve poly operations.
Hanwha SolarOne Co. Ltd. (HSOL) expected to see an increase in sales to 325MW and margin expansion to 7.4%, due to lower costs. Selling expenses are slightly lower based on OEM sales to Hanwha Q.CELLS, and interest expense is also lower due to more favorable interest rates. Expectation here is a loss of $0.23 per share.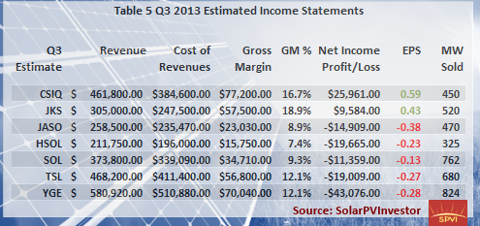 Trina is anticipated to meet the higher end of their guidance while Yingli is expected to have around 824MW shipped in the period. Both companies are estimated to reach over 12% GM. Trina is projected to see gains in Forex, and savings in OPEX based on increased shipments to the domestic market, resulting in a loss of $0.27 per share. While YGE indicated that the top of gross margin can be at 13%, Trina may have a greater opportunity to reach that level. If 13.17% is included in the calculation, Trina could see a loss of $0.20 per share. In the case of Yingli, a large amount of shipments to China will manage the company at the 12.1% GM in our opinion.
JA Solar has shown a slight uptick in gross margin. Underutilization of cell capacity, oversaturation of cells in the Chinese market and the need to get Taiwanese cells for the U.S. - the largest market for JA after Japan for modules - keep the margins in check. Volume to meet the guidance on 470MW and loss of $0.38 per share is foreseen. In this case, additional module growth and better percentile for optimization of cell lines could make a strong case for the quarterly surprise. While it remains to be seen, JA Solar's balance sheet is expected to be the best out of the group.
Disclosure: I am long SOL. I wrote this article myself, and it expresses my own opinions. I am not receiving compensation for it. I have no business relationship with any company whose stock is mentioned in this article.