On December 11th, Eli Lilly (NYSE:LLY) will lose U.S. patent protection of its antidepressant blockbuster Cymbalta (duloxetine) and the product's U.S. sales are expected to decline significantly. Cymbalta currently accounts for 24% of Lilly's global revenue.
During Q3-2013 earning call, Lilly's management volunteered an estimate of how much sales Cymbalta might lose in the last quarter of this year. We've done the calculations and we tend to agree with Lilly's management that during 2013 the effect of Cymbalta's patent expiry on the company's bottom line will be minimal.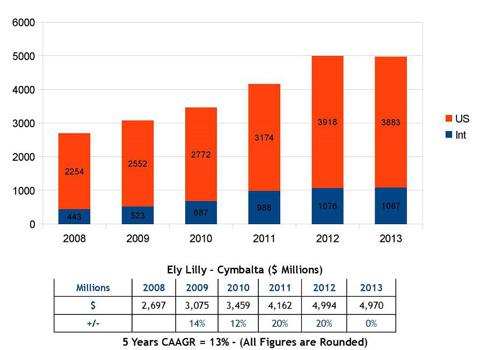 Cymbalta's U.S. sales this year have been $1.1 billion, $1.2 billion and $1.1 billion for the first three quarters, respectively. Lilly anticipates that U.S. Cymbalta sales in Q4 will be closer to $500 million, compared to a street consensus of nearly $800 million for the quarter.
Cymbalta, which generated a total of $29 billion in sales since it was first launched by Lilly in 2004, is expected to generate $5 billion in global sales this year.
Cymbalta is the global leader in the antidepressant therapeutic class with close to 80% of sales realized in the U.S. Several manufacturers have already received approvals to market generic versions of the product and are expected to launch their generics immediately following the loss of patent exclusivity.
Current retail price for Cymbalta can reach over $250 for a month's supply while a generic equivalent would cost less than $20, and there is no major difference in treatment outcome between the two products.
Lilly's management expects minimal wholesaler repurchases after the patent expires on December 11th as well as minimal wholesaler purchases in the three weeks leading up to the patent expiration as wholesalers work down their existing inventories to post-patent expirations levels.
Lilly seems to be prepared to successfully navigate the financial challenge posed by Cymbalta's patent expiration. The company is planning to continue investing in R&D, recapitalize its asset base and return substantial cash to shareholders.
Lilly's board of directors authorized a new $5 billion share repurchase program, which the company intends to complete over a multi-year period, and the company is planning to keep dividend payments at their current levels for the foreseeable future.
During 2013, Lilly completed the regulatory submission of several potential new drugs. The company submitted dulaglutide, designed to be injected weekly for Type II diabetes, in both, the U.S. and Europe and, along with Boehringer Ingelheim, submitted empagliflozin for Type II diabetes.
Lilly also aims to expand its cancer arsenal beyond its Alimta lung-cancer treatment. The company has applied to market a potential gastric-cancer treatment, ramucirumab, which could be launched next year and which analysts say has solid sales potential. It also expects to seek marketing approval before the end of 2014 for a potential lung-cancer drug, necitumumab.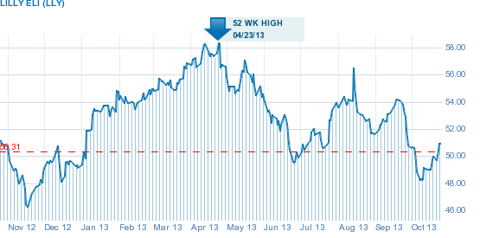 Lilly's Q3 revenue increased 6% driven by growth in key products, including Cymbalta, Alimta, Cialis, Tradjenta, Humalog, Strattera, Humulin and Animal Health. However, its Q3 net income declined 9%. The per share earning decline was slightly less at 6%, reflecting the benefit of its share repurchases late last year and early this year.
Lilly survived generic pressures before. After it lost patent protection for its popular antidepressant Prozac in 2001, a new wave of blockbusters including antidepressant Cymbalta and the erectile-dysfunction pill Cialis helped it recover.
Lilly has restocked its pipeline, in part with modest-size acquisitions and licensing deals, and avoided the type of megamergers pursued by Pfizer (NYSE:PFE) and Merck (NYSE:MRK). The pipeline looks robust and could help the company get through Cymbalta's patent loss.
Lilly's share price seems unchanged from its level at the beginning of the year, however it is currently down by 13% from its peak for the year, which was achieved in April. At a P/E of 12 and the prospects of $5 billion in share buybacks, Lilly's shares looks like good value for the time being.
Disclosure: I have no positions in any stocks mentioned, and no plans to initiate any positions within the next 72 hours. I wrote this article myself, and it expresses my own opinions. I am not receiving compensation for it (other than from Seeking Alpha). I have no business relationship with any company whose stock is mentioned in this article.