Most Americans woke up to the fact that the US is in the midst of an historic event just a couple of weeks ago. That's when a leading energy consultancy called PIRA declared that the United States had overtaken Saudi Arabia to become the world's biggest oil producer.
The scale of America's energy bonanza comes into sharp focus with the help of this map from the US Energy Information Administration.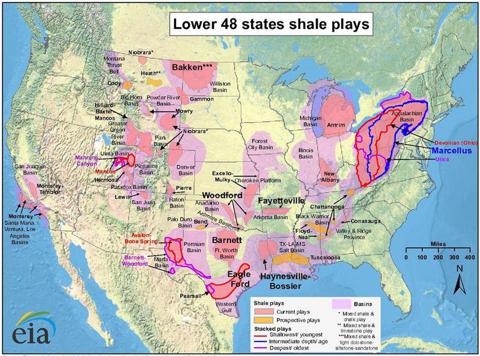 The word bonanza barely begins to describe this historic and nation-changing event. The natural question is how to invest to take advantage of this new form of gold rush safely and most profitably.
A lot of investors got burned as burgeoning natural gas supplies surged to surplus proportions and gas prices crashed. High-flyers like Chesapeake Energy (NYSE:CHK) were crushed as prices plummeted and the bonanza turned into an investment disaster.
But like a lot of investors, including Carl Icahn and Warren Buffett, I prefer to make money the old-fashioned way. Just as merchants selling picks and shovels walked away with most of the gains during past gold rushes, support industries have been a steadily profitable investment for the past year.
It looks like they will continue to be for many years into the future.
The Railroad Boom
As all oil investors know, there isn't nearly enough pipeline capacity in the US to deliver new American oil to domestic and foreign markets. Although America remains the world's largest oil consumer, there is more than enough surplus oil and gas to export to hungry foreign markets, if only we could get our output to port.
The oil boom first endangered and then saved America's railroads. As demand for coal plummeted, rail shipments declined sharply and stocks of the major coal carriers like CSX, Inc. (NYSE:CSX) sank. But in the absence of pipelines to carry oil liquids, railroads jumped into the breach and became very profitable investments once again.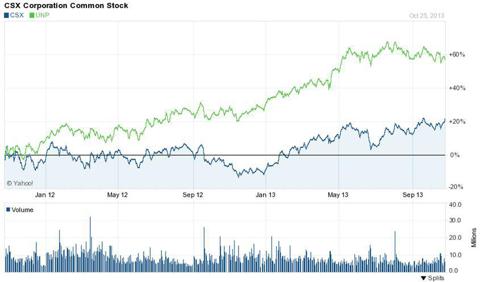 Union Pacific (NYSE:UNP) which carries oil from western basins like the Bakken shale has enjoyed a massive 60% gain over the past two years. Meanwhile CSX, Inc. has struggled to recover from lost coal shipments in the east and is finally making gains on shipments from the giant Marcellus shale formation. A third giant rail carrier is BNSF, which is owned by Buffett's Berkshire Hathaway (NYSE:BRK.A).
The Association of American Railroads reports that U.S. rail traffic excluding coal and grain rose 4.9% in September, the best monthly performance since December of 2012. Rail carloads of crude tripled last year to more than 200,000.
But one problem that all of these rail companies face is now finding enough tank car capacity.
Buffett and Icahn See The Need
Oil Producers are desperate to get anything to move crude oil according to a Bloomberg report, quoting Toby Kolstad, president of the consultant firm Rail Theory Forecasts LLC.
Kolstad says almost 7,000 tank cars were ordered in the last quarter of 2012, but the backlog unfilled orders stood at almost 50,000.
Carl Icahn and Warren Buffett saw the demand and pounced. Union Tank Car Co. (which is owned by Berkshire Hathaway) is working at full capacity. Trinity Industries Inc. (NYSE:TRN) - the country's biggest railcar producer - began converting wind-tower factories to tanker production last year to help meet the surging demand for tank cars.
American Railcar Industries Inc. (NASDAQ:ARII) has a backlog through 2014 and beyond. The company is 56% owned by Carl Icahn. Also in the running is The Greenbrier Companies (NYSE:GBX) which Icahn took a stake in but failed to take over.
All of these players have been making substantial gains.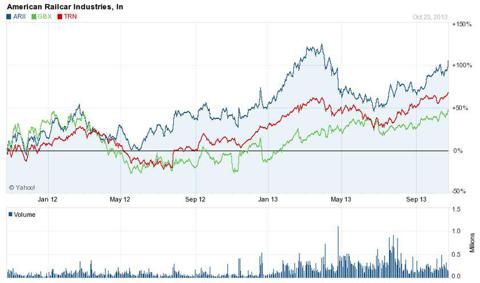 Although all of these companies are struggling to keep up with demand, and some are expanding their production capacity, that certainly doesn't mean they have peaked.
With earnings season upon us, I would like to briefly summarize some of the catalysts which could push these companies' shares higher.
Catalysts for the Industry
American Railcar Industries disappointed investors in its second quarter report due to slack demand for its open top hopper cars. But that may be that may be the last serious negative trend for this and other companies in the railcar business.
The average new tank car purchase price increased from $74,000 in 2011 to $100,000 in 2012 and increased to $133,000 in 2013.
The tanker shortage has been exacerbated by manufacturers who keep many of the tank cars they produce to supply their own leasing businesses. Leasing rates in some cases have more than quadrupled to $2,500 a month.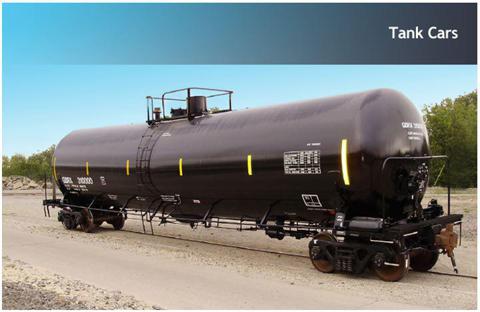 My focus is on American Railcar which is expanding its leasing fleet aggressively under Icahn's leadership. The company's last quarterly report disappointed some investors due to a perceived revenue shortfall and shares remained at very inexpensive valuations.
As Seeking Alpha commentator Michael Filloon explained on July 26th, revenues from cars which are sold are booked immediately. But new revenues from leased railcars do not show up as a sale but as a thinner stream of leasing revenue. This gave the illusion that revenues were under-performing, when in fact the company was transitioning to a more profitable way of doing business.
In its last earnings call ARII stated the following.
"Consolidated earnings from operations for the second quarter of 2013 were $40 million, compared to $26 million for the same period of 2012. Our operating margins were a record 25% for the second quarter of 2013, compared to 17% for the same period in 2012. The increase in earnings from operations was primarily driven by a strong tank railcar demand for our manufacturing segment, an increase in lease earnings, and lower selling, general, and administrative expenses."
Because the market focused on a revenue miss, shares performed anemically for several months. ARII's valuation metrics look like those of a low - growth company with single digit forward earnings multiples and a PEG rate of 0.76.
But I believe that the time has come for catalysts to kick shares into high gear as earnings season provides another dose of reality, in my opinion a reflection of a booming industry.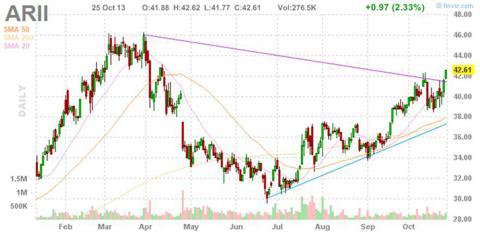 American Railcar will release its financial results for the third quarter after the close of business on October 30th. The company spins off a dividend yield of 2.50% and considering the rising cash flow from its leasing business, a dividend increase would be welcome.
The Greenbrier Companies, Inc. (GBX) will report earnings on October 31st.
Rounding out the Halloween earnings season, Trinity Industries Inc. will report earnings on October 30th. TRN recently increased its dividend by 15% and currently yields 1.3% annually.
Conclusion
I'm expecting a healthy helping of treats from all of these companies this Halloween. There are a lot of catalysts in terms of leasing and sales price increases which will show up in their earnings reports.
The stock market has priced these firms as slow-growers even though they are obviously riding an immense wave of demand in their sector. I believe ARII has the lowest valuation metrics and the best dividend, so I think it is the best deal of the bunch. More conservative investors may choose to diversify their funds through Carl Icahn's Icahn Enterprises LP (NYSE:IEP).
I expect a Halloween surprise in the form of a healthy and positive correction in this niche of rail sector at the end of October.
ARII: Buy-up-to price: $43.50 Target: $52.00 Sell-stop: $38.90
Disclosure: I have no positions in any stocks mentioned, and no plans to initiate any positions within the next 72 hours. I wrote this article myself, and it expresses my own opinions. I am not receiving compensation for it (other than from Seeking Alpha). I have no business relationship with any company whose stock is mentioned in this article.