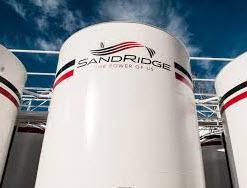 Executive Summary
SandRidge Energy (NYSE:SD) is up 24% since my article suggesting it was a Buy was published on August 22nd. That is a fairly good return in a short amount of time. Identifying and seizing on these types of mispricing opportunities is the crux of my contrarian investing mindset. The question now is do we hold the stock into earnings? I say yes the stock has much more room to run. In the following sections I will detail the reasons why I remain bullish on the stock.
The Inflection Point Is Here
Even with the stock being up 24% in the last couple of months it still has plenty of room to run. The upcoming quarterly report due out on November 5th after the market close will be the first quarterly report with no Tom Ward strings attached. I expect the company to beat expectations and year over year comparisons. This will be the first quarter where SandRidge should show significant improvement in production growth and cost reduction. This should show up as a vastly improved bottom line and major EPS growth. SandRidge's one year EPS growth rate is 46.20%. The company's five year EPS growth rate is 14.98%. This is substantially higher than the peer and industry average.

The Stock Is Fundamentally Undervalued
SandRidge is still immensely undervalued on a price to tangible book value when compared to its peers.

The company is trading for 1.7 times tangible book while peers are at 2.8 and the industry average is 6.0 times tangible book. This is a 65% discount to its peers. If SandRidge was to close the valuation gap, it would be trading for $10.65.
SandRidge On A Price to Sales Comparison Is Cheap
SandRidge is trading for a much lower price to sales ratio than the competition as well.

The company trades for a price to sales ratio slightly more than one while most of the competition trades for much more.
SandRidge Has Hit The Sweet Spot Of The Mississippian
The following chart details the oil and gas activity in the Mississippian shale play.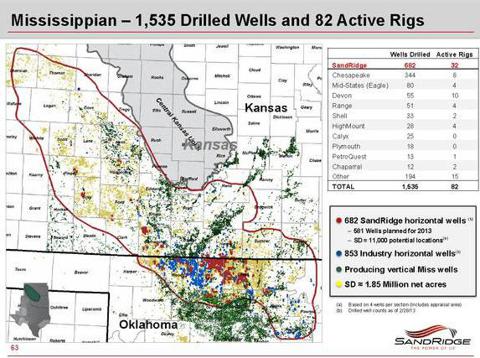 As you can see, SandRidge is focused on a specific area. This approach has allowed the company to take advantage of many cost saving tactics while simultaneously focusing on the best producing section of the play. This will be the major focus of the company for the next couple of years.
SandRidge Has An Activist
It is always nice to have your thesis backed by a major stock market activist these days. The trick is to get in before the stock moves up significantly due to the extensive press coverage. According to activist Leon Cooperman, SandRidge is worth at least $10 a share. Cooperman put SandRidge in his "Phoenix Rising from Ashes" category. He stated the market is undervaluing the company's proven assets. Cooperman's track record is impeccable. It is a huge positive having him as a shareholder.
Downside Risk
Macro risk: The emerging markets could finally implode causing another credit crunch large enough to disrupt the US and global economy. This would cause demand to dry up and lower oil and gas prices.
Execution risk: SandRidge's new management does not meet earnings expectations due to lagging sales or inability to get operations under control. They are going in and doing the best they can. This does not mean all the efforts will be successful.
Conclusion
SandRidge recently easily beat estimates for second quarter earnings and revenues. The average production for its Mississippi Lime wells, a key source of growth, rose 20% quarter over quarter and 88% year over year. The company raised its 2013 forecast for Mississippi output by 4% and increased its outlook for total oil and gas production by 2%. This positive development along with putting former CEO Tom Ward and his severance cost of $128 million behind the company are a good start. Furthermore, the stock has begun to show signs of life. The stock is in a well-defined uptrend and just achieved the golden cross where the 50 day sma crosses the 200 day sma.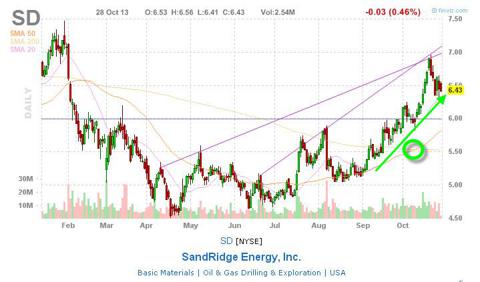 With new management focused on cutting costs and optimizing assets, I see SandRidge beating earnings expectations and moving back to the $10 range within the next twelve months.
Disclosure: I am long SD. I wrote this article myself, and it expresses my own opinions. I am not receiving compensation for it (other than from Seeking Alpha). I have no business relationship with any company whose stock is mentioned in this article.