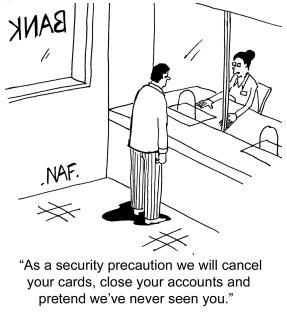 CEF Weekly Review: The 13 closed end fund (CEF) types on average posted a 0.3% increase for the week ending 12/11/09. On an aggregate, unweighted basis, the weekly average price change for the 513 CEFs increased 0.2%.

The weighted 49 CEFs comprising the Claymore CEF Index registered an average advance of 0.6% for the week.

The S&P 500, as measured by the SPDR S&P 500 ETF (NYSEARCA:SPY), was up 0.1%. Share volume diminished as the week progressed.
(Click Here (.pdf) for YTD CEF Performance. The table is based on a 270 CEF sample size as all the data fields are not available for the CEF universe.)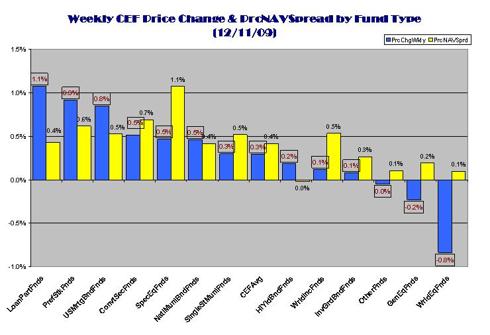 The Eqcome CEF Fear Index eased further this week. The weekly price change was greater than the change in NAV by 0.4% (0.3%, -0.1%. respectively). The CBOE Volatility Index (VIX), which typically moves inversely with the stock market, was up 1.6% for the week. The S&P 500 essentially flat-lined.
CEF Weekly Fund Type Performance: The price performance of the 13 fund types for the week favored fixed-income oriented CEFs. LoanPartFnds which led the fund types this week was also strong the previous week. LoanPartFnds has been the biggest price gainer this year appreciating 66.7%.
While LoanPartFnds may be a beneficiary of higher interest rates due to the floating rate loans in these portfolios and improved credits due to economy resuscitation, true revelers will be coming late to this party—particularly as the group is now trading at par.
Equity-oriented funds posted negative price changes for the week. WrldEqFnds have been bouncing from high-to-low weekly as investors sort out the implications of Dubai World and trader game investors' reaction. If the typical CEF pattern holds, WrldEqFnds should outperform next week.
CEF Spread Changes: Changes in PrcNAVSprds generally follow the trend of price movement. This is typically the case when markets generate meaningful price changes. With the exception of HiYldBndFnds, CEF fund types registered greater price appreciation than related NAV. This may indicate investors' confidence in this market sector.
SpecEqFnds registered the largest gap with average prices increasing 0.5% versus a NAV decline of 0.6%, thereby generating a positive spread of 1.1%. Some of this was attributed to the strong performance of the utility sector (see below).
CEF Winners and Losers: The CEF with the greatest positive PrcNAVSprd for the week was Evergreen Utilities and High Income Fund (NYSEMKT:ERH). ERH's price advanced a whopping 13.2% versus a 0.1% decline in its NAV. There are several factors causing this explosive move. No less than "bond king" Bill Gross suggesting investors look to dividend yielding stocks such as utilities as sources of income as yields on bonds deliver paltry yields of 2% to 4%. (A positive spread can be potentially viewed as negative, subject to other metrics, as share price and NAV should move more in tandem.)
All CEF utility funds got a boost from some of that thinking. There was one exception. Gabelli Global Utility and Income Fund (NYSEMKT:GLU) was the only such fund to experience a price decline (-2.3%). Whether this is a function of "global" in its name or its small size and limited liquidity (trades an average of 11,000 shares daily) it is probably worth a look.
It is selling at par and providing a monthly distribution at an annualized rate of 6.1% and its distributions appear to be generated from net investment income. It is a very small fund with low average daily volume of approximately 11,000 shares a day.
This week's CEF with the greatest negative PrcNAVSprd was the Delaware Investments National Municipal Income Fund (NYSEMKT:VFL). VFL generated a negative spread of 5.9% as a result of a 6.0% decline in price and a 0.1% decline in NAV. Since about 2006, VFL has seen a steady step down in its monthly distribution. Whether investors are anticipating another year-end downward adjustment is speculative.
Market Perspective: Anyone in the investment business who can "fog a mirror" and tap on a keyboard will be offering his/her predictions for next year's stock market outlook—including yours truly. This is the investment business' equivalent of the "running of the bulls" in Pamplona: an unmemorable event with a lot of crazies participating.
The source of most of these predictions will be tinged with observational bias: either wish fulfillment or "talking book". So, 95% will be of little value. Also, while someone will usually be right regarding their prediction, it's typically not the same person year-after-year.
The key in the prediction business is to predict often. So, don't unduly place any greater emphasis on year-end predictions than you might for ones made on July 19th.
(Click here for next week's economic calendar; click here for earnings announcements and estimates.)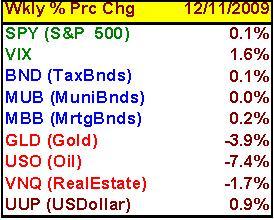 ETFs: (Click Here (.pdf) for ETF YTD sector performance.)
Insider Trading: The only active, consistent insider buying has been the Horejsi Group ("Horejsi") over the past couple of months. It was again a big buyer of Boulder Growth & Income Fund (NYSE:BIF). It added another 297,147 shares for an incremental value of $1.7 million. Month-to-date, Horejsi has acquired 458,296 shares for a total value of $2.6 million. Horejsi stake in BIF now amounts to 24.7% of the shares outstanding.
Horejsi would not continue to be an aggressive insider buyer of BIF unless it thought that it could make money doing so. So, the question is: will existing shareholders make money also? Or, is Horejsi's value-creation strategy based on victimization of existing shareholders?
In the face of continued, aggressive insider buying of the shares, BIF's share price has trailed the Eqcome CEF Index YTD to the end of November (29.4% versus 38.2%, respectively). This may indicate there is no "take-over" or "take-under" premium as investors perceive Horejsi's actions as not being in the best interest of shareholders. Another reason may simply be that BIF pays no dividend in a market segment that features yield. No one may be really paying attention. However, a resumption of the dividend would place the stock back on a lot of investors' radar screen.
Horejsi's accumulation of shares of size in a somewhat illiquid stock speaks well of their trader. This is an "inside baseball" situation for which I have no program.
Horejsi also added modestly to its position in Denali Fund (DNY) adding 4,300 shares this week and accumulating another 8,300 shares for $60,266 in value.
There was some scattered insider buying of deminimous amounts. The only ones of interest were two portfolio managers acquiring shares in related CEFs. The first was James Keenan of Blackrock Corporate High Yield Fund III (NYSE:CYE). Mr. Keenan purchased 1,500 shares which brought his total holdings to 84,500 shares. The other portfolio manager was Theodore R. Jaeckel, Jr. who purchased an initial position of 2,000 shares in Blackrock Municipal Income Trust (NYSE:BFK).
(Click here (.pdf) for a hyperlink to the Joe Eqcome CEF Weekly Insider Report.)
CEF Distribution Announcements This Week: The following is a link to a table of CEF distribution announcements this week as well as the previous week's with yet expired ex-dividend dates. The list is not intended to be inclusive. (Click Here (.pdf) for Weekly CEF Distribution Announcements.)
As we approach the final distributions for the year there will likely be fewer capital gains distributions as this year's gains are absorbed by last year's losses. In the linked distribution table a new column has been added called "Up/Down". This column, when, to the extent possible, will indicate changes in the direction of the dividend and any material changes in its composition. "w/Gain" indicates the distribution includes capital gains.
CEFs Focus for the Week: This week the focus will be on CEFDogs of '09. Every year-end it is fun to look at the worse performing CEF of the year in hopes that such stocks might rebound in the subsequent year.

In an effort to conserve space the follow is a link to a report entitled: CEF '09 Year-End Strategies, Part 1 ("CEFDogs") (.pdf) (12/7/09) that reviews some of the worst performing CEFs by price performance—which may, or may not, rebound in 2010, like the CEFDogs08 did in 2009.
Consider it food for discussion.

Disclosure: Diverse portfolio of CEF holdings, including BIF