Sometimes investing in bonds with nearing maturities is great. It allows investors to lock in a decent yield and you have a very good chance of the company being able to refinance the bonds. This eliminates the risk of being exposed for a very long amount of time.
Delta Air Lines (NYSE:DAL) issued nearly $66 million of senior note bonds in 2007. The yield at par is 8%. The bonds mature 12/2015, but can be called early on 5/2014. So the maturity is fairly close and the call date is only seven months out.
The bonds are trading $96.64, so it is under par, which means there is no call risk. Remember that the payment frequency is monthly. So even if these bonds are called early in May of next year, that is still an 8% return (includes bond appreciation). If the bond just matures, the total return is around 19.4% (includes bond appreciation). So not to bad of a deal for a limited hold period.
The current yield at maturity is 9.77%.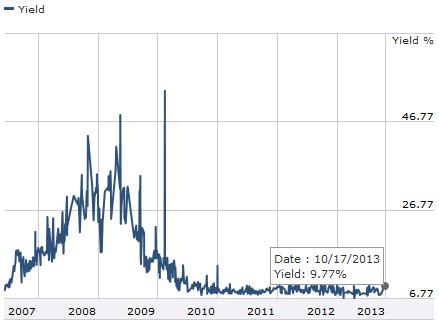 Now there are some risks associated with this bond. One is related to the lack of liquidity. The last trade was about 10 days ago. However, you can avoid this by using limit orders. Remember that this investment is meant to be held until maturity or early call. Once you buy it, the lack of liquidity makes it harder to liquidate.
The other risk is related to Delta Air Lines. Delta Air Lines has faced the same problems of its peers. The airline industry is a tough business, but it's important to note that Delta Air Lines has maintained a positive free cash flow consistently. In 2012, Delta had a positive FCF of more than $500 million.
The other plus is that Delta has $3.1 billion in cash. That is more than enough cash to easily cover the $66 million of maturing debt. Keep in mind, the bonds mature in two years, so there is very limited risk related to holding this bond.
I believe Delta's bond is great investment due to the strength of the underlying company and the short holding time frame for this security. Investors need to make sure if they plan on purchasing these bonds, they should place limit order under par.
Note: The CUSIP for this bond is 247361YY8. Please check with your broker if this is your first time buying a bond.
Disclosure: I have no positions in any stocks mentioned, and no plans to initiate any positions within the next 72 hours. I wrote this article myself, and it expresses my own opinions. I am not receiving compensation for it (other than from Seeking Alpha). I have no business relationship with any company whose stock is mentioned in this article.
Additional disclosure: I plan to place a limit order for this bond.