While the government has punted the budget football down the field, and put off a budget in favor of a continuing resolution and temporarily raised the debt ceiling, the economy is not free of the effects. The holiday season is when retailers typically earn 20-40% of their annual sales, and while the government is now running, the threat of another shutdown could curb consumer enthusiasm.
Holiday sales estimates prior to the shutdown
Prior to the shutdown, the National Retail Federation released their predictions for the 2013 holiday season with an increase in 3.9% over last year totaling $602 billion. However, this data was compiled prior to the shutdown, and caveated their prediction saying that a prolonged shutdown would have a negative effect on the season:
"Our forecast is a realistic look at where we are right now in this economy-balancing continued uncertainty in Washington and an economy that has been teetering on incremental growth for years," said NRF President/CEO Matthew Shay. "Overall, retailers are optimistic for the 2013 holiday season, hoping political debates over government spending and the debt ceiling do not erase any economic progress we've already made."
Now that the shutdown is over (albeit temporarily) government workers and contractors are back to work, but still feel the threat of another shutdown that hangs over their heads. The NRF has not reevaluated their predictions, but the actual results will likely be tainted.
Estimated cost of the shutdown
After the government returned to work, the Standard & Poor's estimated the total cost for the government was $24 billion, or about $1.5 billion per day. Moody's came in with a similar estimate of just over $23 billion. And while the government workers will get back pay for the time, there are still losses for the goods and services they would have produced and delivered during the time.
In addition to the lost revenues and confidence, the Standard & Poor's also made the following statement:
"In September, we expected 3% annualized growth in the fourth quarter because we thought politicians would have learned from 2011 and taken steps to avoid things like a government shutdown and the possibility of a sovereign default. Since our forecast didn't hold, we now have to lower our fourth-quarter growth estimate to closer to 2%."
Will consumers save instead of spend?
While government workers have returned to their posts, the crisis isn't over. The bill that was passed on October 16th only funded the government through January 15th, and lifted the debt ceiling enough for business to continue through February 7th. So for federal workers, they anticipated another crisis three short months, or just after the holiday season.
During this latest crisis, federal workers were given back pay for the time the government was shut down. However, the confidence of the American people in their elected leaders has waned. And Americans do not necessarily save for retirement. The following table represents the estimates for Americans from 2012: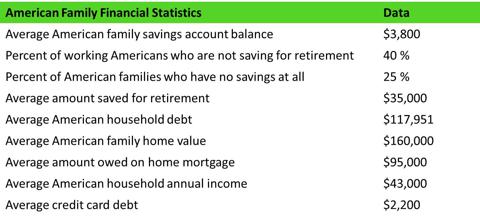 So the big mystery this holiday season is whether consumers will opt to spend or save. A savings account of $3,800 is either a small amount (if you're a federal worker in the Washington D.C. area) or enough to get through a longer duration of a shutdown (if you live in rural North Dakota). A recent survey by Goldman Sachs found that 40% of consumers scaled back spending as a result of the direct or indirect effects of the federal government partial shutdown. Either way, the threat of another shutdown is very real and may cause some consumers to scale back.
What are companies saying?
So the big question is how are retailers preparing and how do they feel about this season. While many CEOs are mum on the effects so far, investors can be sure the topic is coming up in the board room.
In an address to investors, Wal-Mart (NYSE:WMT) CEO Mike Duke described the economy as "tough and unpredictable." He noted that the partial government shutdown has also weighed on shoppers and the company is watching the development closely. "The government shutdown is on the minds of our customers," he said.
Macy's (NYSE:M) has declared they will be open on Thanksgiving Day. Although not directly related to the shutdown, they were already worried about the number of shopping days and the amount of money spent at some of their competitors.
And with the increase in online sales through Amazon and eBay, many of the box retails and Mall anchors could see poor sales. Citigroup analyst Oliver Chen stated, "Continued negative mall traffic, aggressive promotions and inventory growth running +1% above sales growth vs. -1% below (last year) put pressure on margins". This will negatively impact stores such as Macy's, J.C. Penney (NYSE:JCP), and Nordstrom (NYSE:JWN).
Black Friday and Cyber Monday will be the Litmus test
The first indication of how retailers will fair this holiday season will come with the preliminary results for Black Friday and Cyber Monday. Investors can expect to see big numbers, as retailers use these days to bring big money, but it could also be an indication on whether investors will be spending or saving this season.
Disclosure: I have no positions in any stocks mentioned, and no plans to initiate any positions within the next 72 hours. I wrote this article myself, and it expresses my own opinions. I am not receiving compensation for it (other than from Seeking Alpha). I have no business relationship with any company whose stock is mentioned in this article.