We were pleased with the tone of Kraft Foods Group's (KRFT) management during its September 2012 roadshow presentation heralding its separation and spin-off from Mondelēz International (NASDAQ:MDLZ). We believe that the company will prosper as an independent firm focused on the North American grocery sector. We are aware that the salad days of cornucopian revenue and profit growth that the consumer goods companies enjoyed in the 1980s and 1990s are over. We are aware that consumer goods companies are facing competitive headwinds from traditional food retailers in the form of private label products, mega-retailers like Wal-Mart (NYSE:WMT) concerning special pricing and product demands and all natural food products competing against mass-produced processed foods. Still, we believe that well-run food companies can generate 15%-20% ROEs, pay 3%-5% dividend yields, increase productivity by 2% annually and generate 7-9% growth. Another reason why we believe Kraft Foods will prosper as an independent firm is because it has sufficient competitive scale for its market and it is not under old Kraft's bureaucracy.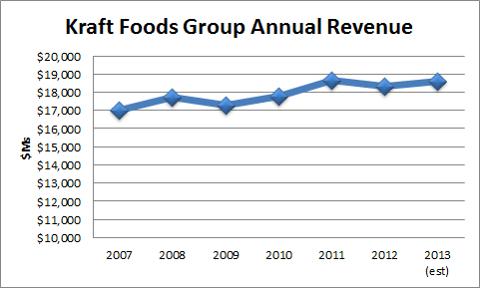 Source: Kraft Foods's Registration Statement and Our Estimates
Because Kraft Foods Group focuses exclusively on North America, it does not have to deal with the European and Asian currency fluctuations that have been flummoxing its peers. Although it had to deal with the effect of the strong U.S. Dollar in relationship to the performance of the Canadian Dollar in the last few years, the only Kraft division that saw any impact was Kraft's International & Foodservice Division and that division had an $8M currency benefit. This $8M currency tailwind resulted in a positive impact of 0.8% to the International & Foodservice Division's revenue and 17bp to Kraft Foods Group's consolidated corporate revenue.
Kraft Foods Group's operating income increased by $487M Q2 2013 versus Q2 2012 as a one-time $604M gain on its post-employment benefit plans offset a combination of increased marketing expenses, the impact of lower volume and higher Restructuring Program costs versus the prior year quarter. Kraft's adjusted EPS of $.87 beat the $.76 consensus analyst estimates. Kraft's adjusted EPS has beaten the consensus analyst estimates by at least $.10 in all four quarters that it has been trading as an independent company. In Q4 2013, Kraft's year-over-year comparisons will be more applicable and comparable since Q4 2012 was the first quarter it was an independent company and will reflect the interest expenses attributed to the company under its new capital structure.
Kraft's business units generated mixed performance during H1 2013 versus H1 2012 b. Kraft's Beverages division took $32M in charges and it saw its revenue decrease by 80bp and its adjusted operating income increased by 13.2% on a year-over-year basis. Kraft's Cheese Division enjoyed 3.8% in year-over-year adjusted operating income growth. The Cheese division enjoyed 4.1% year-over-year organic revenue growth based on 3.7% volume growth and .4% in positive pricing tailwinds. Kraft International & Foodservice took $20M in restructuring charges during the quarter but that did not stop the division from generating 26% in adjusted operating income growth. The division saw 2.4% organic revenue growth based on volume gains of 2.2% and bolstered .2% by pricing moves and 5% for the Soft U.S. Dollar. Kraft Refrigerated Meals took $26M in charges and its adjusted operating income slipped by 4.25%. This operating income decline was due to higher marketing spending and unfavorable pricing net of commodity costs, but reduced manufacturing costs helped mitigate the division's operating income decline. Kraft Grocery's operating income declined by 13.11% on an adjusted basis and its organic revenue declined by 3.7% during the period. Kraft Grocery's weak performance was due primarily to higher marketing spending, unfavorable volume/mix, higher costs incurred for the Restructuring Program, and unfavorable pricing net of commodity costs, partially offset by lower other selling, general and administrative expenses.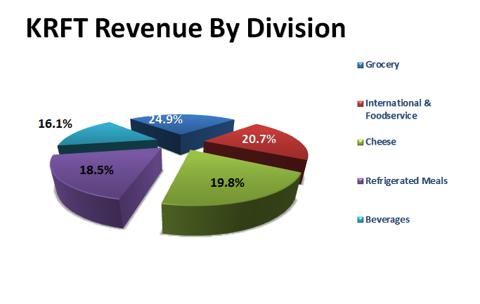 Source: Kraft's Q2 2013 Earnings Report
Kraft's CEO Tony Vernon previously worked with a private equity firm and spent 23 years with Johnson & Johnson (NYSE:JNJ) before Kraft Foods hired him in 2009. We can see that Tony is working to shake Kraft's bland image in the investment community as well as amongst consumers. We agree with Citi Research analyst David Driscoll that Vernon's conference calls are the most enthusiastic calls in the business. According to Vernon, there is no such thing as a tired brand, just tired marketers. Vernon and his executive team are working to transform Kraft's culture in order to make it the best investment opportunity in the North American food industry and these are some of their objectives:
Reduce its high overhead costs and have the lowest overhead cost burden.
Go from being a high-cost producer to the lowest-cost producer that can leverage its best brands, size and scale.
Go from inconsistent product innovation to offering the best-in-class product innovation.
Being strategic about its resource allocation by basing resource allocation on a product's margin, materiality and momentum.
Improving its human resources and recruiting operations to be the best recruiter and developer of industry talent.
Now that Kraft Foods Group is independent of Mondelēz, it is targeting converting at least 85% of its net income into free cash flows. In 2013, it is expecting its cash flows to be 70% because it has to make five corporate tax payments. For the first six months of 2013, Kraft Foods Group generated $611M in operating cash flows and spent $108M on net CapEx resulting in free cash flows of $503M. Kraft Foods Group ended the quarter with $1.16B in cash against $10B in debt. Before the spin-off, Kraft Foods Group was essentially debt free but it had to assume $10.6B in debt that Mondelēz transferred to Kraft Foods Group when Mondelēz declared itself a spin-off related special dividend before spinning Kraft Foods Group off to the public. Kraft Foods Group initiated a $2/share dividend in Q4 2012 and increased it by 5% for Q4 2013. Kraft Foods Group is targeting a mid-single-digit long-term dividend growth rate. Kraft Foods Group's current $2.10/share dividend represents a 4% dividend yield and 75% of Kraft's 2013 Expected Adjusted EPS of $2.80.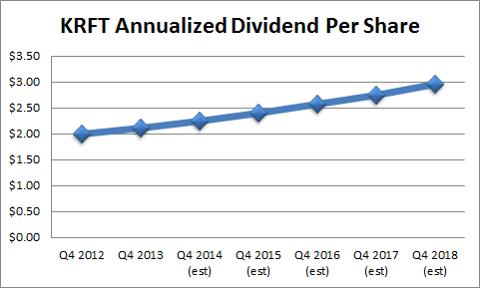 Source: Morningstar Direct and our Estimates
Although Kraft Foods Group's $10B worth of debt dwarfs its $4.3B stockholders' equity, we do not believe that investors should despair its financial condition. Kraft generated nearly $1.7B in adjusted operating income in H1 2013, which greatly exceeded the $253M in net interest expense during the period. Kraft has an adjusted interest coverage ratio of 6.7X and its debt has a weighted average effective interest of less than 5%. Kraft's first tranche of maturing debt is $1.4B and is due in June 2015. While Kraft is not debt free, it could completely retire all of its debt in five years or less if it chose to devote 100% of its free cash flows to debt retirement. Because interest rates in the bond market have increased since May, we expect Kraft to pay off a portion of its maturing debt with accumulated free cash flows while refinancing the rest. If Kraft's share was lower and if Kraft had less debt, it could institute a share repurchase program to offset the incremental stock issuance from employee equity compensation programs.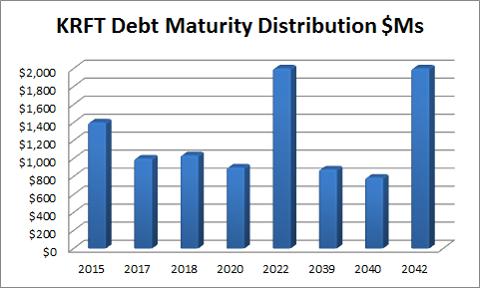 Source: Kraft's 2012 Annual Report
In conclusion, we are expecting steady forward progress from Kraft Foods Group. We like that Kraft offers a 4% dividend yield, a payout ratio less than 80% and the potential to improve its operations from the sclerotic stagnation that it was suffering from during 2007-2011 when its previous owners were focused on international growth. We like that the company is aware of the negative pathologies that were rendering and consigning it to mediocre performance and that the company is working to transform its corporate culture away from that unhealthy model. However, we like that the company is shifting its focus to drive free cash flows and profitable investments that cover the cost of shareholders' capital rather than empire building and we were especially pleased that the company was able to beat its EPS expectations by $.11 recently. Although we believe that it is fairly valued, we believe that it offers yield-hungry investors a superior alternative to bond ETFs like the iShares Barclays U.S. Aggregate ETF (NYSEARCA:AGG) because Kraft's 4% yield is higher than the 2.40% TTM yield of the AGG as well as the AGG's 2.34% SEC Yield.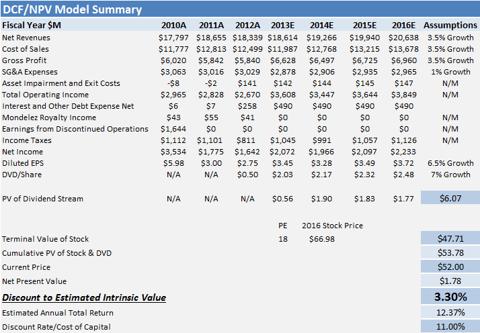 Source: Morningstar Direct and our Estimates
Disclosure: I have no positions in any stocks mentioned, and no plans to initiate any positions within the next 72 hours. I wrote this article myself, and it expresses my own opinions. I am not receiving compensation for it (other than from Seeking Alpha). I have no business relationship with any company whose stock is mentioned in this article.
Additional disclosure: This article was written by an analyst at Saibus Research. Saibus Research has not received compensation directly or indirectly for expressing the recommendation in this article. We have no commercial or pecuniary relationship with any company whose stock is mentioned in this article. Under no circumstances must this report be considered an offer to buy, sell, subscribe for or trade securities or other instruments.