Analyzing second quarter results released today, we reaffirm estimated Net Present Value (NPV) of $64 a share for buy-recommended Gazprom (OTCPK:OGZPY). On that basis, unlevered appreciation potential is 120% to a McDep Ratio of 1.0 where stock price would equal NPV. Unlevered cash flow (Ebitda) fell short of expectations as natural gas volume dropped 28% from the first quarter and price dropped 6%.
About 80% of natural gas sold comes from Gazprom's own wells which were curtailed further after the second quarter and rebounded sharply through last month (see chart Gazprom Monthly Gas Production Recovery, below). The Russian company's production outside North America generally exceeds the combined output of the next six largest producers in our research coverage (see chart Rest of World Natural Gas Producers, below).
Practically all of the six, Shell (NYSE:RDS.A), Exxon (NYSE:XOM), BP, PetroChina (NYSE:PTR), Statoil (NYSE:STO) and Total (NYSE:TOT) are partners of Gazprom in developing more natural gas in Russia. Pricing for all the large producers, except PetroChina, responds to oil price on a delayed basis among other factors in contracts that are usually confidential (see chart Rest of World Natural Gas Price, below). Carrying the competitive comparison further, our estimate of NPV for Gazprom implies an unlevered cash flow multiple in the range of its peers without giving credit for longer reserve life. Finally, the low natural gas price suggests that artificial U.S. political pressure may be a factor as it may have been when oil price hit artificially low levels in 1998, not seen since.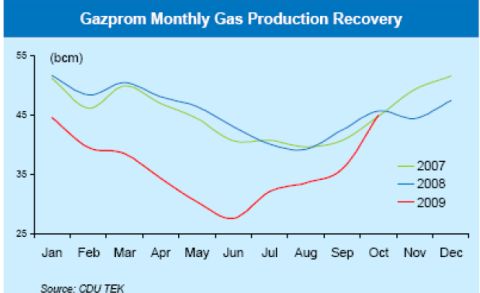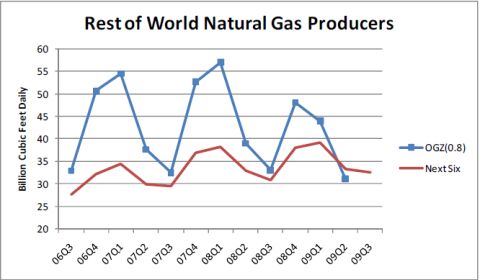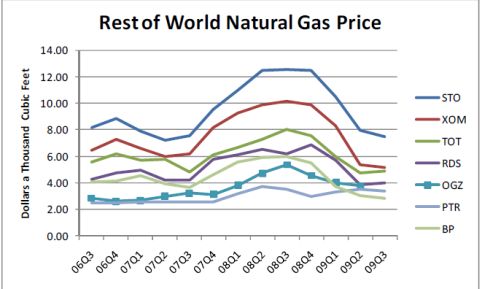 Originally published on November 9, 2009.