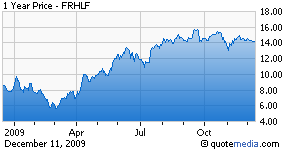 Investors looking for high income distributions might consider the units of Freehold Royalty Trust (OTCPK:FRHLF), unique in Canada for the right to oil and gas production free of investment and operating cost. That qualifies the stock as a Top Line Cash Payer in an exclusive group with the most favorable financial structure.
Freehold's highest distribution yield without commodity price hedges, estimated at about 11% for the next twelve months, is supported by rising cash flow. We reaffirm Net Present Value (NPV) of US$17 a share after analyzing third quarter results. Better than expected future volume trend could be a positive surprise with success by others on Freehold's lands where horizontal drilling with multi-stage fracturing may be mushrooming.
Promising results have been achieved by the industry on trust lands in the Bakken Shale oil trend in Saskatchewan, across the border from intense activity in North Dakota. The trust has been alerted to plans to apply horizontal multi-frac on its lands in the giant Pembina oil field in west central Alberta. Supplementing its legacy "freehold" rights, some of which date back to 1670, the trust also acquires both royalty interests and working interests in new properties.
Proceeds of an underwriting of 6.6 million new units, announced November 19, may be applied to acquisitions. Finally, U.S. taxpayers need to give careful consideration to the classification of Freehold's distribution as ordinary income rather than as a qualified dividend. In a tax-deferred account, the 15% Canadian withholding tax may not be recoverable.
Originally published on November 20, 2009.