Hewlett-Packard (NYSE:HPQ) CEO Meg Whitman said last week that the company will enter the 3D printing market in the middle of 2014. The news sent 3D Systems (NYSE:DDD) and Stratasys (NASDAQ:SSYS) lower that day, but both quickly recovered and 3D Systems even made new all-time highs last Friday. Wall Street does not seem worried, with both stocks being near or at their all-time highs, but Hewlett-Packard might become a serious competitor in the next couple of years. HP would need to be acquisitive, in order to get an edge and catch up with the market leaders. And 3D Systems and Stratasys are the market leaders, and have used acquisitions to expand their product offerings, and given the size of HP, they might become acquisition targets, and would give HP a great start in the 3D printing industry. However, there are smaller rivals in the 3D printing field that may become takeover targets in the near future: ExOne (NASDAQ:XONE), voxeljet (NYSE:VJET) and Arcam AB (OTCPK:AMAVF).
HP to enter the 3D printing arena
HP CEO Meg Whitman said that HP is excited about 3D printing, and that it is a natural business for HP to enter, given its heritage in printers. She also said that they want to lead this business, and that HP labs is looking into it. HP will enter into the 3D printing field by the middle of next year. Their focus will be to cut the costs of 3D printing and speed up the printing process.
3D printing would be something "new" in HP's business. The company has struggled over the last couple of years, and is in midst of a turnaround. CEO Whitman took over as CEO in September 2011, and is trying to help the company recover from years of declining business and stock price. New management, new products and services and new initiatives are needed in a fast changing world, and the company must be on the cutting edge, because it is easy to fall behind, as is evidenced in HP's example. I believe that the decision to enter 3D printing is the right way to go for the company, and while Whitman did not say anything about potential acquisitions, I believe that this would be needed if the company intends to speed up the learning curve and get ahead of the competition.
Formidable competition or acquisition targets?
Larger and/or smaller companies in the 3D printing industry could be acquisition targets. Although it is unlikely, I would not be surprised if HP bids for either 3D Systems or Stratasys. Both companies have a broad range of products spanning from industrial to consumer products, and would be a great starting point for the company and would give HP an edge in the growing industry. Whitman also says that she does not expect 3D printing to become a big business immediately, and that 3D printing is in its infancy. Credit Suisse estimates that four key industry verticals, aerospace, automotive, healthcare and consumer represent sufficient opportunity for the 3D printing industry to sustain 20% to 30% annual revenue growth, "bolstered by the technology's transition from prototyping to end use parts and expansion into metals." According to Credit Suisse estimates, the global primary additive manufacturing market will grow to just under $12 billion by 2020.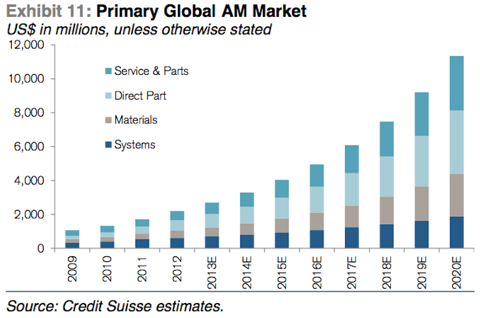 Source: Business Insider
Other publicly traded companies that might be acquisition targets include: ExOne, voxeljet and Arcam AB. All three companies have annual revenue under $50 million, but they are growing their revenues quickly as they try to expand their market presence.
voxeljet has two competitive strengths that might be interesting to a potential acquirer: build box size and volumetric output rate. voxeljet's VX4000 system offers a build box of 4,000 x 2,000 x 1,000 millimeters, which is six times the volume of the next largest commercially available 3D printer. Due to its build box sizes and print speeds, voxeljet's 3D printers provide high output efficiency, as measured by the rate of volume output per hour, relative to competing additive manufacturing technologies.
ExOne is focusing on the industrial segment of the 3D printing industry. The company's competitive strengths are its industrial materials that it uses and the chemical binding process. ExOne's 3D printers are capable of printing silica sand, ceramics, stainless steel, bronze and glass, and are in varying stages of qualifying additional industrial materials for printing, such as titanium, tungsten carbide, aluminum and magnesium. Most additive manufacturing companies cannot print industrial products in these materials. ExOne uses liquid chemical binding agents during the printing process, which enables efficiency gains over time than other additive manufacturing technologies, such as laser-fusing technologies.
Arcam's competitive strength is its advanced EBM (Electron Beam Melting) technology. 3D Investor states that: "During the patented EBM process used by Arcam AB, metal components are built up layer by layer from metal powders that are melted by a powerful electron beam to the exact specifications of a CAD model."
All of the mentioned companies have something to offer to a potential acquirer, and it remains to be seen which road HP will take: in-house development, or acquisitions.
Conclusion
While HP's entry into the 3D printing industry is good for the industry as a whole, it poses a great danger for 3D Systems, Stratasys and the rest of the 3D printing companies, publicly traded or private. However, it might be an opportunity for investors in the publicly traded 3D printing stocks, as they might become acquisition targets, and thus reward shareholders with further gains, as the buyer would need to pay a premium for the takeover target. That said, voxeljet, ExOne and Arcam might be acquisition targets for HP, but 3D Systems and Stratasys could also make a bid for these companies, in order to enhance their 3D printing technologies and product offerings, as well as prevent HP from getting a larger foothold in the industry.
Disclosure: I have no positions in any stocks mentioned, and no plans to initiate any positions within the next 72 hours. I wrote this article myself, and it expresses my own opinions. I am not receiving compensation for it (other than from Seeking Alpha). I have no business relationship with any company whose stock is mentioned in this article.