Written by Scott Matusow
The following small-cap energy play could be a real hidden gem in terms of percentage gains in the short and longer term. While small-cap stocks tend to be very speculative in nature, I feel this one offers a good opportunity for both short term and swing traders, along with investors who are attracted to taking on more risk for the longer term.
Acorn Energy (NASDAQ:ACFN) subsidiaries provide technology driven solutions for energy infrastructure asset management worldwide. Collectively, it offers sonar and acoustic related solutions for energy, defense and commercial markets with a focus on underwater site security for strategic energy installations and other acoustic systems, as well as development and production of real-time embedded hardware and software. Additionally, Acorn's subsidiaries collectively develop, market and sell remote monitoring and control systems to electric utilities and industrial facilities.
Potentially its most attractive asset, US Seismic Systems, develops and produces fiber optic sensing systems for the energy, commercial security and defense markets. The company''s patented ultra-high sensitivity fiber optic sensors are designed to replace electronic sensors with fiber optic sensors.
Technology
Acorn's most interesting asset might be its O&G geophysics services holding, US Seismic Systems. US Seismic Systems designs and manufactures industry-leading fiber optic monitoring solutions for the oil and gas industry. The sensing technology solutions manufactured and distributed by USSI have been used by oilfield service and equipment companies worldwide. Designed to replace legacy electronic-based sensor systems, USSI's oil and gas systems should offer a reliable and affordable alternative for 4D and microseismic monitoring.
The new fiber optic sensing systems should enable its users to improve efficiency, increase output and enhance safety at a lower cost than today's electronic sensor technology. With four patents issued and ten patents pending, the USSI system is designed to replace the existing 50-year-old technology. Most importantly, the technology offers a cost-effective, viable alternative to monitoring and enhanced oil recovery in the oil and gas sector.
Potential Benefits of the USSI Fiber Optic System
» Powered only by light
» No copper wire, electronics, or electricity at the sensor
» Inherently safe, no sparks or heat generated
» Sensor data can be transmitted for miles without degradation
» Fastest, best possible performance, at the lowest cost
US Seismic is poised to see growth from major O&G clients for use in high-temperature, unconventional basins, such as finding useable oil shale reserves at temperatures of 480 °C (900 °F) to 520 °C (970 °F).
The combination of hydraulic fracturing and horizontal drilling are the key techniques that have made recovery of shale gas economically viable. Environmental concerns regarding aquifer contamination and gas migration are now threatening to limit widespread extraction of shale gas using these techniques. Meticulous monitoring during these extraction processes could allay these concerns, however, such monitoring using today's technology is simply not affordable. At less than 1/5 the cost of conventional monitoring technology, USSI is in position to be a major winner for Acorn, and could double or triple Acorn's current market cap in a year or two.
The small cap energy sector has been heating up lately
Forest Oil (NYSE:FST) is rumored to be attracting unsolicited bids for its Texas panhandle delineated oil, natural gas and natural gas liquids assets. While the company has struggled to hold itself above water over the last year, things could be turning around for the company.
According to analysts firm Stifel Nicolaus, the sale of these assets which could be attracting bids might raise between $1 billion and $1.2 billion for Forest Oil. If Forest can move successfully away from dry gas and more toward liquids production, the company could end up being a nice turnaround story. Since July of this year, Forest stock is up over 20%.
Sanchez Energy Corporation (NYSE:SN) has seen over 300% growth year over year. Since 2011, production has surged from less than 1,000 barrels per day to between 8,000 and 10,000 this year. 75% of this growth has come in the form of liquids and shale oil, the same area where Acorn's US Seismic Systems is poised to potentially do very well in. Sanchez's current focus is on the Eagle Ford Shale where the company has approximately 125,000 net acres under its control. Sanchez stock is up nearly 75% since the beginning of 2013.
Rex Energy (NASDAQ:REXX) has been a steady small-cap growth company in natural gas production over the last year. Recently, Rex's production averaged 75.6 million net cubic feet per day of natural gas equivalent, which is impressive and has exceeded shareholder expectations.
Rex is continuing to acquire additional gas fields and capital from recent equity asset sales should provide the company with sufficient liquidity to complete aggressive drilling plans through 2014 in the field. Rex Stock is up nearly 100% since the beginning of 2013.
I believe Acorn could see similar significant stock gains as the above mentioned companies in the same time frame.
Recent insider buys
I always like to see insiders actually buy their own company in the open market and take a risk along with the rest of us retail investors. Acorn has had some nice insider buying lately, which is a bullish sign and has been reflected in the stock price lately.
Jackson Mannie, Director, bought 80,000 shares at $2.85 per share for a total value of $228,000.
Andersen James, President and CEO, bought 5,000 shares at $2.85 per share for a total value of $14,250.
Barth Michael, CFO, bought 3,500 shares at $2.85 per share for a total value of $9,975.
Recent financing
On October 17, Acorn announced its public offering of 3,508,771 shares of common stock at a price per share of $2.85 for gross proceeds to the company of $10 million closed. The company received net proceeds from the offering of approximately $9.1 million after deducting discounts and commissions to the underwriters and estimated offering expenses.
Since that time, the stock has rallied to as high as $4.61. The only warrants active are to acquire 228,070 shares of common stock at $3.135 per share, which are exercisable over five years to adhere to shareholder anti-dilution regulations. Because of so little warrant coverage, and the length of their execution, this is highly favorable toward retail shareholders. Because the company became grossly oversold as shown in the chart below, the current entry point is very attractive.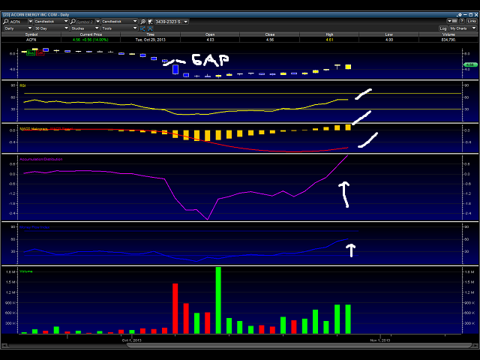 I have drawn white lines in the chart above to show the bullish signals I see. The accumulation is very strong as noted by the purple line. The blue money flow line is charged as well, both indicating the stock could break-out in the very near-term. Additionally, I have marked where there was a gap left in the chart from investors panicking on the recent finance deal, which begins at $4.54. We can see the stock has now begun to enter the gap, and I expect it to fill it completely, which would take the stock to around $5. With such heavy accumulation and the volume yet to really break out, I believe the stock could return to the $6 level very soon.
Conclusion
Acorn is now well financed and positioned for success. Short term technicals and fundamentals point to a higher stock price. It's longer term prospects are also attractive, yet carry the standard risks of a small-cap energy company. With the United States slowly trying to move away from its dependence on foreign energy, many of these small-cap energy companies should come into stronger focus for more risk-based investors and funds. Additionally, with no end in sight for the Federal Reserve's quantitative easing program, I expect higher risk asset classes to do very well over the next year or so.
Disclosure: I am long ACFN. I wrote this article myself, and it expresses my own opinions. I am not receiving compensation for it. I have no business relationship with any company whose stock is mentioned in this article.
Additional disclosure: Disclaimer: This article is intended for informational and entertainment use only, and should not be construed as professional investment advice. They are my opinions only. Trading stocks is risky - always be sure to know and understand your risk tolerance. You can incur substantial financial losses in any trade or investment. Always do your own due diligence before buying and selling any stock, and/or consult with a licensed financial adviser.