Along with the flurry of new launches from smartphone manufacturers, the telecom operators are experiencing growth in terms of revenue. This eventually has a positive effect on their top line, but it is also making the competition fierce. AT&T (T) is one such player in this highly competitive market that is not performing as per the investors' and analysts' expectations. In the third quarter of 2013, the company posted a profit increase of 4.9% year-over-year to $3.81 billion, but it is almost flat when compared to the profit of $3.80 billion in the previous quarter. AT&T managed to add 1.2 million postpaid smartphone subscribers and sold 6.7 million smartphones, which is a record for the third quarter. This was one of the driving factors for growth in profit, but this is also flat in comparison to the 1.2 million smartphone subscribers it added in the prior quarter.
Moreover, the stock price hasn't matched to the rise in profit, which is merely up around 1% in this year. The reason for this almost flat movement has been the ongoing Al Jazeera lawsuit against AT&T. Recently, the Delaware Supreme Court ruled that both companies should disclose the case to the public. This gave the investors a cause to worry that the revealed documents would hurt its business, resulting in a fall in the stock price. Another reason was AT&T's announcement of its Mobile Share plan in July this year. It's a family plan that consists of bundled talk, text, and data rather than forcing each individual in the family to pay separate fees for Internet access. The investors believed that the Mobile Share Plan idea could keep customers, but it also may restrict the company's ability to add new customers.
New partnership will drive revenue growth
Telecommunication companies including AT&T have been observing developments in the automotive industry as carmakers have begun adopting wireless connectivity features in their models. One such carmaker is Tesla Motors (TSLA), which has partnered with AT&T to provide high speed wireless service to its electric vehicles. Through this wireless service, the car owners will be able to access the typical features associated with smartphones, such as Internet searches and video streaming. In addition, this service will also provide remote engine diagnostics, which will give access to engine performance data. It is also equipped with a two-way connection for services including roadside assistance and stolen-vehicle location.
Moreover, AT&T is already in partnership with General Motors (NYSE:GM) and plans to install the wireless service in General Motor's entire range of cars by June 2014. We believe this deal will help AT&T expand beyond mobile phones and create a strong presence in the wireless service segment. It is also working with other carmakers including BMW, Nissan (OTCPK:NSANF), and Ford (NYSE:F) to include this service in their cars. Though the terms of the partnership weren't disclosed, we are confident that this will increase the revenue share coming from the wireless service segment that accounts to around 54% of the total revenue.
Model X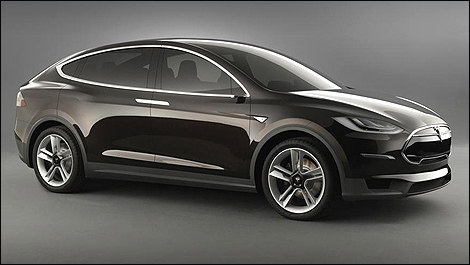 Source: auto123.com
Tesla launched its new Sports Utility Vehicle, or SUV, the 'Model X', which is expected to hit the market next year. The company already has 6,000 pre-orders for its Model X SUV, with customers paying $5,000 for the standard version and $40,000 for the signature version, as a pre-order deposit. Although the company hasn't announced the price of the SUV, the base price is expected to range from $70,000 - $90,000. We are confident that Model X will be successful based on the strong sales figure of its previous offering, "Model S", which is a sedan. The company sold 13,000 Model S cars through June this year and expects to sell 21,000 of these in 2013. In our view, AT&T will benefit from the increase in number Model X vehicles sold by Tesla, Additionally, Model S is assumed to have the wireless service going forward.
Wireless: the battle is getting intense
AT&T has to do more than provide wireless service to Tesla to make a stronger presence in the wireless market and compete against its peers. We believe its deal of selling and leasing 9,700 of its cell towers to Crown Castle, a wireless communication and broadcasting infrastructure provider, for $4.85 billion will guide the company in doing this. Through this deal, Crown Castle will have the exclusive rights to lease about 9,100 AT&T towers for about 28 years and purchase 600 other towers. Going forward, Crown is expected to buy the leased towers for $4.2 billion starting 2032. Whereas, AT&T will sublease existing capacity on the towers from Crown Castle for $1,900 per month per site for 10 years, with annual rent increase by 2% every year.
In our view, the deal is taking place at the right time as it gives AT&T excess cash to fund Project Velocity IP, the $14 billion upgrade plan for its wireless and high-speed internet networks. This deal will allow the company to monetize the huge tower base. This will also provide the company with the ability to add additional capacity through installing new antennas on the towers. Additionally, the enhanced wireless and high-speed internet network will support its launch of its first Voice over LTE, or VoLTE enabled smartphone, which is expected by the end of this year. VoLTE is a technology that uses 4G LTE network to offer enhanced voice, video, and messaging services. This smartphone launch is part of its plan, which includes deployment a wider VoLTE network technology next year. The VoLTE network technology is currently in the test phase, which after completion is expected to provide a HD voice experience for customers using VoLTE enabled handsets at both ends of a call. With the market share of around 50% in the U.S. wireless market, we believe the company will attain new customers and connections, which will positively impact the top line.
To gain from the enhanced wireless network, AT&T will face tough competition from Verizon Communications (VZ), which has a market share of approximately 30% in the wireless segment in the U.S. In September, Verizon bought Vodafone Group's (NASDAQ:VOD) 45% stake in Verizon Wireless, strengthening its wireless business in the U.S. Verizon recently posted its third quarter of 2013 results with a massive 38.3% year-over-year rise in earnings to $2.2 billion. One of the major factors for this massive growth was that the company added 1.1 million new wireless customers, and it expects it to increase this even further in the fourth quarter of 2013. It also plans to launch its first VoLTE enabled handset by the end of the year, with a wider commercial launch of VoLTE network in the first half of next year. We expect that this won't affect AT&T's growth as it has a subscriber base of 107 million users, 6 million more than that of Verizon's subscriber base of 101 million users.
Conclusion
AT&T is well positioned in terms of revenue growth, and the initiatives discussed above will make sure that it will observe revenue growth in the coming quarters. We believe the stock price, which is almost flat this year, will go beyond its current trading level based on the growth in its wireless segment. When compared to Verizon based on P/E ratio, it seems to be undervalued; AT&T and Verizon have a P/E ratio 26.50 times and 65.12 times respectively. Also, when compared to the Telecom Services industry's P/E of 31.6 times, it is highly undervalued, which makes it more attractive for a buy.
Disclosure: I have no positions in any stocks mentioned, and no plans to initiate any positions within the next 72 hours. I wrote this article myself, and it expresses my own opinions. I am not receiving compensation for it (other than from Seeking Alpha). I have no business relationship with any company whose stock is mentioned in this article. Fusion Research is a team of equity analysts. This article was written by Rohit Gupta, one of our research analysts. We did not receive compensation for this article (other than from Seeking Alpha), and we have no business relationship with any company whose stock is mentioned in this article.