Builders FirstSource (NASDAQ:BLDR) is generating accelerating profitability. In 2012 the company generated $6.4 million of adjusted EBITDA (after years of losses). By comparison, in Q3 2013 alone, the company generated $23 million of adjusted EBITDA. Builders FirstSource manufactures structural building products for the residential housing industry. It is benefiting from the housing rebound and its results demonstrate the operational leverage in its business model. In this article I will analyze Builders FirstSource's financials and valuation as well as my view on the upside opportunity over the next few years.
The Builders FirstSource Story
Please see my previous article for Bullish On Builders FirstSource: Over 2x Upside Potential To Mid-Cycle Intrinsic Value for the full background. Here are the 10 keys to the Builders FirstSource story:
The company's potential is tied to new single-family housing starts, especially in the Southeast and Texas
It is growing market share and benefiting from the rebound in the housing market
Long runway of growth potential as new single family housing starts are still far below the multi-decade trend
Lumber and other input costs were a headwind, but moderated in the recent quarter
High degree of operating leverage: incremental revenue is expected to generate an EBITDA margin of 13-15% (see previous article for details)
Achieved positive Adj. EBITDA in 2012 (after years of losses) and Adj. EBITDA growth is accelerating
Refinanced debt earlier in the year and now has more balance sheet flexibility
Valuation looks expensive based on historical financials, but rapid Adj. EBITDA growth makes valuation more reasonable
Stock still has upside potential based on an analysis of mid-cycle financial projections
In the near-term, fluctuations in mortgage rates may continue to drive the stock price and the broader housing sector
Financials
The rebound in the housing market has helped Builders FirstSource pass the inflection point of positive Adj. EBITDA. Going forward, the company's operating leverage will help it boost profitability. Here are a few highlights of its P&L:
Rapid growth in Adj. EBITDA: $49 million of LTM adjusted EBITDA compared to $6.4 million Adj. EBITDA in 2012
Gross margin has been climbing due to moderating cost inflation (especially lumber), higher prices and better volumes (but there is always the risk of higher input costs in the future)
Note the decline in SG&A as a percentage of revenue from 27.7% in 2010 to 18.5% in the LTM period
Interest expense was high in the nine months ended September 30, 2013 due to the debt refinancing and should be ~$30 million on an annual basis (~$28 million cash interest)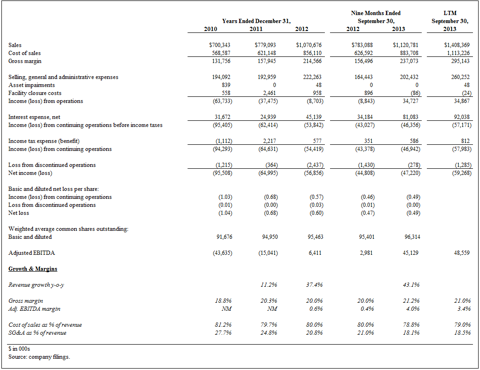 The company posted very strong gross margins in Q3 2013 of 23%. In Q3 the company benefited from favorable lumber price dynamics that will probably not repeat.
The company said that Q4 is a weaker period from a margin standpoint. I would not use 23% gross margins as the run-rate.
Nonetheless, there may be more upside from the 21.0% LTM gross margin.
Regarding SG&A, CFO Chad Crow believes that there is more room to reduce SG&A as a percent of sales:
"I think our best in '05 or '06 was around 18.3% of sales. I think we can get that down below 17%, somewhere in the 16s." (Source: Builders FirstSource Q3 2013 earnings call)
EBITDA Growth
The following shows the Adj. EBITDA growth over the last few quarters.

Current Valuation
After the jump in the stock price following earnings, Builder FirstSource is trading at 21x TEV / EBITDA.
Although this may look expensive, it is hard to value the company because of the rapid Adj. EBITDA.
On an LTM basis, the company generated $48.6 million of EBITDA. Of that, $23.0 million came from Q3 2013 alone.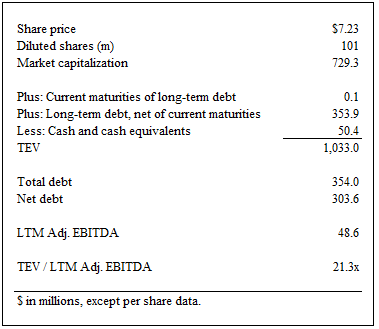 Mid-Cycle Valuation
The following are my assumptions for valuing the company based on its financial potential in a housing market that is in-line with the historical trend.
My analysis assumes ~1.1 million of single family housing starts on an annual basis. By contrast, the projection for this year is 625,000-630,000, according to management.
It will take a couple of years to reach ~1.1 million single family housing starts, but it seems a reasonable target given the historical trend (see my previous article for more detail)
The following are my key assumptions:
Single family housing starts:
Upside: 1,150,000
Base: 1,100,000
Downside: 825,000
Revenue per housing start:
Upside: $2,500
Base: $2,300
Downside: $2,300
Adjusted EBITDA margin
Upside: 8.5%
Base: 8.2%
Downside: 7.0%
TEV / EBITDA multiple:
Upside: 9.0x
Base: 7.5x
Downside: 6.0x
Please note that these are the same assumptions that I used in my previous article.
After thinking about the company more, I am probably too conservative with the multiples. This analysis assumes significant multiple contraction. While I don't want to assume aggressive multiples, these assumptions may be too low, especially if the company can continue to grow EBITDA with an incremental margin of 13-15%.
The stock price is currently trading at $7.23, up from $5.98 at the time of my previous article. Based on my assumptions, my multi-year target prices for the stock are:
Upside: $17.91 (149% upside)
Base: $11.83 (64% upside)
Downside: $4.66 (36% downside)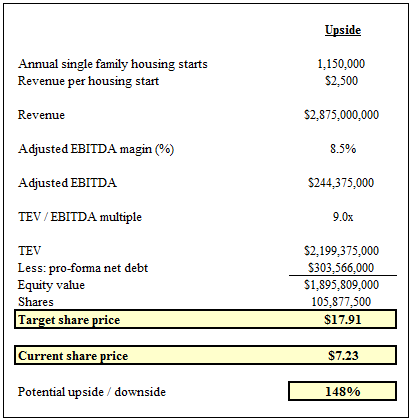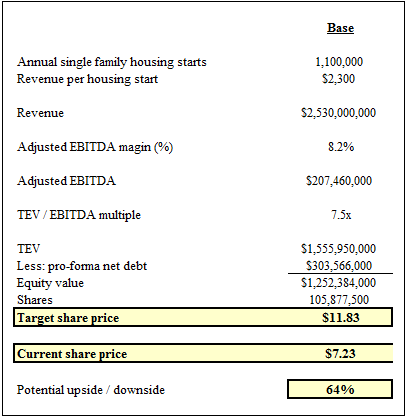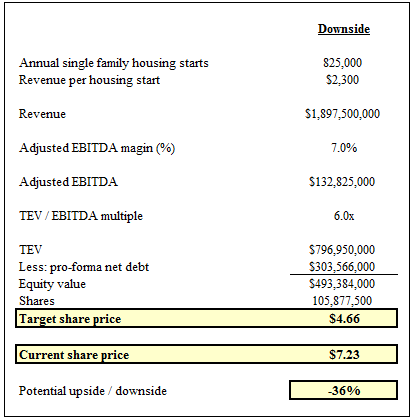 Please note that I assume 5 million shares of additional dilution: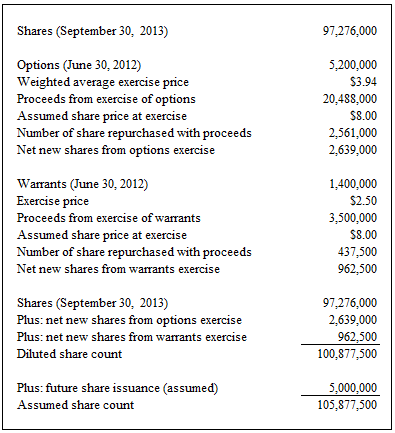 Bond Yields & Housing Related Stocks
In the short term, housing related stocks, including Builders FirstSource, will likely trade based on fluctuations in the bond market, which impacts mortgage rates.
Earlier in the year, the yield on the 30-year Treasury jumped higher and caused mortgage rates to spike. This had a negative impact on the housing market and housing related stocks.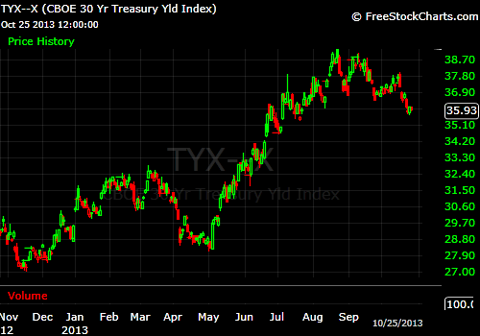 (Source: FreeStockCharts.com)
The following shows the relationship between the iShares Barclays 20+ Yr Treasury Bond ETF (NYSEARCA:TLT) and the iShares Dow Jones US Home Construction ETF (BATS:ITB).
As bond prices fall, bond yields rise. The drop in bond prices (and rise in bond yields) dragged down housing related stocks over the last few months:
I am not convinced that the rise in bond yields is over.
Following the "non-taper" at the September Fed meeting, some market participants are now expecting that the Fed will hold off on tapering until the spring of 2014. When the Fed finally starts tapering there could be another move in interest rates.
A spring 2014 tapering could be bad news for housing related stocks. Spring is generally prime homebuying season. Fluctuations in interest rates could reduce demand at a critical part of the year.
There is a lag between new home purchases and demand for products from Builders FirstSource. Nonetheless, reduced demand for new housing would have a negative impact on the company.
Please see my previous article for more about the risks.
Conclusions
Builders FirstSource is benefiting from the rebound in new residential housing. It may be a slow rebound, but, at least, the market is trending in the right direction.
In 2012 Builders FirstSource passed the inflection point and is now generating positive Adj. EBITDA. Due to its operating leverage, it is now rapidly growing Adj. EBITDA as more of the incremental revenue falls to the bottom line.
The company still has a long runway for growth as single family housing starts recover to mid-cycle historical levels.
The stock is currently trading at $7.23. My multi-year targets for the stock are $17.91 in the upside case, $11.83 in the base case and $4.66 in the downside case.
It will take a few yeas to achieve these projections as they are based on mid-cycle metrics. However, I may be too conservative with my assumptions for the TEV / EBITDA multiple, so there could be more upside.
In the short term, fluctuations in bond prices and mortgage rates will likely continue to drive housing related stocks. The September "non-taper" was a temporary relief, but bond yields and mortgage rates could rise in the early part of next year. This could again drive weakness in the housing market as well as housing related stocks.
I am bullish on Builders FirstSource for the mid/long term and expect continued volatility in the near term.
Disclaimer: The opinions expressed above should not be construed as investment advice. This article is not tailored to specific investment objectives. Reliance on this information for the purpose of buying the securities to which this information relates may expose a person to significant risk. The information contained in this article is not intended to make any offer, inducement, invitation or commitment to purchase, subscribe to, provide or sell any securities, service or product or to provide any recommendations on which one should rely for financial, securities, investment or other advice or to take any decision. Readers are encouraged to seek individual advice from their personal, financial, legal and other advisers before making any investment or financial decisions or purchasing any financial, securities or investment related service or product.
Information provided, whether charts or any other statements regarding market, real estate or other financial information, is obtained from sources, which we and our suppliers believe reliable, but we do not warrant or guarantee the timeliness or accuracy of this information. Nothing in this article should be interpreted to state or imply that past results are an indication of future performance.
THERE ARE NO WARRANTIES EXPRESSED OR IMPLIED AS TO ACCURACY, TIMELINESS, COMPLETENESS, OR RESULTS OBTAINED FROM ANY INFORMATION IN THIS ARTICLE OR ANY LINKED WEBSITE.
Disclosure: I have no positions in any stocks mentioned, but may initiate a long position in BLDR over the next 72 hours. I wrote this article myself, and it expresses my own opinions. I am not receiving compensation for it (other than from Seeking Alpha). I have no business relationship with any company whose stock is mentioned in this article.
Additional disclosure: I may trade any of the securities mentioned in this article at any time, including in the next 72 hours.