For-profit schools have been getting a lot of attention over the last few weeks – and not much of it has been good. While managers of these institutions often argue that the industry offers an efficient and cost effective opportunity for students to better their education, the track record of many of these companies when it comes to the career mobility or the financial improvement of students, does not exactly garner high marks.
Yesterday, an article buried on page A7 of the Wall Street Journal outlines the results of government data which discloses default rates for students who have enjoyed government loans for various forms of education. The information appears to point to a much higher default rate for students who were enrolled in for-profit programs versus community college and state funded not-for-profit schools. Of the 316 schools whose students had default rates above 30%, three quarters of the institutions were for-profit institutions.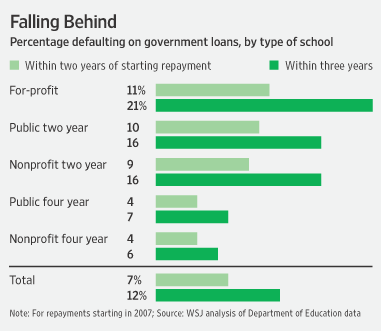 The information is likely to cause a serious black eye to these for-profit educators, many of whom rely on government grants and loans to students in order to maintain enrollment levels.
The public backlash could come on two fronts. First, students will likely think twice about enrolling in a public school if the data points to fewer of their classmates having the ability to repay government loans for the program. The second source of backlash could come from taxpayers who are disappointed to see their government funding education programs which are failing to provide students with the earnings power necessary to repay the government for the education.
Today, credit availability has tightened and it has become more difficult for students to find financing in order to further their education. To a large degree, the government has stepped in to fill the gap with an assortment of available plans to students.
Up to this point, there has been plenty of capital available for students to borrow and spend on for-profit education programs, but that trend may be set to decline. With these schools representing a majority of the defaulting borrowers, the government must take a close, hard look at whether these programs are beneficial or not, and whether public money should be spent to allow students to enroll in these programs.
If public funding is pulled or even just rationed, that could mean slumping profits for many of these schools.
Despite the relatively negative tone of the article, for-profit education stocks are rallied yesterday as it appears investors were expecting the data to be even worse. Most publicly traded educators are trading with relatively low multiples due to concern which has been growing in the sector.The stocks have traditionally traded in a volatile pattern with 20% and 30% swings the norm more than the exception.
The Wall Street Journal cited Corinthian Colleges Inc. (COCO), and ITT Educational Services (ESI). Both of these companies trade at single digit multiples to next year's earnings (or very close) which may accurately reflect the risk in the industry.
Strayer Education (STRA), however, may be the exception which presents an attractive short opportunity. The stock is trading at nearly $210 per share while analysts expect earnings of $9.51 per share in 2010.
If funding becomes more difficult for students to obtain, that $9.51 in earnings could quickly be in jeopardy. While the stock is rallying sharply today and should probably not be shorted until it shows some weakness, shorting STRA could yield hefty profits in the coming year.
Assuming a modest 10% disappointment in earnings, and a still above average multiple of 14, the stock could trade down to $120 – down 43% from current levels. When shorting, be sure to have proper risk controls in place and know how much you are willing to risk.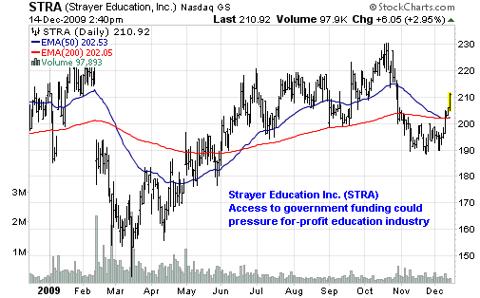 Disclosure: Author does not have a position in STRA