Coca-Cola
Coca-Cola (NYSE:KO) announced decent third-quarter results that showed global volume expansion and share gains in North America for both the sparkling and still-beverage categories. Though reported revenue declined 3% in the period, revenue - adjusted for structural changes and currency - advanced 4% in the quarter. Likewise, comparable currency-neutral operating income jumped 8%, driving comparable earnings per share growth of 4%. Free cash flow generation of $6.1 billion year-to-date represents 17% of sales.
Coca-Cola Americas grew volume 1% in both the quarter and year to date, with North America volume up 2% and Latin America volume even in the quarter. Coca-Cola International grew volume 3% in both the quarter and year to date, with third quarter Pacific volume up 5%, Eurasia and Africa volume up 4%, and Europe volume down 1%. The company reported solid volume growth in the quarter in key developed markets, including Germany (+3%), the Northwest Europe and Nordics business unit (+3%), and North America (+2%). (Volumes in China and India also performed well, advancing 9% and 6% on a year-over-year basis, respectively.) Source: KO earnings press release.
We continue to be particularly impressed with the volume performance of brand Coca-Cola. The pace of volume growth in such diverse markets as Thailand (up 27%), India (up 22%), Russia (up 11%), the Philippines (up 9%), and Germany (up 8%) is remarkable even for smaller, "less-mature" brands. Sprite volume advanced 3% in the period, while worldwide still beverage volume jumped by a similar pace (cycling 10% expansion). Energy drinks volume advanced 4%, while Dasani propelled 5% volume growth in packaged water volume.
PepsiCo
PepsiCo (NYSE:PEP) reported solid third-quarter results Wednesday as strength in its snacks business offset weakness in beverage volumes. Organic revenue advanced 3.3% in the period, driving core constant currency operating profit and earnings per share expansion of roughly 3% and 5%, respectively. Though the company is on track to achieve its 7% core constant currency earnings per share growth guidance for 2013, the rate of third-quarter expansion was below target. Still, we think a high-single-digit earnings per share trajectory should be relatively easy to accomplish given the firm's organic revenue trends and share repurchase program. Free cash flow generation of $5.2 billion year-to-date represents 11% of sales.
PepsiCo Americas Foods organic revenue grew 7 percent in the quarter driven by mid-single-digit organic revenue growth at Frito-Lay North America, FLNA, and double-digit organic revenue growth in Latin America Foods, LAF. Reported net revenue increased 5 percent in the quarter driven by mid-single-digit net revenue growth at Frito-Lay North America and high-single-digit net revenue growth at Latin America Foods. Source: PEP earnings press release.
Strength in the firm's snacks business, PAF, continues to offset weakness in PepsiCo Americas Beverages, PAB, which experienced a 1.5% decline in organic revenue led by a 4% fall in organic volume (shown below). Though management pointed to a seemingly one-time negative impact of concentrate shipment timing, the growth rate at PAB was disappointing relative to Coca-Cola's volume performance in North America and across the globe.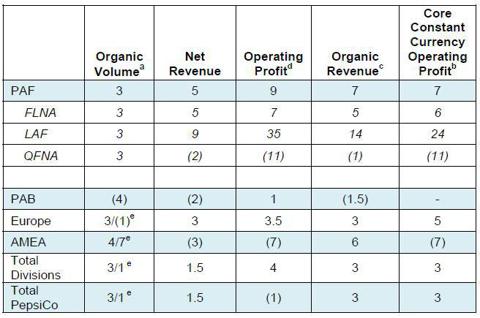 Image Source: PepsiCo
Valuentum's Take
It's clear to us the stronger cash-generator between Coca-Cola and PepsiCo is the former, on the basis of free cash flow relative to revenue. Coca-Cola's $17.3 billion in cash on its balance sheet compares to $14.2 billion in long-term debt, while PepsiCo's $9.6 billion in cash compares to more than $24 billion in long-term debt obligations. This significant difference in financial health is apparent in Coca-Cola's Valuentum Dividend Cushion score of 1.7 and PepsiCo's 1.1, the latter very close to parity and weighed down by a massive debt load.
Coca-Cola's operating profit and beverage volume performance in the quarter was also better than that of PepsiCo. Though PepsiCo does have an activist investor involved in the form of Nelson Peltz and a more diversified presence via its snacks business, which should mitigate some risk regarding consumer backlash against the high-sugar content in sodas, no matter how you slice it or dice it Coca-Cola's cash-flow performance, financial health, and recent trends are hands down better than PepsiCo's.
We prefer Coca-Cola's dividend over PepsiCo's, and we think PepsiCo's shares are starting to get a bit rich. We think Coca-Cola is the better idea relative to PepsiCo. Still, we're not compelled to own either in our actively-managed portfolios.
Disclosure: I have no positions in any stocks mentioned, and no plans to initiate any positions within the next 72 hours. I wrote this article myself, and it expresses my own opinions. I am not receiving compensation for it (other than from Seeking Alpha). I have no business relationship with any company whose stock is mentioned in this article.