With the S&P 500 (NYSEARCA:SPY) closing at a new nominal high yesterday, it is a common practice to look back at previous market highs to attempt to glean whether or not the market will be able to extend its rally. In this same vein, yesterday I authored an article demonstrating that despite the strong rally in 2013 that the S&P 500 is still 11% below its inflation adjusted peak reached in August 2000.
As we fast forward back to the market's current new nominal peak, one important characteristic of this most recent market rally has been how broad it has been across industries. As seen in the chart below, the two previous peaks were characterized by outsized gains in certain market sectors. In March 2000, when the market hit its then peak of 1527.46 during the height of the tech bubble, the S&P 500 Information Technology subindex (NYSEARCA:XLK) constituted 34.5% of the index's capitalization. In October 2007, just five months before the failure of Bear Stearns and eleven months before the failure of Lehman Brothers, financials (NYSEARCA:XLF) contributed 20.1% of the S&P 500 Index at its then peak of 1565.15.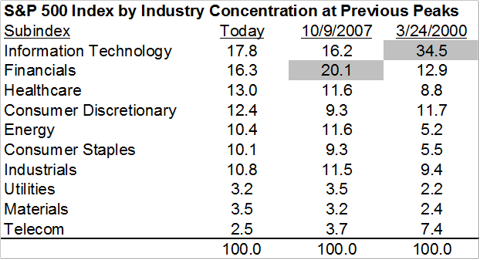 Source: Standard and Poor's; Bloomberg
The advance today is much more broad as seven different sectors make up at least ten percent of the index capitalization with no sector making up more than twenty percent. There is no obvious sector where excesses have dominated the market's advance, which hearkened the past harsh corrections in tech and financials. Unsurprisingly, healthcare (NYSEARCA:XLV) has become a larger portion of the index as our population ages and healthcare inflation continues to outpace the rise in other prices. Not only has this market advance been more broad based, but the market appears more conservatively valued at this new nominal peak. Below is the price/trailing twelve month earnings of each industry subindex today versus the last two peaks.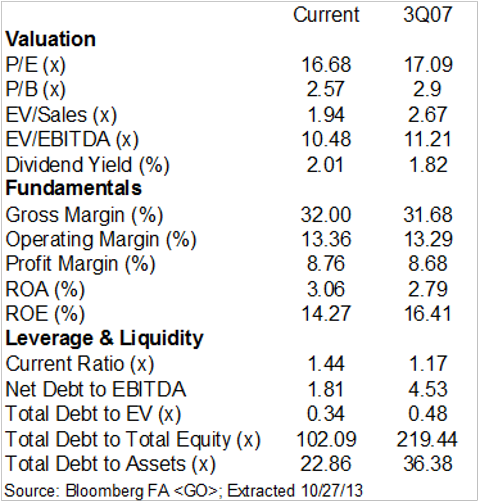 Compared to the March 2000 peak of the "tech bubble," only utilities today carry a higher multiple than at that previous market peak, demonstrating that the froth in the market at that point in time extend beyond just the information technology sector. Today, five of ten sectors are trading at lower multiples than in October 2007 as the entire market trades at just one multiple of earnings less than it did at the previous market peak.
Market bears would counter that this rally has not been driven by an individual sector, but the broad, and potentially perverting, influence of extraordinary monetary accommodation which has lifted the price of assets broadly by reducing the discount rate. Even with the interest rate backup thus far in 2013, the yield on the ten-year Treasury today (2.53%) is over 200bps lower than it was at the previous equity market peak in 2007 (4.65%). Equity market bulls would look at the relatively low multiples today and the yield differential with fixed income alternatives and suggest that the difference between earnings yields and fixed income yields offers a sufficient risk premium.
This article demonstrates that there has not been one overvalued individual industry that has propelled the broad market to new heights in this rally as information technology did in 2000 or financials did pre-crisis. At 260% above the March 2009 trough on the S&P 500 of 676, investors should still temper their expectations around forward domestic equity market returns. On average, the domestic equity market is likely to produce average annual returns of high single digits to low double digits for the remainder of this cycle with the necessary wide distribution around that average return inherent in the riskiness of equities. As this article demonstrates, there are no evident excesses in particular industries that would suggest that we are at an absolute nominal high on the market today, but forward returns are likely to be lower than in the early stages of the rebound.
Disclosure: I am long SPY. I wrote this article myself, and it expresses my own opinions. I am not receiving compensation for it (other than from Seeking Alpha). I have no business relationship with any company whose stock is mentioned in this article.