Commodities have underperformed the market recently as investors rotated their capital once again. Up in Washington lawmakers are set to begin debate on a $500 billion agricultural bill which could have far ranging effects. Readers should also be on the lookout for earnings over the next two weeks as there are a slew of companies set to release results which could be market moving, among them Chesapeake Energy (NYSE:CHK), EOG Resources (NYSE:EOG) and SandRidge Energy (NYSE:SD).
Stocks To Watch:
Today we have two stocks to watch as both Occidental Petroleum (NYSE:OXY) and BP (NYSE:BP) reported earnings today. Occidental reported third quarter profits increased 15% and revenues rose 8%, although the revenue figure came in lighter than Wall Street analysts had expected. Occidental is benefiting from rising production in Texas and California - yes we said California. The company is hosting a conference call today to discuss the results and we would not be surprised if questions about a breakup or spin-off arose again as the company looks for ways to better capitalize itself and maximize value for shareholders.
shares in BP have traded in a tight range all year long, the most recent move has us nearing the top of one of those ranges and with the overhang of the Gulf spill still present, we would exercise a bit of caution at these prices. Our bullishness is waning a bit for those who are not long-term investors.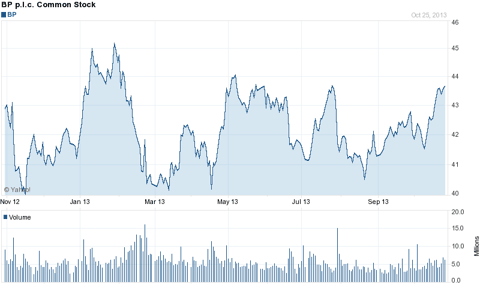 Source: Yahoo Finance
BP is continuing its program of divesting assets, announcing that it would divest another $10 billion in assets which will be returned to shareholders via buybacks and dividends. The good news for shareholders is that BP also announced that the dividend would be increased by 5.6%. The quarterly results highlighted two key points, the first is that the estimates that BP made about its liability to the Deepwater Horizon spill in the Gulf have held steady thus far and the weakness in the company's results are due to the refining segment, something investors expected.
Chart of the Day:
Live cattle prices continue to rise. We highlighted live cattle a few weeks back as a big winter storm wiped out entire herds in the US northwest. We are continuing to watch prices here to see if they have any impact upon other agricultural related commodities.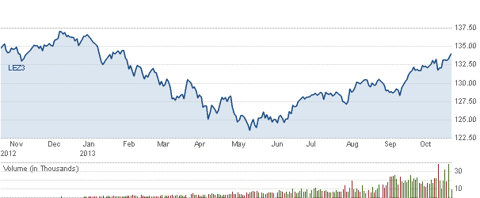 Source: CNBC
Commodity prices this morning are as follows:
Gold: $1347.10/ounce, down by $5.10/ounce
Silver: $22.56/ounce, up by $0.022/ounce
Oil: $98.15/barrel, down by $0.53/barrel
RBOB Gas: $2.6002/gallon, down by $0.0307/gallon
Natural Gas: $3.542/MMbtu, down by $0.027/MMbtu
Copper: $3.2835/pound, up by $0.0145/pound
Platinum: $1469.30/ounce, down by $3.60/ounce
Commentary
With the quarterly results from Occidental and BP we are of the opinion that some of the pure plays in the sector shall do quite well when they report as their results will not be hindered by other business segments such as refining. The market continues to reward those companies which seek to return capital to shareholders be it in the form of dividends or share buy backs and we expect this trend to continue. We do think that over the next few years investors will see some of these younger mid-majors, such as EOG Resources for instance, move to position themselves as buyers in this market rather than engaging in any large share buy backs or big dividend increases. If a management team can find great assets to compliment their current portfolio of assets, then investors should not care whether management pays cash for those assets or buys back shares if at the end of the day they are left with the same net ownership percentage. Short-term traders fail to realize this, but longer-term investors, for which many of our readers are, do understand this and have profited from it in the past. This is why we like names like EOG Resources and Rosetta Resources - two names which have used cash to fund acquisitions and joint ventures in recent years.
Disclosure: I have no positions in any stocks mentioned, and no plans to initiate any positions within the next 72 hours. I wrote this article myself, and it expresses my own opinions. I am not receiving compensation for it (other than from Seeking Alpha). I have no business relationship with any company whose stock is mentioned in this article.