Overnight US equities closed at 14-month highs, boosted by Abu Dhabi's decision to make a $10 billion payment to Dubai World to help it as it negotiates its debt standstill arrangement and Exxon Mobil's (NYSE:XOM) belated move into gas in a $31 billion deal move for XTO Energy (XTO). Visa (NYSE:V) climbed 4.2% to an 18-month high on its addition to the S&P 500, while Sun Microsystems (JAVA) added 11% after Oracle (NYSE:ORCL) offered proposals to win approval to buy the company. Citigroup (NYSE:C) slid 6.3% after striking a deal with regulators to repay $20bn in rescue funds as some investors questioned whether they are in any shape to exit the TARP.
Early New York trading has been cautious with talks of rights issues hurting the prices of insurer Conseco (NYSE:CNO) and spacecraft parts maker GenCorp (GY), while Best Buy (NYSE:BBY) is on the back foot after saying Q4 profits will be lower than expected. The early economic data Stateside has not helped the tone with PPI (wholesale inflation) coming is at a much stronger than expected 1.8% (versus 0.8%) and the Empire Manufacturing survey collapsing to 2.55 (against an expected print of 24.00). That's said it developing into a bit of a curates egg of a day with news at 14.00 that both US industrial production and capacity utilization figures were better than the Street had pencilled in. The closely watched NAHB index is due at 18.00 (a read of 18 is the consensus) and Adobe Systems (NASDAQ:ADBE) is due to report after the closing bell tonight.
More generally, last week's strong Chinese and US retail sales data are making investors confident that the global recovery has legs. With Bernanke still speaking of 'formidable headwinds' and the US administration willing to use TARP money to fight unemployment, policy is set to remain accommodative. Risk assets will enjoy a solid turn of the year. In the overall context of stable and low rates, markets will be in risk-loving mode in 2010.
As Christmas is approaching fast all that markets seem to care about is reducing risk before going on vacation, which makes it pretty unpredictable what kind of price-moves we might get to see on low volume. The overall picture from a fundamental perspective is still rather mixed and, having gained around 60% in several bigger stock market indices, the risk of running into a profit-taking wave seems to be quite realistic. But, on the other hand, there might be an equally strong interest to keep prices on current levels or even to extend the risk rally a bit further for evaluation purposes. So, all in all, a pretty blurry picture.
Today's Market Moving Stories
Theme du jour is a bit of Déjà vu as it's still all about Sovereign risk this morning, with Greece remaining center stage, although Austria is giving it a run for its money on the back of reported problems at OeVAG that may result in it being nationalised. The net result is the Euro is getting beaten up, trading as low as $1.4547 this morning (from $1.4653).
House prices in England and Wales rose at their fastest pace in three years in November, but there are signs that activity may be levelling off just as new instructions to sell hit a two-year high, the Royal Institution of Chartered Surveyors (RICS) said. The seasonally adjusted net balance of surveyors reported that rising prices was 35% last month, up from 34% in October and the highest since November 2006. Some analysts worry the housing market could suffer a relapse next year if the economy fails to pick up strength and unemployment rises sharply next year.
This morning's German ZEW growth expectations declined moderately from 51.1 to 50.4. It was the third consecutive drop, confirming that growth expectations have passed their peak. Hence, one message appears to be clear – the current initial very solid revival in economic activity cannot be upheld throughout next year. The fizzling out of major temporary growth drivers will lead to a moderation in growth dynamic. Moreover, a string of events since the last ZEW reading reminded market participants that the headwinds for a sustained economic recovery remain strong.
Strong performances from the UK, France, Spain and Italy prompted a 26% increase in November car sales, which was not a significant surprise given the strong data already released from these geographies. These numbers are optically strong, but 26% increase matched the decline in year on year sales from November 2008 and so the scrappage schemes, many of which are now winding down, have brought demand back temporarily to pre-crisis levels. The data suggests that Q4 performance should be relatively strong, in particular for the volume manufacturers and Renault (OTC:RNSDF) performed particularly well in November. With the French and UK markets better than the European average, Peugeot (OTCPK:PEUGF) also out-performed, whilst Fiat (FIATY.PK) had a marginal market share gain. VW (OTCPK:VLKAF), BMW (BAMXY.PK), Daimler (DAI) all lost market share as the German market slowed relative to other markets. Markets are likely to remain supportive through most of the first half for volume manufacturers, after which point visibility on scrappage schemes ends.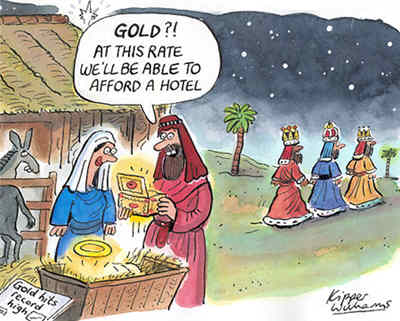 Greece Fails to Convince
I was never that optimistic that George Papandreou would stand up to tell the Greek people that he lied during the election, and that he would announce a program that stands a chance to get the problem under control. Yesterday he outlined some of the details. He will leave the biggest parts of the country's structural fiscal problems untouched – public sector wages, which are still rising at levels above Eurozone inflation, and pensions, which are close to 100%. There will be a nominal wage freeze on higher earning civil servants. The FT writes: "To loud applause, he announced a 90% tax on bonuses for senior bankers in the private sector." His rescue plan for the Greek economy depends mostly on the fight against corruption, a reduction in bureaucracy, and lots of micro-measures designed to improve the efficiency of the economy.
Papandreou called on everybody to "save the place," and he outlined a large number of micro-measures, such as electoral reform and a discussion on entrepreneurship (which are all worthwhile in their own right, but we have relatively little to do with the problem of a 12.6% deficit and a projected debt-to-GDP of 130%. The actual deficit figure for 2009 is likely to be a lot higher, possibly 14 or 15%. Greece is not going to get on a sustainable trajectory through growth measures alone.)
During the day yesterday, Greek CDS jumped by 18bps. The yield on Greek 10-year bonds rose from 5.31% to 5.47% and they are getting whacked again today by another 2%. Wolfgang Reuter writes in Spiegel Online that German government officials and central bankers think that the actual Greek deficit for 2009 will be much higher than 12.6%, and that Fitch's BBB+ rating is "almost flattering".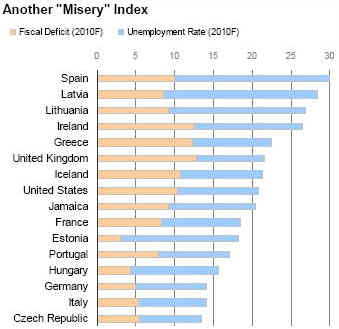 The Banking Crisis, Phase Two
The decision by Austria to nationalise Hypo Group Alpe Adria, two thirds owned by the Bavarian Landesbank, Bayern LB, is costing the German taxpayer a cool €3.7 billion, which has forced the resignation of its chief. This is close to a complete disaster for Bavaria political elites, which are closely intertwined with BayernLB, as CSU politicians sit in the banks' supervisory board. The ECB favoured the Austrian state takeover of the bank, which is considered systemically relevant.
The furor over the losses at Hypo Group Alpe Adria has repercussions for Austria and Germany, as noted by Austrian Central Bank Governor Novotny's suggestion that Austrian banks still faced €10 billion in write-downs for losses in the region, which could rise by a further €10 billion depending on the stress scenario. With the costs of recapitalizing this bank falling on regional governments in Austria and Germany, they are only likely to be come more risk averse in terms of future exposure to the region, which will restrict private-sector capital flows.
Irish Banks Sliding
US rating agency Moody's said that the outlook for Irish banks remains negative. AIB (AIB) is down for the eight straight session (by 12% alone today) to its lowest level since last May with Bank of Ireland (NYSE:IRE) off 4.8% and IPL sliding 3.5%.
In summary, Moody's opine that:
Outlook for Irish banking system remains Negative
Strong support from Irish government has helped to offset the relatively low levels of Capital and reliance on wholesale funding pre-crisis
Expects fewer ratings actions in next 12-18 months
NAMA will result in crystalisation of losses and a significant negative impact on capital base of the 5 banks participating
Regulation and Government intervention set to remain a key driver of the Irish banking sector over the coming years
NAMA likely to be catalyst for consolidation in the market
Company News
UBS upped Qwest Communications (Q) and ArcelorMittal (NYSE:MT) to Buy, from Neutral, and downgraded CBS (NYSE:CBS) to "neutral" from a "buy"; JP Morgan upped Rio Tinto (RTP) to Overweight, from Neutral, upped BHP Billiton (NYSE:BHP) to Neutral, from Underweight; BoA Cut Enel (EN) to Underperform, from Neutral, cut Endesa to Neutral, from Buy; HSBC initiated Sodexo (SDX) at Overweight and cut Honeywell (NYSE:HON) to "underweight" from "neutral"; ING upped Delhaize (DEG) to Buy, from Hold; Deutsche Bank initiated SNS Reaal at Buy; Morgan Stanley started Delta Lloyd at Overweight. Deutsche have upped BB&T (NYSE:BBT) and News Corp (NASDAQ:NWS) to "Buys." Citibank cut their price targets for Greece's big four banks and Lloyds has upped Brit Insurance to a "buy".
Cadbury (CBY) has launched a stinging attack on Kraft (KFT), saying there is no strategic or financial merit in a "corporate jewel" being bought by the US hostile bidder. Roger Carr, chairman, said Cadbury would not use the "strategic U-turns, financial engineering or Pac-man defenses" common to "weak businesses under siege," as he urged shareholders to reject the food group's £10.3 billion offer. He spoke as Cadbury published a shareholder defense document urging investors not to let Kraft "steal" their company.
Wells Fargo (NYSE:WFC) will repay the entire $25 billion it received from the government under the Troubled Asset Relief Program, after selling $10.4 billion of common shares. The fourth largest US bank is the last of the big banks which received government rescue funding last year to announce its plans for repaying. Earlier on Monday, Citigroup (C) said it was raising $20 billion of capital to help repay the government. In addition to selling shares, Wells Fargo plans to sell common stock to its employees' benefit plans, and raise $1.5 billion through selling assets.
Élan (NYSE:ELN) today announced that it was amending a phase 2 clinical trial on AD201 after higher rates of serious side effects were experienced with increased dosing. The AD201 study is evaluating three dose levels of ELND005, an oral compound for the treatment of Alzheimers in 353 patients in conjunction with Transition Therapeutics. The data showed greater rates of serious side effects among patients who received the two higher doses including nine deaths. Élan are keen to stress however that there has been no direct link with ELND005 and these deaths and further analysis is needed. It does however keep Élan in the news for the wrong reasons following the recent Tysabri disclosures.
In an update to its recent IMS, Irish insurer FBD stated that the recent flooding will increase its net incurred claims costs for 2009 by €8-9 million. Barring further exceptional claims events during the remainder of the year, it is confident that full-year operating earnings per share will be in the range 75-80c higher reinsurance rates should be offset by higher premiums in 2010.
British Airways (OTC:BAIRY) is showing predictable weakness on the back of the high profile 12 days of Xmas strike.
And Finally… The Minister for Hardship
This is an absolutely hilarious clip from an Irish TV program from the 1970s, a spoof on the austerity policy by the Fine Gael leadership at the time.

Disclosures: None