Make no mistake about it, I'm an Herbalife (NYSE:HLF) bear - but I'm in no means the heartless, brainless chump that Herbalife longs accuse me of being in the comments of my articles. Rather, I see myself as a guy applying a little common sense to my investing strategies.
As someone that likes perspective, I've done a fair amount of work running through the bullish argument in my head and trying to convince myself that Herbalife isn't a pyramid scheme - after all, it doesn't matter to me whether I'm on the long or short side of the company - I just want to be on the side that makes money, just like everyone else. So far, after hours and hours of research, I remain in the bearish camp and short the stock.
I'm also accused of it being a personal vendetta against the company, which I assure you, it isn't. I'm too apathetic to hold personal vendettas; all I want to do is make money.
If you're new to Herbalife, and don't yet know what all the fuss is about, I'd suggest reading back through both the bearish and bullish articles here on Seeking Alpha. They do well to cover both ends of the spectrum, and there is actually is some good civil discourse amongst the name calling in the comments of these articles.
Having said that, I've really only written three articles on Herbalife since my inception here at Seeking Alpha. By no means do I jump on the company's back at every chance I get. Also, admittedly, Herbalife stock has had a great year in the face of me initially calling it a short at the beginning of 2013. So, regardless of the long-term, I was obviously on the wrong side of the short term trade, and I admit that.
Herbalife reported earnings on Monday the 28th, and they beat analyst expectations. Revenue fell in line in what the company called a "record" third quarter for the company in its press release.
Net income for the company was $152.1 million, or $1.41 per diluted share, compared to $111.9 million and $0.98 per share one year ago. Revenue increased 19% to $1.21 billion. Analysts had expected $1.14 per share on roughly the same revenue. In addition, the company bolstered its "appearance of credibility" by announcing a former U.S. Surgeon General, Richard Carmona, had joined the company's Board of Directors. That should lend an air of "healthy" credibility to the company, right? Not really - Mr. Carmona also sits on the Board of e-cigarette company, NJOY.
With such astounding numbers and great news, why doesn't Mr. Market seem to love the news? Herbalife, from after hours on Monday through Tuesday has bounced around - down a buck, then up a buck - over 70, then back under 70. I mean, this was a monstrous earnings beat - where's the run up to and through $90 that I kept hearing about would occur on an earnings blowout? What possible rational explanation is there for this?
To start, the earnings news really doesn't have much to do with helping the company out of the muck of controversy, as it didn't do anything to really proactively address the critiques of the company - aside from simply reporting that they had another record quarter (which again, credit is due for).
The FY 2014 guidance of $5.45 to $5.65 didn't do much to surprise or impress investors. Some see it as continued growth; I see it as the possible plateau to the down side. The market is obviously apathetic about it.
Or, maybe some are seeing past this "fast one" that Herbalife is trying to pull. From Herbalife's 10-Q:
The Company is in the process of changing its terminology to identify "distributors" as "members", and those members who participate in the business opportunity our network marketing program presents, as "sales leaders".
One of the biggest complaints from those who alleged that Herbalife is a pyramid scheme is the fact that the company is driven by recruiting, not retail sales. It's for this reason that the company doesn't distinguish what sales are truly made by retail and what sales are made by distributors.
Rather than address that and simply provide the public with the numbers, the company is pulling an "end around" and simply changing the distributors in questions' names to "members" - falsely implying that they're only members to get a retail discount and have absolutely no intention of recruiting.
We can run through some of the obvious arguments from the get-go. Common sense would dictate that if distributors are, in fact, the ones buying a majority of the product:
1. It would be cause for concern for Herbalife and reason to change the distributor's title.
2. It would explain why Herbalife's Formula 1, it's most touted product, is the only $2 billion brand that nobody on Earth has heard of.
(Source factsaboutherbalife.com)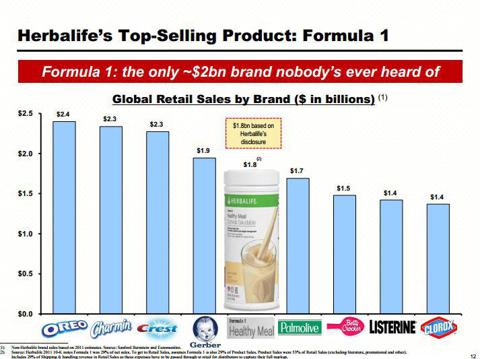 (Click to enlarge)
One thing is for sure: those who support Herbalife seem to be hell bent on vehemently defending the company - as you're likely to witness in the comments section of this very article. When Herbalife's model is questioned, the name calling and vitriol comes of our its supporters.
As someone that once wrote a thesis paper on religions and cults (which I won't get into in depth), there's some major similarities that both of these situations seem to share. Both sets of members seem:
blind to the obvious - in this case, that it's a scheme.
to have unconditional loyalty to the brand, regardless of what it provides them in return.
not to notice that the guy in charge is the one making all of the "real" money (more on Herbalife's insider selling later).
Yes, Herbalife is posting record EPS and revenues. I'm a strong believer that this is only due to the company's brand recognition, as well as its abilities to continue to expand internationally. The growing base at the bottom of any pyramid scheme needs to continually grow - the one thing that it needs is more and more members; hence we get Herbalife's growth in overseas (and particularly lower socioeconomic) markets.
As QZ.com reported this morning, Herbalife's international growth seems to be going in the right direction:
While scrutiny of the shakes and supplements provider has centered mostly on its US operations, the company's Latin American operations continue to perform strongly. While sales in the US rose 9.5% to $229 million, sales in Mexico, where the company has almost four times as many outlets (or clubs, as they're known) as it does in the US, and more than half of its total clubs worldwide, were up 11% to $141 million. Sales in South and Central America were up to 44% to $241 million.
So, that's a good sign, right? Wrong.
At some point, Herbalife is simply going to run out of people.
As I pointed out in my last article, this Belgian court has already decided that Herbalife is a pyramid scheme and they've been ordered to cease operations. For a company that relies on international business to make up for 80% of its revenue, entire countries shutting them out is big news. This also sets a precedent.
The company says it best themselves. They're conducting 80% of their business outside of the U.S. right now, and it's strictly because in order for a pyramid scheme style business to work, you're going to need more and more people. One of the reasons HLF finds itself flourishing in China is due to the dense population there.
From the Herbalife 2012 10-K:
If we fail to further penetrate existing markets and expand our business into new markets, then the growth in sales of our products, along with our operating results, could be negatively impacted.

The success of our business is to a large extent contingent on our ability to further penetrate existing markets and to a much less extent enter into new markets. Our ability to further penetrate existing markets or to expand our business into additional countries in Eastern Europe, Southeast Asia, South America or elsewhere, to the extent we believe that we have identified attractive geographic expansion opportunities in the future, is subject to numerous factors, many of which are out of our control.

In addition, government regulations in both our domestic and international markets can delay or prevent the introduction, or require the reformulation or withdrawal, of some of our products, which could negatively impact our business, financial condition and results of operations.
I previously had asked what is going to happen when the international well runs dry? I previously wrote that there's a direct correlation between the success of multi-level marketing companies and the downturn in the economy. My sentiments were that MLM companies will do significantly worse when the global economy takes a turn for the better, which is eventually starting to happen (slowly).
Where is Herbalife going to find distributors when there are "real" jobs available?
But, longs continue to follow the "leads" of billionaires Carl Icahn and George Soros, who have both invested in the company. What Herbalife longs ignore is the fact that both of these investors:
have a personal beef with Bill Ackman, and are trying to sink him - likely just for sport at this point.
have made so much money in the past that they're starting to really lose their minds and think they're invincible when they're not [see Carl Icahn's suggestion of a $150 billion Apple (NASDAQ:AAPL) buyback]
Not to mention the fact that the SEC is currently investigating George Soros for allegedly leaking his purchase to hedge funds and allowing them to profit off of the news.
But, I digress. Who knows - maybe you're more of a visual learner like I am.
Here's how potential distributors see this slide in a presentation to pitch becoming a distributor:
(Source factsaboutherbalife.com)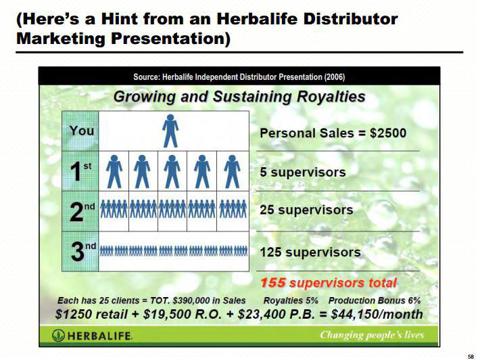 (Click to enlarge)
And, here's how I see it:
(Source factsaboutherbalife.com)

(Click to enlarge)
Also, former distributors are starting to see it like this as well.
More and more distributors are popping up and launching legal claims against the company for being a pyramid scheme. Bloomberg reported just a couple of weeks ago that a judge ruled not to dismiss a case that a California man is bringing against the company for being a pyramid scheme - thereby, inadvertently setting a precedent that the case may hold some water somewhere down the road:
Herbalife Ltd. (HLF) lost a bid to dismiss a lawsuit by a former California distributor of its nutrition products who alleged the company's business model is a "pyramid scheme" that didn't allow him to make a profit.

U.S. District Judge Beverly Reid O'Connell in Los Angeles, in an Oct. 11 order, denied Herbalife's request to throw out the case. The judge said the plaintiff, Dana Bostick, who seeks to represent other distributors in a class-action lawsuit, had sufficiently argued the allegation at this stage of the proceeding for the case to go forward

Bostick sued in April, claiming he couldn't sell his products because distributors that are higher up the chain receive a bigger discount than he did on the products they purchased from Herbalife. Bostick also claimed Herbalife's structure systematically rewards recruiting other distributors over retail sales.

"Bostick gave up on his distributorship once he discovered that he was unable to resell the Herbalife products he purchased by merely relying on a website to do his work for him," the company said in its May 30 request to dismiss the claims. "Rather than return the purchased products to Herbalife for a full refund, as he concedes he could have done, Bostick sued."
During earnings yesterday, the company said that it spent $20.6 million in "mostly legal and advisory services relating to the Company's response to information put into the marketplace by a short seller which information the Company believes to be inaccurate and misleading."
That's a spicy meatball - $21 million on legal fees. It's by no means a Bank of America (NYSE:BAC) legal bill, but it's a start.
And, judging by the recent protests by former Latin distributors, it's a spicy meatball that's going to continue to grow in size.
Do I need to point out what a liability it becomes if just one court in the U.S. rules against Herbalife? They don't even need to acknowledge that it's a "pyramid scheme" per se; all they need to do in order to set some type of major liability precedent is to side with a former distributor in his/her claims against the company. I'd guess that case will go class-action and prompt many others in short order. You want to see people come out of the woodwork then?
But, what about those self proclaimed "millionaires" that keep popping up in the comments of Seeking Alpha articles to defend the company? Could there really be a secret fraternity of millionaires that Herbalife has produced from the inside out that have a majority of the day to simply do nothing but sit online and refute "evil" short arguments against the company?
Sure, it could be possible. But it's more likely that these are "Herbalife Millionaires" - who earn a median income of $97k, not a million, despite being members of the non aptly named "Millionaire's Club" - that are posting these, in between bilking other people into becoming part of their downline.
And hey, let's party, because by that standard, I'm a millionaire, too!
All this time being a "millionaire" and I didn't even know it.
I told you I tried to give the bulls the benefit. So, say we were to even remove the term "pyramid scheme", which is what a lot of Herbalife bulls seem to be taking exception to. As a legal multi-level marketer, would Herbalife still be a prudent investment?
CEO Michael Johnson doesn't seem to think too much more growth is coming, as he recently cashed out over $140 million in stock since 2007. Now that's how you become part of the reality based "Millionaire Club"; not by pushing protein shakes onto other future "distributors", "members", or whatever Herbalife has changed the term to in the time it's taken me to write this article.
The only bearish case isn't just a "regulatory shutdown" - as an article this morning seemed to make it. There's many more ways for Herbalife to fail on its own accord if a regulatory shutdown doesn't occur: increasing legal pressure, more countries not allowing Herbalife to do business there, defectors from the company blowing the whistle, etc. A regulatory investigation or restated financials are certainly a possibility - but not necessarily what's going to sink the ship.
In the vein of Ackman's intense research and seemingly unprecedented grasp on the Herbalife business model, which is almost impossible to decipher, I'm remaining extremely bearish on Herbalife and would go so far as to reiterate Ackmans's comments that there is potential for total loss here.
If there's one thing I'm sure of, it's that when funds take monster positions in companies, they're almost always in possession of more information than they're disclosing. I still think Ackman has an ace up his sleeve here somewhere - not that he needs it.
In time, as has happened with many cults over the years, the Herbalife fallacy will eventually fall apart. Common sense dictates this to us. I'm remaining short Herbalife, even after earnings yesterday - and I wish the best of luck to all investors.
Disclosure: I am short HLF. I wrote this article myself, and it expresses my own opinions. I am not receiving compensation for it (other than from Seeking Alpha). I have no business relationship with any company whose stock is mentioned in this article.