Coach is trying to transform itself into a lifestyle and dual-gender brand to counter competition. Bidness Etc is unsure whether Coach will succeed at this. Coupled with unsatisfactory recent quarter results, the stock is not a buy.
Coach, Inc. (COH) is a globally recognized brand that makes and sells premium leather products like handbags for women, wallets, briefcases and other accessories. For a long time, the company catered only to women but now it also sells men's products and has expanded into other categories like footwear, wearable, jewelry, watches and fragrances.
With 953 outlets around the world, Coach follows a multi-channel global distribution strategy. Along with its company-owned retail stores and factory outlets, it sells its products through department stores, shop-in-shop outlets and through its e-commerce website. It has multiple manufacturing units in China, Vietnam, India, Philippines, Thailand, Italy and USA, run by independent contractors.
Business Segments:
Prior to the first quarter (1Q) of fiscal year (FY) 2013, the company announced results in two segments, namely Direct and Indirect. After organizational changes, Coach now focuses on geographical regions; results are reported as North America and International segments.
Coach sells its products through company-operated stores in Japan, Hong Kong, Macau, China, Singapore, Taiwan, Malaysia and Korea and through wholesalers and distributors in 25 countries. All these make up the International segment.
Revenue from the international segment is increasing at a five-year CAGR (compound annual growth rate) of 17%, much higher than the 7% growth rate recorded in the North American segment.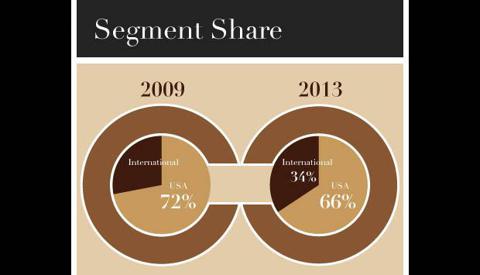 Product Segments:
Coach has four product lines; Women's Handbags, Women's Accessories, Men's and All Other Products. These four product lines contributed 58%, 23%, 11% and 8% respectively to total revenues in FY13. Since the company started to focus on changing its brand image from a women's-only brand to a dual-gender brand, the contribution to total revenues from the men's segment has increased from 5% in 2011 to 11% in 2013.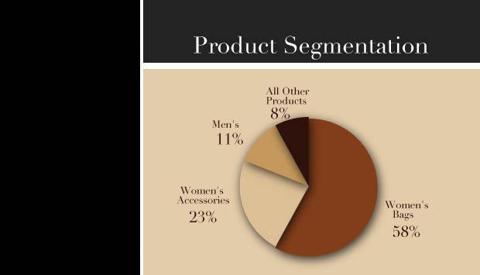 Seasonality:
Coach's business has historically generated higher revenues and higher operating income in the last quarter of the calendar year, with sales being driven by holiday spending. But a gradual improvement in its performance during other quarters has reduced its earnings' seasonality.
Industry Overview:
Coach is a leading player in the global personal luxury goods industry. The industry is expected to grow at a CAGR of 7.9% from 2012 to 2016. In 2012, the accessories segment, which is growing faster than other segments, accounted for 27.2% of the market and is expected to reach 29.3% by 2016. According to a recent Research & Markets report, growth in the luxury industry will be driven by increased demand from emerging markets like China, India and Brazil.
The performance of the luxury goods industry is mainly dependent on the fashion tastes of high income and upper-middle income groups. GDP growth, income levels, consumer confidence, brand value and e-commerce purchases are the main drivers of the industry, and of Coach's stock price as well.
Relative Performance:
We will compare Coach with its competitors Michael Kors Holdings Limited (NYSE:KORS), Ralph Lauren Corporation (NYSE:RL) and LVMH Moet Hennessy Louis Vuitton SA (OTCPK:LVMUY). Since Tory Burch is not publicly traded, it was not included in the comparison.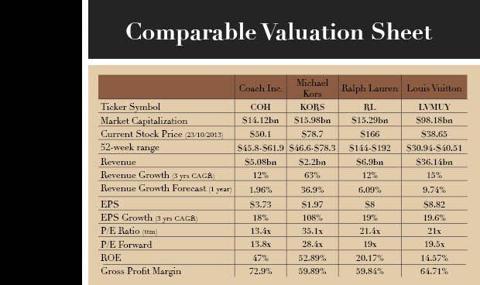 Historically, Coach had the biggest market share (30%) in the premium hand bags and accessories category. In the last three years, however, the company's market share and revenue growth has declined due to increased competition.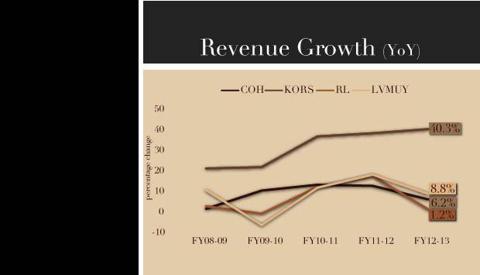 Michael Kors has witnessed high revenue growth rates since its IPO in 2011 due to rapid expansion in its store base and increasing product demand. Additionally, according to Pamela Danziger, an expert in consumer insights for luxury marketers, Michael Kors targets families who have high growth potential and earn between $250,000 and $500,000 a year. The spending of this target market has increased 11% since 2009.
Coach, however, is not doing as well financially. Its three-year revenue growth CAGR is 12%, which is equal to or lower than that of its competitors. On the other hand, Michael Kors' revenues grew at a three-year CAGR of 63%. Plus, Michael Kors beat Coach on EPS (earning per share) growth as well. Coach's EPS increased by a three-year CAGR of just 18% to 2012 compared to 108% for Michael Kors.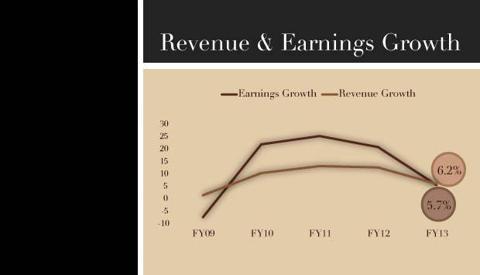 Coach's stock price performance YTD (year-to-date) has not matched the peer average; its share price declined 3% while the industry share price average increased 19%. Michael Kors' share price, meanwhile, increased 47% and outperformed the industry.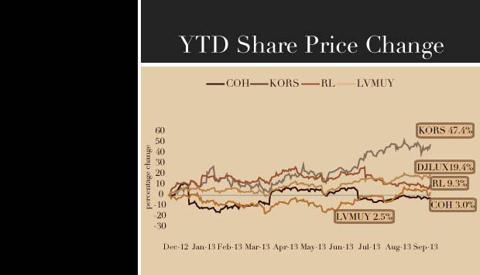 Upcoming Catalysts:
Expansion into the Chinese Market:
Coach is lowering its business risk by diversifying into international markets. It is rapidly opening stores in the fastest growing markets of Asia like China. It plans to add 30 more stores, all dual-gender, in China in FY14.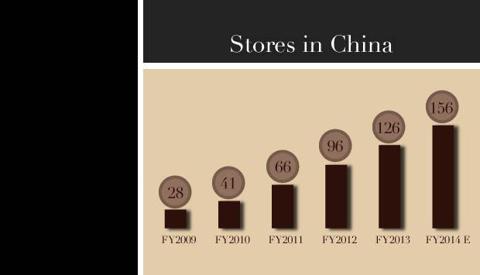 Brand Repositioning:
Since consumers' fashion preferences change over time, and competition for Coach is increasing, the company repositioned itself from an accessories brand to a lifestyle brand. As part of the change, it is creating a full-fledged footwear product line and plans to launch it in 50 new stores in FY14. Moreover, it is changing its focus from a women's only brand to a dual gender brand. This is due to the high revenue growth in the men's sector as men make 41% of total global luxury purchases, according to a report by Bain & Company.
Management Restructuring:
Coach's transformation also involves the replacement of key managerial personnel. Perhaps the most notable replacement is that of Reed Krakoff by Stuart Vevers as Executive Creative Director. Though Krakoff played an instrumental role in transforming Coach's image from traditional American style to hip-hop accessible luxury, analysts consider it positive news as it would eliminate the conflict of interest that he might have between his own label and Coach. Vevers has worked at Loewe, a well-known Spanish luxury fashion house. Bidness Etc thinks Coach's management restructuring may work and that it will lead to product innovation.
Increased Focus on Brand Presentation:
Coach has started to invest heavily in remodeling and expanding its stores in order to enhance its brand presentation, especially in department stores. According to a Credit Suisse report, Coach's under-emphasis on the presentation of its products in department stores has led to a loss in market share in the handbag & accessories segment.
Risks:Heightened Competition:
Competitors like Michael Kors and Tory Burch are giving Coach a tough time since they are offering comparable products at similar or lower prices. For example, Coach's Saffiano Tote costs $358 while a competing product offered by Michael Kors is sold at $298. In FY13, comparable store sales in North America increased just 0.7% for Coach, compared to 39.6% for Michael Kors. If the competition continues to increase, Coach's revenue growth and volume growth will trail off even more.
Brand Identity Crisis:
Coach has taken some bold steps to reposition the brand, which may backfire. While it is trying to become more of an accessible luxury brand, this may be a doubled-edged sword. Coach's products are high-priced due to their exclusivity, offering them to the middle income group through factory outlets may affect the company's brand image.
Coach claims that although it offers its products at discounted prices, it has taken measures to protect its brand image. The company maintains a distance of 30 miles between its factory outlets and retail stores so that it can serve different demographic groups. Moreover, only year-old products are sold at these outlets. Also, third party stores like Macy's, Inc. (NYSE:M), Bloomindale's Inc., Dillard's Inc. (NYSE:DDS), and Nordstrom, Inc. (NYSE:JWN) are not allowed to sell the discounted products.
At the same time, Coach might introduce expensive handbags costing between $2,000 and $5,000. The current average price of Coach's handbags, by comparison, is $317. If the company is not successful at clearly defining its brand distinction and target markets, consumers could become confused about Coach's brand identity.
Weakening of Yen:
Coach operates 191 stores In Japan and has approximately 17% share of the country's imported accessories market. Exchange rate fluctuations also affect the financial results. For example, in Q1FY14 the revenue rose by 2% on a constant currency basis but due to weaker yen, the figures were reported as a 22% decline in sales revenue.
Earnings Review (Q1FY14):
Coach had a disappointing result in Q1FY14, which led to a 7.7% drop in its share price to about $50 on October 22 2013. Its revenues missed expectations and decreased by 1% from $1.15 billion YoY. On a constant currency basis, however, there was an increase of 2%.
In North America, sales declined 1% YoY to $778 million. There was a decline of 6.8% in comparable same store sales, worse than the expected decline of 2.9%. According to Coach, sales fell because of lower traffic.
In the International segment, total revenues went down 1% YoY to $365 million due to a weaker yen. However, Chinese consumers responded well to Coach's products; the company's revenues rose 35% YoY.
Coach reported EPS of $0.77, beating the estimates by $0.01 due to better-than-expected gross margins and favorable decline in SG&A (selling, general and administrative) expenses. It should be noted that the current EPS is the same as Q1FY13.
For FY14, analysts estimate EPS to decline 3% YoY due to an expected decrease in gross margins, driven by increased factory clearance levels, weaker yen and rising labor costs. Moreover, Coach expects its total revenues to show a low single-digit growth in constant currency, and comparable same store sales to show a high single digit decline in its North America regional segment.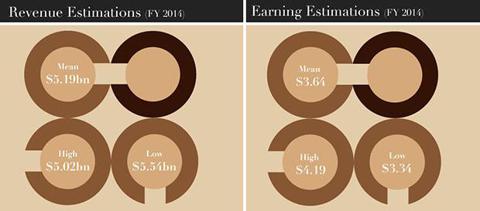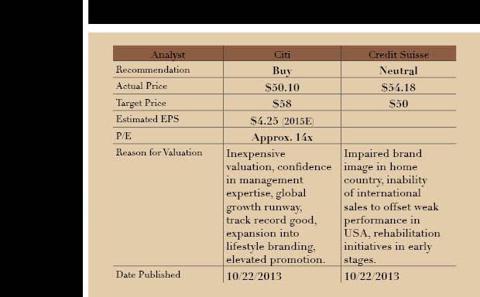 Valuation:
Coach is valued at a forward P/E multiple of 13.8x for FY14 and 12.4x for FY15. Both these P/E multiples are lower than its average five year P/E of 16.9x, which indicates that investors lowered earnings expectations from the company. Moreover, it is trading at a discount to its closest competitor, Michael Kors, whose forward P/E multiples are 28.4x for FY14 and 23.3x for FY15.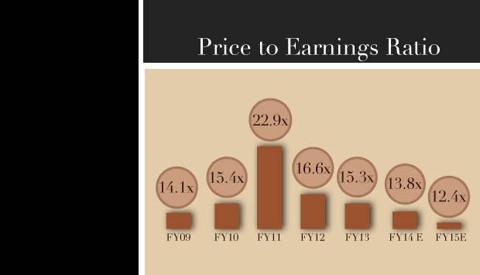 According to the consensus estimates, EPS is likely to decline 3%, which is Coach's lowest YoY growth rate after the recession. However, EPS is expected to grow 11% in 2015.
Conclusion:
Bidness Etc holds a cautious view about the future performance of Coach. The company has shown remarkable performance in the past and has been the market leader in the handbags and accessories category.
However, its future depends upon Coach's success in management restructuring, product innovation, brand repositioning and penetration into the international market. Considering this, Bidness Etc thinks Coach's stock is not a buy, as of now.
Sources:
Company Reports
Bloomberg
Disclosure: I have no positions in any stocks mentioned, and no plans to initiate any positions within the next 72 hours.
Business relationship disclosure: This article is written by Bidness Etc's Consumer Disc analyst. Bidness Etc is not receiving compensation for it. We have no business relationship with any company whose stock is mentioned in this article.