By Julian Murdoch
Harvesting In A Winter Wonderland
Cornfields across the Midwest are blanketed in snow, but the corn harvest, which is usually finished by the end of November, isn't quite done yet. Wet weather and full grain elevators have slowed down the harvest so much that the U.S. Department of Agriculture has estimated that nationwide, only 88 percent of the corn crop has been harvested. And here I am decorating the Christmas tree.
But of course, that figure varies from state to state. For example, in Illinois, the second-largest corn-producing state, The Kane County Chronicle reports that 15 to 20 percent of the crop is still in the fields. Meanwhile, in Wisconsin, another of the top-10-producing states, farmers estimate that 25 percent of their crops are still under snow.
Believe it or not, some of that corn could still be harvested, should the weather cooperate. If the snow remains light and dry, combine harvesters can just push right through it. But if the drifts get too large or the snow becomes too heavy, farmers risk damaging their combines or losing too much corn out the back of their machines with the ice - plus, when all that snow melts, the fields would get too soggy for heavy machinery.
In the Kane County Chronicle article, Scott Meyer, a grain merchandiser with agronomy services company Elburn Cooperative, stated, "It's going to take a solid week of good harvest days to get this corn picked."
Corn prices rose last week accordingly, with the March contract ending up over $4 for the first time in a week: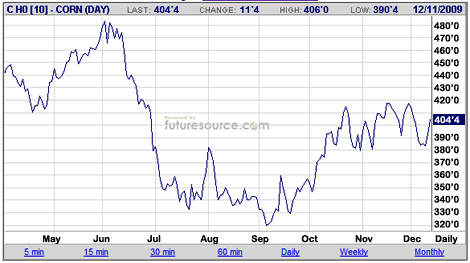 Corn Prices Moving Up?

This price bump comes after the market received some less-than-positive news from last Thursday's World Agriculture Supply and Demand Estimates [WASDE]. The USDA projected corn ending stocks to be 1,675 million bushes for the current 2009/10 market year - 50 million bushels higher than previously expected, due to increased crop yields. Exports were projected to be lower.
That's not exactly bullish news for the corn front. But because of the snow, yields may be less than expected, and the next ending stock projections could be much lower. Bloomberg reported that Joe Victor, a vice president with Allendale Inc. in Illinois, estimated that the corn harvest could drop by as much as 90 million bushels.
What could further push prices higher is the expectation that funds will need to buy more corn earlier next year to adjust their portfolios. Bloomberg quotes Roy Huckabay from the Linn Group in Chicago as saying, "The (corn) market is separating itself from the rest of trade, including the dollar and energies, because of the fund activity that is anticipated after the first of the year. The funds have got a lot of corn to buy, starting in January."
Mr. Huckabay is not the only analyst expecting increased fund activity. Mark Soderberg of Archer Financial Services said in his Friday Inside Futures article, "It is widely believed that early next month another wave of buying by the index traders will support prices as they reallocate their portfolios to higher exposures to corn."
If corn is headed up, how can you play it?
Exchange-Traded Corn Exposure

There are a number of exchange-traded products with corn exposure, such as the largest commodity ETF, PowerShares DB Commodity Index Tracking Fund (NYSEArca: DBC). However, although DBC has $4.1 billion in assets, only 5.6 percent of that is in corn.
For larger exposure to corn, you can try the PowerShares DB Agriculture Fund (NYSEArca: DBA). With $2.4 billion in assets, the ETF has 12.5 percent in corn.
The nice thing about DBA is that it has good trading volume and liquidity. But if you want something with even higher exposure to corn, a handful of grain ETNs can provide it, although they do have drawbacks - mainly low trading volume and high spreads.
First, there's the Elements MLCX Grains ETN (NYSEArca: GRU). With its components divided between 26.5 percent corn, 45.5 percent wheat, rest (28 percent) in soy and soy oil, you do get plenty of exposure to corn - but you also pick up even greater exposure to wheat and soybeans. The other problem is that it is pretty small ($7.8 million); even on a good day, GRU trades only 30,000 shares.
A better choice is the iPath DJ-UBS Grains Total Return Sub Index ETN (NYSEArca: JJG), which has 31 percent of its assets in corn, 25 percent in wheat and 44 percent in soybean. It's a larger ETN than GRU, with $65 million in assets, and it anecdotally trades with relatively thin spreads (for an ETN). At least with JJG, which trades anywhere from 45,000 to 53,000 shares on an average day, you can feel relatively assured you'd be able to unload 5,000 shares without too many problems.
With corn up from the low $3 levels it hit in September - and possibly poised to continue to move past the $4 mark - it may be time to think about gaining a bit more exposure to corn. After all, it wasn't that long ago corn hit some all-time highs.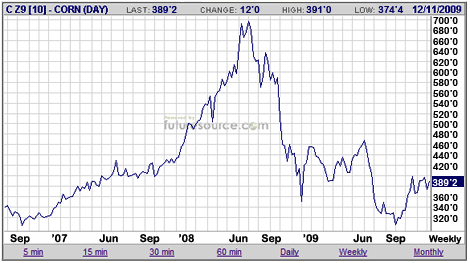 Of course, those highs were ethanol fueled, and ethanol has lost some of its appeal as the solution to high gasoline prices. But there is still room for corn to (dare I say it?) grow.