If Exxon Mobil's (NYSE:XOM) recently announced acquisition of XTO Energy (XTO) represents the beginning of a fresh trend in which large-cap multinational E&P companies begin gobbling up reserve-rich independents on a grand scale, which oilfield product and services suppliers might benefit most from such a shift? Put another way, which industry suppliers currently enjoy higher satisfaction ratings with multinational E&P companies and, as a result, might be expected to benefit disproportionately as a result of any buying spree on the part of larger operators?

The answer to the question lies in the characteristics that larger E&P companies tend to look for in their suppliers. At the head of this list are the health, safety and environmental (HSE) policies, practices and performance of a supplier, as all larger customers are going to require a supplier to be a safe and law-abiding operator. The good news is that most are. Outside of HSE, individual E&P companies place varying degrees of importance on different attributes and factors depending on their specific priorities and objectives. Nevertheless, some high-level drivers that we've identified over the years from EnergyPoint Research's independent customer satisfaction surveys that can provide some guidance.

First of all, it is important to note that the nominal "price" charged by a supplier is not nearly as strong of a determinant of larger customers' satisfaction with a supplier as the all-in "cost" of working with a supplier. In other words, a rock-bottom price on an invoice does very little to assuage the dissatisfaction larger customers feel when they pay additional dayrate and/or incur unplanned downtime because a supplier's product malfunctioned, the equipment and/or crew showed up late, etc.
Non-productive time, or NPT, is the enemy at most larger-cap E&P companies, and suppliers that appear friendly to the enemy usually aren't invited back.
Conversely, suppliers that demonstrate high levels of reliability and solid job quality and execution tend to enjoy preferred status.

Larger-cap customers also tend to prefer higher levels of service and professionalism. Specifically, flexibility and responsiveness to customer needs and accountability in resolving problems and disputes have exhibited the strongest influence on the overall satisfaction levels of large-cap customers in the past. Not surprisingly, research shows that suppliers rating well in these attributes invest in their people at higher-than-average rates. Communication and interpersonal skills are also emphasized and rewarded within these top-performing organizations, and the drive to develop and maintain strong professional customer relationships is pervasive.

So, given these criteria, which suppliers appear best positioned to benefit from a trend toward larger customers? Atop the list is Helmerich & Payne (NYSE:HP), which over the years has shifted both the performance and expectations curves in the U.S. land contract drilling segment by providing customers -- especially those with longer-term drilling programs -- both top-notch service and industry-leading rigs and crews. Parker Drilling (NYSE:PKD) also enjoys a relatively strong reputation with many of the industry's larger players, although its more international focus and degree of specialization likely limits its ability to benefit from deals involving independents that own onshore assets in North America.

Conversely, Unit Drilling (NYSE:UNT) and Patterson-UTI (NASDAQ:PTEN) have tended to rate lower with larger E&P customers, driven by lower marks in the areas of equipment and technology. Thus, both contractors could find themselves vulnerable to any ongoing shifts in reserves ownership. Click on the following to read more thoughts regarding

Helmerich & Payne

,

Parker Drilling

,

Patterson-UTI

and

Unit Drilling

.

On the oilfield services and equipment side, Smith International (SII) and Dril-Quip (NYSE:DRQ) are two suppliers that consistently stand out in the eyes of many larger customers. In addition, the world's largest drilling fluids services supplier, M-I SWACO, is the ratings leader in its segment. Accordingly, it seems the company, which is owned jointly by Smith International and Schlumberger (NYSE:SLB), is well positioned to pick up market share should further consolidation materialize.

Service suppliers that could potentially face challenges include privately-owned Expro International and Key Energy Services (NYSE:KEG). Click on the following to read more regarding

Smith International

,

Dril-Quip

,

Schlumberger

and

Key Energy Services

.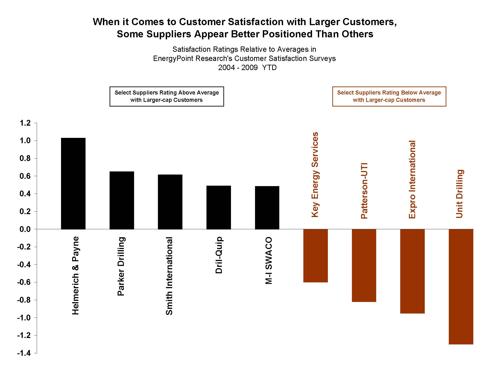 This report is derived from over 10,000 in-depth customer evaluations of suppliers of oilfield products and services, including more than 5,800 evaluations by respondents at larger customers (i.e., supermajors, majors and large national oil companies), via EnergyPoint's 2004 – 09 independent surveys.
Disclosure: No Positions