Fitch Ratings says demand for steel should recover from low levels at a modest pace over the next 12−18 months, but not to reach peak levels in the medium term.
"Pricing should be constrained by excess capacity, but raw material cost increases are expected to be passed through. Excess or below-cost production should be limited."
Regional differences in steel market dynamics have re-emerged and will be a major influence on steel producers' profitability and cash flow generation. Worldwide steel trade has fallen more than production as a result of sharply lower demand in importing nations, coupled with low capacity utilization and short lead times at domestic steel mills. Producers relying on exports will be exposed to price competition approaching marginal cost, intensifying trade barriers, and currency fluctuations.
Steel producer earnings were severely affected over the past year but most companies rated by Fitch improved their liquidity through cost reductions, working capital management, dividend reductions, spending reductions, capital raisings, and/or credit facility amendments. These measures should serve well over this period of slow recovery, and financial leverage should decline over the year.
Ratings remain under pressure given the severity of the downturn and limited visibility on the recovery.
China is dominant, accounting for 38% of global steel production and 37% of global steel consumption in 2008. While demand continues to grow, capacity increases have been outsized. This, coupled with high stocks at traders, results in a substantial overhang to the domestic market and limits price appreciation. Excess production would pressure weak domestic markets in Europe and North America or exports from Russia and Brazil. (Click to enlarge)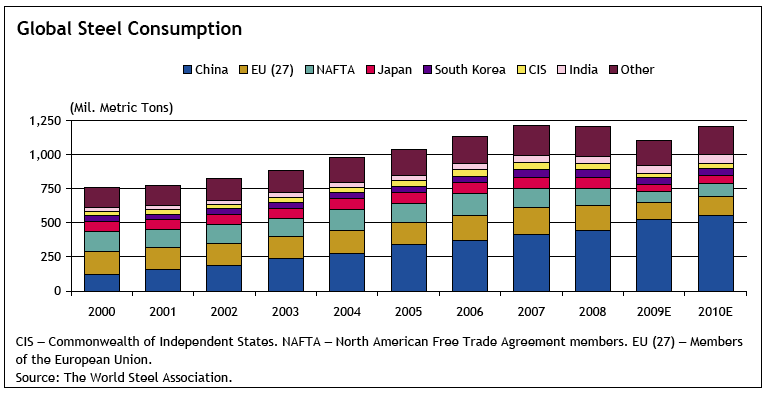 For details see: Worldwide Steel Outlook (The Worst is Behind Us, but so May Be the Best)