I've been reading prominent market pundits predicting everything from the "Crash of 2010 coming" to "Major surge ahead." With such divergence of predictions, it seems like a good time to remain conservatively long/short in accordance with Sabrient's SectorCast-ETF value-oriented model.
Although we are in a historically bullish time of year as we approach year end, the quantitative model doesn't know that, and it's telling us that all-weather sectors like Healthcare, Consumer Staples and Utilities are preferable right now to Materials, Industrials and Consumer Discretionary, which are more cyclical. Nevertheless, the re-emergence of InfoTech is a bullish sign, since no market rally is sustainable without leadership from the Technology sectors.
Latest rankings: As has become commonplace lately, Sector Detector tells us that Healthcare (XLV) still sports the best valuation with robust 87 score, and its lead over second place has broadened as Consumer Staples (XLP) has fallen back into a tie with Information Technology (IYW) with a score of 71. The high score for XLV is powered primarily by its low aggregate projected price to earnings ratio for the constituent stocks. It also benefits from a solid trailing 12-month return on equity. Although IYW and XLP are now tied, IYW has been rising while XLP has been dropping.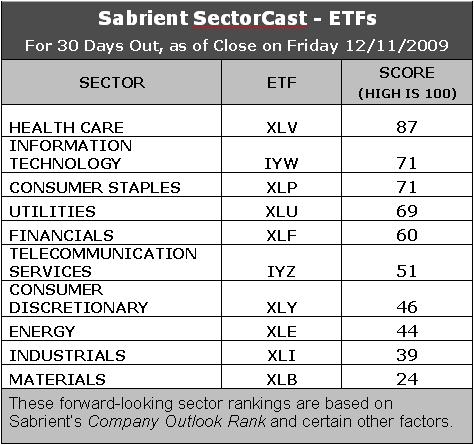 So, I'm going to go with the momentum and select IYW for this week's long/short portfolio. Top-ranked stocks within XLV and IYW include WellPoint (WLP), Biogen Idec (NASDAQ:BIIB), Pitney Bowes (NYSE:PBI) and Tech Data (NASDAQ:TECD).
At the bottom of the rankings, we again find Materials (XLB) as the fundamentally most overvalued sector with a low score of 24. That's actually down from 26 last week. It remains saddled with the highest aggregate projected P/E and negative trailing 12-month return ratios. Industrials (XLI) remains in ninth (of the 10 sectors) with a score of 39. It actually stole 2 points from XLB as it had a greater number of analyst upward earnings revisions among its constituent stocks this week.
No matter, though—these two sectors are once again at the bottom of the SectorCast-ETF rankings. Low-ranked stocks within these sectors include Dow Chemical (DOW), Vulcan Materials (NYSE:VMC), Textron (NYSE:TXT), and PACCAR (NASDAQ:PCAR).
These scores represent the view that Healthcare and Information Technology stocks may be undervalued overall, while Materials and Industrials stocks may be overvalued.
Performance: The table below shows the performance of each of the prior four weekly portfolio as of the market close on Tuesday, 12/15/09. The top-ranked XLV continues to easily outperform the SPY in every portfolio. And shorting XLB has worked well—at least up until this past week, during which it rallied in step with the SPY.

Overall, this continues to show how a sound absolute return approach can be effective in positioning an ETF portfolio to survive and thrive in any market climate.
Disclosure: Author has no positions in stocks or ETFs mentioned.