Standard & Poor's does not consider the capital goods sector as particularly fertile ground for large multibillion dollar transactions, and does not expect a big wave of transformative merger and acquisitions (M&A) in 2010.
Nonetheless, over the past few months, we have observed early signs of increasing activity among certain diversified industrial issuers. Others have acknowledged a growing appetite for external growth and commented that they see more potential opportunities developing in their acquisition pipeline. This is gradually supplanting the very cautious sentiment and focus on preserving financial strength of the first nine months of 2009.
The dozen investment-grade-rated diversified industrial issuers in the capital goods sector have all experienced reduced revenues and profits in 2009. Many entered the downturn with what we consider solid credit measures and the capacity to absorb some downside risk. Although most issuers' credit ratios have often fallen short of our expectations, most have managed to limit the deterioration and have preserved liquidity. While we left many issuer ratings unchanged throughout the downturn, we nonetheless lowered the ratings on several high-profile issuers or revised their rating outlook to negative in 2009.
Despite recent signs of sequentially improving order rates and the potential for some inventory rebuilding, we expect that growth will generally remain tepid throughout 2010. Therefore, it is not surprising that acquisitions are returning as a potentially attractive growth engine for management teams. (Click to enlarge)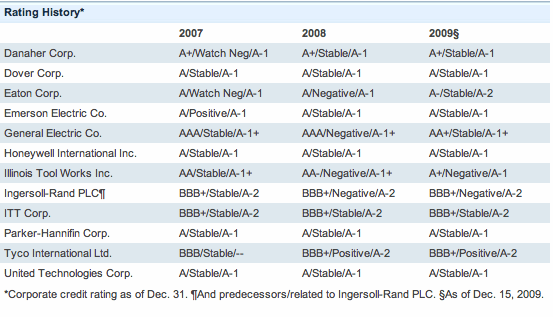 Through the downturn, industrial manufacturers' cash flows have benefited from tight working capital controls and from lower capital expenditures. Some companies have used cash flows to reduce debt, while others have gradually built up cash reserves. This liquidity may help fund acquisitions for several issuers.
Still, at the end of 2009, we believe that credit measures will remain generally weaker than our expectations for many issuers. While operating leverage could spur some recovery in operating profits in 2010 even with modest sales growth, the risks of a protracted period of flat demand or a "double dip" recession remains a concern.
While we believe that diversified industrials have generally retained, consistent with their current rating levels, some moderate capacity for acquisitions, those issuers with weaker-than-average credit metrics and modest excess cash reserves have limited capacity overall, in our view.