In an unprecedented move, the FDA has rescinded the Special Protocol Assessment agreement (NYSE:SPA) that it had concluded with Amarin (NASDAQ:AMRN).
Investors should take note since this bodes ill for Amarin's prospects of getting the ADCOM panel's decision overturned on Dec. 20.
This is a dangerous precedent that the FDA is setting; a company works with them to develop an SPA and then spends large amounts of their investors capital to run clinical trials based on that SPA's stated targets, achieves the targets that were set by the FDA and then gets left out to dry while the SPA is reneged on.
In the future, companies should be very wary of new studies coming out in the midst of their clinical trials. According to Amarin's Form 8-K filing, the FDA stated that their reasoning was based upon:
"results from the ACCORD-Lipid and AIM-HIGH outcome trials, as well as the publicly presented results from the HPS2-THRIVE outcome trial, which the FDA stated in its October 29, 2013 notice to Amarin, fail to support the hypothesis that a triglyceride-lowering drug significantly reduces the risk for cardiovascular events among statin-treated patients with mixed dyslipidemia and residually high serum triglyceride levels (200-499 mg/dL)."
Notice that these studies didn't demonstrate that lowering triglycerides failed to reduce the risk for cardiovascular events, nor did they demonstrate that lower triglyceride levels don't reduce the risk for cardiovascular events. All these studies do is fail to support the hypothesis that lowering triglycerides "significantly" reduced that risk.
Let me reiterate this to be clear, these studies do not say that a Vascepa like drug would not yield improvements for people who are at risk of cardiovascular disease; they are only unable to demonstrate a "significant" causal link that a reduction in triglycerides causes a reduction in cardiovascular events.
Accordingly, future clinical trial will now face an added risk factor. The FDA may independently invalidate the SPA, which is literally a contract, based on nothing more than some data coming out that is unable to support the benefits aimed in the SPA.
It is reasonable for new evidence that contradicts the fundamental basis of an SPA to be considered. However, it is not reasonable for new evidence that simply fails to support the basis of an SPA to have such a significant impact.
Following the news, Amarin's stock price took a hit on low volume in after hours trading: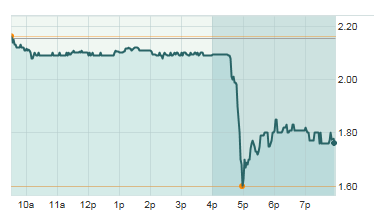 Nonetheless, even without the expanded approval, Amarin is still undervalued at these levels, see the article Amarin: Potentially Worth $3 To $4 Without Expanded Approval.
Disclosure: I am long AMRN. I wrote this article myself, and it expresses my own opinions. I am not receiving compensation for it (other than from Seeking Alpha). I have no business relationship with any company whose stock is mentioned in this article.