Introduction
I was happy to be one of those ignorant people who placed 8% of my income into my 401k each year and hoped it would work out when I wanted to retire sometime when I was 55 to 75. Who knows, right? 'It will just work itself out' was my logic. I did this for the first 8 years of my career, but that time ended in June. I had selected a family of funds based on interesting sounding names and through luck ended up doing ok - somehow. I recently changed jobs, which left me with an important question - stay in 401k or roll over to a traditional IRA? The only problem was, I had never really thought about retirement. I knew pretty much nothing about types of accounts, funds or individual equities. But, most important, I realized that I did not have a goal. In my search for answers on what a rollover was, I stumbled upon some great resources. Those resources ultimately landed me on this site.
First off, as a person new to the world of investing, I want to thank all of the great contributors (Chuck Carnevale, Bob Wells, comments from Chowder, and all the DGIs out there) who spend their time writing for this site. The last three months have been spent absorbing the wealth of information and ideas that are made available on Seeking Alpha. Second, I read and realized that the financial services businesses are not in my corner. While they are great at providing advice and resources, each is only looking out for itself. I was paying fees here and there that sounded small, but over a lifetime would eat away at me enjoying my retirement - whatever that meant. I also learned that the majority of the people (and funds) underperform the market. Thus, if I found a new advisor, the probability is such that I would pay he or she to do worse than sticking it in a generic market matching ETF. The result would be a double hit of fees and underperformance on my account. Thus came the realization that I was better off spending my time on education of investing than paying someone else to do it. 'Teach a man to fish…' right? So where do I stand?
Goal
After learning from all of you, I now have a goal. I will retire in 35 years (at age 65). My goal will be to replace $100k in income (in today's dollars). This will be achieved by a combination of dividend income and traditional 4% withdraw. The goal will be to retire with an account value of $11.8M. Before now, I never would have known what age or how much money I will need to retire. I also would not be saving enough to be able to afford to retire. So, how will I get there?
Strategy
Luckily for me, I was saving, just not very intelligently. My current account balance is around $300k. I will max out the contributions of two 401ks each year (all of the above represents myself and my significant other) for $35k plus an additional $5k to a Roth IRA for a total of $40k in new funds each year. My total contributions over the next 35 years will be $1.7M. The target growth rate for the portfolio is 8.5%. This will take me to my goal account value at retirement of $11.8M.
The portfolio will be divided into two pieces. The first piece is made up of the accounts that I have relatively little control over - the 401ks. I will not tell you the provider, but let's just say the options for any type of brokerage account means ridiculous fees that I am not willing to pay, as well as limited options of what I can invest in even if I do pay the fees. For the 401ks (2/3 of the portfolio currently), I will look to use a combination of S&P 500 ETF like SPY (60%), S&P Mid Cap ETF like IJK (25%), and a S&P Small Cap ETF like IJR (15%). This should provide a great diversification within the US market and based on historic performance, give me a realistic chance to reach my target return rate of 8.5%. It will also represent a set it and forget it strategy. I know that isn't the best, but as I have learned there is no point in trying to time the market. Each of these accounts will be rolled over to the traditional IRA portfolio whenever possible. The other piece is made up of dividend growth investments (1/3 of the portfolio currently). The rules and business plan of this portfolio are detailed below. This will represent the semi-active management piece of the portfolio. I expect to make a handful of trades each year, but it will be much more hands on than the 401k portion of the portfolio.
Account Structure
Currently, the account structure is not as I would like to take advantage of all of the tax benefits that are available. Roughly 2/3 of the funds sit in a Traditional IRA or 401k. The other 1/3 is in a brokerage account (it was sitting in a savings account until I started reading Seeking Alpha a few months ago…ouch!) that will be used to transfer into the maxing out of two Roth IRAs (with the additional new funds). This will allow me to maximize my tax-advantaged accounts. The rest will remain in the brokerage account.
The DGI Business Plan
As many on Seeking Alpha have suggested, it is best to have a set structure for a portfolio to ensure that emotions do not get in the way of decision making. This business plan will reflect my personal goal of achieving my income target at retirement.
Business Plan Basics
Name: My DIY DGI Portfolio (I need a better name)
Primary Goal: Generate an income stream from dividend paying stocks in tax-advantaged accounts that help me meet my retirement income goals of $100k (current dollars) in income in 35 years. This portion of my total portfolio will be disproportionately responsible for income over time. As such, the goal will be to contribute $40k in income by 2048.
Secondary Goal: I want to shoot for a 10 x 10 strategy to get 10% dividend on cost within 10 years. This will help me set a baseline.
Tertiary Goal: Get an education on DGI so that in retirement I can continue to manage my portfolio once I am able to access all of my retirement funds.
Starting Value: $115k
Additional Funds: $11,000 will be added each year to a Roth IRA. All dividends will remain in the account and will be reinvested per the guidelines below.
Total Expected Contributions: $489k over 30 years
10 Rules of Portfolio Selection
With the goal of creating a long-term accumulation of wealth, it will be important that I do not purchase overvalued stock. It is also important that I ensure the selections have a strong business model that will fuel the dividend increases that I desire. In order to make it into the portfolio, the stock must meet the following restrictions:
Initial yield the greater of 2.5% or 150% of S&P 500 yield at the time of selection.
Chowder Rule: Yield + 5 year growth rate greater than 8%, target greater than 12%.
Chowder Modified Rule for DGI: Yield + 5 year dividend growth rate greater than 10%, but target greater than 12%.
5 years of earning growth (EBITA), does not require linearity, but linearity is preferred.
P/E Ratio less than 15. It is preferable to have a P/E Ratio less than 10% of the stocks 5 year average P/E Ratio.
Debt to Equity ratio < 50%. This is not a hard rule. It can vary by industry, but the portfolio goal is to be < 50%.
Dividend payout ratio < 60%. I am open to REITs and would make the logical exception to this rule.
Company has price protection or the infamous moat.
Price at least $5 per share.
I have an awareness and understanding of the business model.
While this is the initial list, I expect that as I learn more these rules will adapt to my learning.
Portfolio Construction
The goal is to create a relatively stable portfolio of dividend growing stocks. Because of this, the following guidelines will be used when creating the portfolio.
Dividend Growth for 25 years - 30% of portfolio
Dividend Growth for 15 years - 40% of portfolio
Dividend Growth for 10 years - 30% of portfolio
Initial positions will be a minimum of $3k
A full position will be $5k of my funds invested (does not include dividend reinvestment)
No more than 5 companies within the same industry
The above distribution is a guideline. It is of course acceptable to have a higher percent allocated to stocks that have been growing dividends longer if there are additional opportunities in that category.
Dividend Reinvestment
Company must currently meet yield targets, balanced portfolio requirements, and P/E Ratio rules set above.
Reinvestment does not have to be a current position. A new position can be created if total funds available are over $3k.
All things equal, select the stock with the highest dividend percent above trailing 52-week dividend average. This should be the stock with the greatest upside potential for principle growth.
Stock Selling Rules
If a stock cuts or reduces its dividend.
If dividend is frozen for 6th consecutive quarters.
If P/E ratio gets > 25% above expectation of 5 year average P/E ratio.
Review if company has Yield + 5 year growth <9%
If any stock has more than 6% of total portfolio value it will be trimmed.
Portfolio Review
In order to be successful this cannot be a set it and forget it portfolio. I will be providing a quarterly update on the portfolio to the readers here on Seeking Alpha. This will encourage me to review the portfolio and maintain an active interest in its maintenance. Also, during the construction phase (the next year), I will be providing more frequent updates as to the decisions I make to include different stocks to the portfolio. I encourage you to provide as much feedback as you can. As I mentioned, I started out without a goal and have come this far. Now is the hard part.
First Stock Review
Why wait to get started? Today I will use the 10 steps outlined above to review the first potential stock to add to my DGI Portfolio. The first stock on the list to review is one that I see in many DGI portfolios - Target (NYSE:TGT). What makes it interesting? Well, it is of course a Dividend Champion paying out dividends since 1965, has reasonable growth potential for an organization of its size with the Canada expansion, and has been buying back its shares.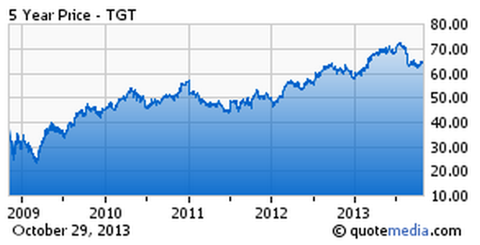 | | | | |
| --- | --- | --- | --- |
| | Target | Goal | Pass / Fail |
| Yield | 2.7% | 2.9% | Fail |
| Chowder Rule | 12.3% | 12.0% | Pass |
| Modified Chowder Rule | 23.1% | 12.0% | Pass |
| 5 Year EBITA Growth | 4.06% | 0.1% | Pass |
| P/E Ratio | 15.52 | 15.0% | Fail |
| Debt to Equity | 90.0% | 50.0% | Fail |
| Dividend Payout | 30% | 60% | Pass |
| Price Protection | Modest | Modest | Pass |
| Min. Share Price | $64.31 | $5.00 | Pass |
| Do I know the Business Model | Yes | Yes | Pass |
Source: Google Finance, Y Charts
Target passed 7 of the 10 rules that I suggested above. More specifically, it is currently failing on Yield, P/E Ratio and Debt to Equity. As the Chowder rule is a pass at current levels, I could be flexible on it not meeting 150% greater than the S&P 500. The P/E Ratio is getting close to where I would find it acceptable. Target is trading a bit above its historic range (P/E of 11-14 for 2011 and 2012). I am fine to wait for the P/E to drop a bit. The last fail was on debt to equity. The company is moving in the right direction over the past 5 years.
| | |
| --- | --- |
| Year | Debt to Equity July Quarter Close |
| 2009 | 1.4 |
| 2010 | 1.1 |
| 2011 | 1.1 |
| 2012 | 1.1 |
| 2013 | 0.9 |
Source: Y Charts
Compared to its peers, Target still has room to improve its debt to equity.
| | | |
| --- | --- | --- |
| Stock | Ticker | Debt to Equity |
| Target | TGT | 0.9 |
| Walmart | WMT | 0.8 |
| Macy's | M | 1.2 |
| Costco | COST | 0.5 |
| Sears | SHLD | 0.7 |
Source: Y Charts
At this point, I am willing to wait until Target shares drop a bit more before I am willing to buy it as the first stock for my DIY DGI portfolio.
Conclusion
For all of you out there that are like me, and you know who you are, it is time to take action. First, sit down and do the math. You will be shocked how much you need to save in order to earn your retirement number. It will not just happen, you need to take responsibility to make it happen. Learn the differences and take advantage of all taxable accounts. Then set a plan in place on how you will manage your business and your retirement.
Disclosure: I have no positions in any stocks mentioned, and no plans to initiate any positions within the next 72 hours. I wrote this article myself, and it expresses my own opinions. I am not receiving compensation for it (other than from Seeking Alpha). I have no business relationship with any company whose stock is mentioned in this article.