Summary & Recommendation
We are initiating on Supernus Pharmaceuticals, Inc. (NASDAQ: SUPN) with a positive outlook. The Company has two products, Oxtellar XR™ and Trokendi XR™, for the treatment of epilepsy that were recently FDA approved and has steady uptake in the marketplace. In the U.S. alone, some 2 million people are affected by epilepsy. Globally, epilepsy affects 50 million people. According to data from IMS Health, U.S. sales of antiepilepsy drugs totaled $4 billion in 2011.
Supernus is a Rockville, Maryland-based specialty pharmaceutical company that is focused on the development and commercialization of products for the treatment of central nervous system diseases. The company has recently seen the launch of two products for the treatment of epilepsy. It also has a robust product pipeline and as a result, institutional interest from analysts and investors has been on the rise. Over the last six months, Supernus shares have gained more than 22%. Given the company's market potential and managements strong product commercialization capabilities we believe that Supernus can gain a sizable marketshare of the AED market.
Strong Market Opportunity in Antiepilepsy (AED) Treatment Market
Supernus has two products, Oxtellar XR™ and Trokendi XR™, for the treatment of epilepsy. In the U.S. alone, some 2 million people are affected by epilepsy. Globally, epilepsy affects 50 million people. According to data from IMS Health, U.S. sales of antiepilepsy drugs totaled $4 billion in 2011.
Currently more than 15 approved AEDs are available in the U.S. Many of the existing AEDs, however, have serious side effects, which can limit their usefulness. Another major issue is complying with drug treatment regimens. Patient non-compliance with AED therapy is a serious issue and is one of the most common causes of breakthrough seizures. Existing immediate release products also have serious side effects and lack tolerability. Finally, several branded AEDs have been replaced by generics lately. Several patients have switched from branded drugs to generics to reduce costs associated with treatment. Patients also frequently switch from one generic to another. However the New York Times and Epilepsy.com note that epilepsy patients are vulnerable to changes in their drugs or formulations as slight variations in the blood concentrations of these drugs could result in the occurrence of breakthrough seizures. In fact in its research Lancet Neurology found that switching an AED from branded to generics increased poor outcomes as well as higher medical costs as a result of increased seizures.
SUPN's Differentiated AEDs
When considering the side-effect, combined with the poor outcomes and increased seizures as a result of non-compliance and switching to generics, there clearly exists a need for improved AEDs.
Supernus' core competency and novel therapies, Oxtellar XR (extended release) and Trokendi XR (extended release), are well positioned to address the gap that exists in the $4 billion AED market.
Oxtellar XR and Trokendi XR are extended release versions of two common AEDs; Novartis' (NYSE: NVS) Trileptal (oxcarbazepine) and Johnson & Johnson's (NYSE: JNJ) Topamax (topiramate). Both, oxcarbazepine and topiramate, are available in genetic generic form as well.
Oxtellar XR's and Trokendi XR's have a significantly lower and improved side-effect profile, which provides a direct advantage over immediate release drugs, which are takes 2 to 3 times, currently available in the market.
Extended release products also improve compliance and reduce breakthrough seizures. The improved safety profile of extended release products compared to similar immediate release products has been supported by several studies. In particular, Acta Neurologica Scandinavica found a 41% reduction in side effects after switching to extended release formulations of AEDs.
In addition, extended release products tend to do well in the epilepsy treatment market. IMS Health, notes that prescription data for seizure drugs from 1994 to 2005 shows that extended release products perform better than new chemical entities (NCEs).
Oxtellar XR was approved by the U.S. FDA on October 19, 2012 as an adjunctive therapy for partial seizures in adults and in children 6 years to 17 years of age. Oxtellar XR delivers oxcarbazepine, which was marketed as Trileptal by Novartis. Before the entry of generic products, Trileptal peak global sales reached $721 million in 2006 when it represented 8.1% of the total seizure disorder market. According to IMS Health, oxcarbazepine currently represents around 2.8% of total AED prescriptions.
SUPN's Product Pipeline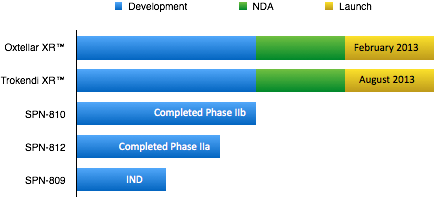 Source: Company presentation
Trokendi XR received a final approval from the U.S. FDA in August for monotherapy in patients 10 years of age and older with partial onset or primary generalized tonic-clonic seizures; adjunctive therapy in patients 6 years of age and older with partial onset or primary generalized tonic-clonic seizures; and adjunctive therapy in patients 6 years of age and older with seizures associated with Lennox-Gastaut syndrome.
A Management Team with a Track Record of Execution
With two of its products now approved, Supernus management has executed and delivered on its promises. The management team is comprised mostly of Shire (NASDAQ: SHPG) executives as a result of a spin-off and IPO of Supernus that occurred in May 2012 with five products in its pipeline. Since going public the company received FDA approval and launched Oxtellar XR tablets in the U.S. on February 2013. According to IMS data, Oxtellar XR prescriptions totaled 3,648 prescriptions in the second quarter of 2013. More than 1,100 target physicians have prescribed Oxtellar XR since its launch.
During the third quarter, Supernus launched Trokendi XR following the final approval in August. The once-daily extended release formulation of topiramate is now available to patients in the U.S.
The company has built its sales force from the ground up and it is now a major player in epilepsy, offering two novel and differentiated products to patients.
Unrecognized Potential for Improved Compliance
Oxtellar XR has strong data that suggests improved safety profile vs. the competing drug. Although not a head-to-head trial, its side effects are significantly better that Trileptal.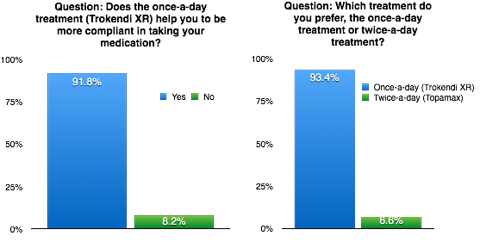 Source: Company reports - Responses of sixty-one patients at the end of Trokendi XR U.S. Phase II study.
Both Oxtellar XR and Trokendi XR have significant potential, given the performance of similar extended release products that have been launched in the U.S. epilepsy market over the past 15 years.
Based on the responses, one can safely say that Trokendi XR can capture significant topiramate market share following its launch. The same can be expected from Oxtellar XR.
According to brokerage firm, Jefferies, each of the drugs can reach around $250 million in peak sales by 2021. Jefferies had said in a research note earlier this year that its sales projections are based on very modest pricing/share capture assumptions.
The brokerage firm said in its report that topiramate and oxcarbazepine generate very high prescription volume in a relatively large epilepsy market. The topiramate market is currently estimated at 11 million annual prescriptions and the oxcarbazepine market is estimated at 3.5 million annual prescriptions. Even assuming very modest penetration rates, Jeffries notes that peak U.S. sales for Oxtellar XR could reach $258 million by 2021, while Trokendi XR could reach $235 million by 2021.
Sufficient Cash; Strong Balance Sheet
Supernus has sufficient cash on its balance sheet, which will help the company accelerate the commercialization of Oxtellar XR and Trokendi XR. At the end of the second quarter of 2013, the company had $118.7 million in cash, cash equivalents and marketable securities. The company's cash position was boosted by a $90 million Convertible Senior Secured Notes offering in May this year.
Supernus expects its current cash reserves and long-term investments to be sufficient to fund operations through the end of 2014. By this time, the company expects to be cash flow break even. Of course, faster adoption of the newly launched AEDs will further boost Supernus' cash position.
Robust Product Pipeline
While Supernus remains committed to epilepsy treatment, the company is also developing a psychiatry portfolio, which includes 2 product candidates for the treatment of ADHD or its coexisting conditions and 1 product candidate for depression.
Supernus is developing SPN-810 as a novel treatment for impulsive aggression in patients with ADHD. In November last year, the company had reported positive Phase IIb results for SPN-810. The company is also developing SPN-812 as a novel nonstimulant treatment for ADHD that has successfully completed its Phase IIa study. Finally, it is also developing SPN-809, a novel once-daily norepinephrine reuptake inhibitor for the treatment of depression.
SUPN Trading at a Discount = Good Investment Opportunity
Given the potential for Oxtellar XR and Trokendi XR and its product pipeline for ADHD, Supernus has a multi-billion dollar market potential. This is not reflected in the current valuation. Based on analysts' First Call consensus, Supernus trades at a significant discount to its peers based on Enterprise Value (EV)-to-2014 Sales multiple of 2.0x. This compares to a nearly 20x multiple to applied to the peer group, which include Depomed (NASDAQ: DEPO) and Cadence (NASDAQ: CADX). Analysts project Supernus to deliver $80 million of revenues for 2014, which is exponentially higher that the estimated $10 million expected for 2013.

First Call consensus for Supernus' price target is $10.20, which is an implied EV multiple of 3.3x on 2014 sales. Should the company exceed analysts' estimates, shares of SUPN could trade even higher. We believe this is possible given the company's current valuation and expected growth potential.
Conclusion
Supernus has proven its ability to execute and deliver on its strategy and results. Its product launches are met with remarkable demand in a market where clinicians are seeking efficacious AEDs with less side-effects and dosages to drive compliance and reduce the re-occurrence of epileptic seizures. Supernus' Oxtellar XR and Trokendi XR are FDA approved products that have recently launched this and will address the demand to drive compliance in the AED market. Combined with a strong balance sheet with $118 million of cash. The company management team has established credibility to execute on its commercialization strategy to deliver strong top-line growth. We believe that SUPN's story has gone unnoticed which may explain why its shares are trading discount to its peers. This presents an excellent opportunity and a compelling investment proposition.
Supernus has not yet announced the date of the release of its third quarter results. Based on previous announcements, we anticipate the company reporting results during the second week of November.
Disclosure: I have no positions in any stocks mentioned, and no plans to initiate any positions within the next 72 hours.
Business relationship disclosure: COCKRELL GROUP does and seeks to do business with companies covered in COCKRELL GROUP Research. As a result, investors should be aware that the firm may have a conflict of interest that could affect the objectivity of COCKRELL GROUP Research. Investors should consider COCKRELL GROUP Research as only a single factor in making their investment decision.CertificationThe following analysts hereby certify that their views about the companies and their securities discussed in this report are accurately expressed and that they have not received and will not receive direct or indirect compensation in exchange for expressing specific recommendations or views in this report.Unless otherwise stated, the individuals listed on the cover page of this report are research analysts