Amedisys (NASDAQ:AMED) came to my attention Wednesday out of research I was conducting in the health care sector. It appears to be very attractively valued. Baird has its target price set at $77 and its current forward looking P/E is 7x, the lowest among peers. Gentiva Health Services (NASDAQ:GTIV) trades at 10x and Almost Family (NASDAQ:AFAM) trades at 13x.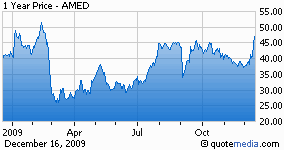 On Tuesday AMED broke out nicely to above $46, a level it has not able to achieve for the last half a year.
I have to admit that I have a bad habit of questioning any apparent cheapness in equities. My Chicago School root would suggest that the market should be viewed as perfectly efficient, meaning that if there is a cheap stock, someone would bid it up to levels where it is no longer cheap. I have been quite accepting of heresy so I do acknowledge that the market is sometimes inefficient and I am here to fix it and profit while I am doing the 'fixing'. Yet I retained the very bad habit of demanding a very good reason for a stock's cheapness.
The reason I found for the Amedisys' cheapness rid me of any motivation to buy this stock.
Fellow Seeking Alpha contributor Kevin Mulhern had this article published on Tuesday talking about Amedisys's value proposition and its breakout. Several comments followed his article, and I think some of them are very valid.
Here are a few:
But AMED's lack of appointing a COO may drag on the stock. Management made the usual "we have a great list of applicants" comment after the very unexpected departure of the last COO - but has been silent on the COO search for months. Also, your revenue growth stats above are true -- but are based on buyouts more than same-store revenue growth. The Obama heathcare uncertainty will affect revenue growth in 2010. - by 909

You are witnessing a short squeeze, nothing more. The fundamentals and low relative valuation are very deceiving for this stock. When the Feds raid AMED for Medicare fraud (their entire infrastructure is set up to maximize payouts from the gov't), as they did at Wellcare, AMED will be a goner. Good luck. I suggest you read the citron report which hits this issue on the head. The executive departures were simultaneous, and, curiously those in charge of their infrastructure system. - by wizenutz
Basically they pointed out two problems: 1) sudden departure of the COO and CIO, and 2) AMED may be up under Medicare fraud investigation.
Noticeably there was recently a report out of Citron Research discussing these problems in depth. Besides the problem exposed, the article offered two links to two forums where employees discuss Amedisys. My general impression from reading the forums is negative. Let me put it this way: I would never want to side with a management that makes its employees unhappy.
To be fair to Amedisys, a Jefferies analyst responded to the Citron Research article charge. Here are his points of defense:
Citron writes that "Amedisys has received numerous ADR (Additional Document Requests) from its corresponding RAC firms in mid July." Not true in our view. To date, AMED has received no RAC requests. In fact, most (if not all) RAC requests have been directed towards hospitals. Home nursing providers like AMED could begin receiving RAC requests in 2010.
Additional Documentation Requests (ADRs), which are separate from RACs and are issued by Medicare fiscal intermediaries (outside contractors that pay Medicare claims on behalf of CMS), are routine requests for additional patient data needed to accurately reimburse a submitted claim. Providers like AMED get these requests on a regular basis and are in no way indicative of any fraudulent billing practices. Here are a few other thoughts.
As we wrote in our AMED report dated 9/4/09, we believe the resignation of the former COO and CIO was due to a failed internal power struggle, not fear of an impending investigation as Citron alleges.
Point of care technology, which has been rolled out over the last three years, has standardized clinical care delivery and improved billing efficiency. Given that AMED is routinely audited as an ordinary course of business, any issues with the POC system would likely have been uncovered by now.
We remain skeptical that former nurses are reaching out to Citron to discuss personal AMED work experiences. We believe that any nurse with a legitimate concern would have already approached the Department of Justice where the opportunity for financial gain exists as part of a qui tam lawsuit.
Another report from a BB&T analyst gave me a heart attack even though he was positive on Amedisys. The report had a list of risk factors. One of them is not a business risk but rather particularly related to its stock: AMED's shares continue to be a target of short selling investors. Here is my rule: between an analyst and a short seller, I side with the short seller. Why: Short sellers have their money down; analysts don't.
A search on the short interest reveals a significant increase in short interest on Amedisys.

| Settlement Date | Short Interest | Avg Daily Share Volume | Days To Cover |
| --- | --- | --- | --- |
| 11/30/2009 | 14,897,700 | 531,779 | 28.014833 |
| 11/13/2009 | 13,717,995 | 975,510 | 14.062383 |
| 10/30/2009 | 10,751,353 | 1,200,847 | 8.953141 |
| 10/15/2009 | 9,224,508 | 922,606 | 9.998318 |
| 9/30/2009 | 8,973,613 | 1,276,543 | 7.029621 |
| 9/15/2009 | 9,566,270 | 3,939,882 | 2.428060 |

Well, my interest in Amedisys is completely gone by now, breakout or not. The risk behind this stock is more than what I can bear. If I had to make a bet, I would have to go short.

Disclosure: No positions