Take Two Interactive (NASDAQ:TTWO) reported its earnings results for the 2nd quarter of their 2014 fiscal year and shocked investors with a 45% earnings surprise on the analyst estimate with a non-GAAP EPS of $2.49.
The developer cited much better than expected sales figures for the groundbreaking release Grand Theft Auto V -GTA V - with 29M copies sold, and an 85% increase in digitally delivered content, primarily online game downloads and content sales, due to robust demand.
TTWO boosted its outlook for the rest of the year to an EPS between $3.50 and $3.75 per share on Net Revenues of $2.2 to $2.3 B. Management also announced an unnamed series of 10 unique titles were expected to be released between now and the end of the 2015 fiscal year (June 30, 2015).
TTWO was also able to make an unprecedented announcement - management expects every year from now on to be profitable.
In the Spotlight - GTA V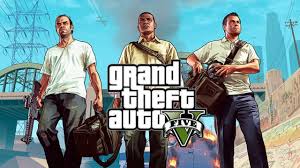 Take-Two announced more than 29 M copies of the game were sold to date. To put this into perspective, the series outsold its predecessor GTA IV within 6 weeks of the launch, and has outsold every past release of the game by a significant margin:

Further to this, GTA V has outsold every title in Activision's (NASDAQ:ATVI) Call of Duty series and Electronic Arts' (NASDAQ:EA) Battlefield series and now holds the record for sales in the video game industry.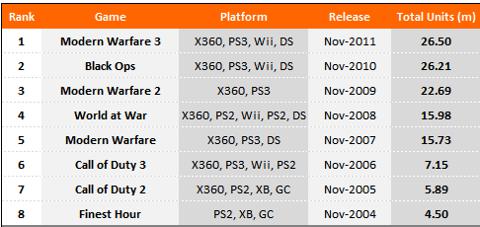 From the release date on the 17th of September to the end of the quarter on the 30th, GTA V contributed approximately $1,1 B in net revenues to Take Two, and management expects approximately $450 M in revenue from Rockstar in the third quarter, the bulk of which will also be from the game.
These outstanding results were in my opinion the combination of several factors played incredibly well by TTWO:
1) No significant competing title - Gamer attention was not split with another highly anticipated title in the timeframe during which the game was released and GTA V was able to take the spotlight.
2) Anticipation for the game was exceptional - Online gaming forums were full of excitement and there was an enormous buzz for the game in the few weeks prior to the release, from both fans of the series and newcomers as evidenced by the sales quickly surpassing GTA IV.
3) Marketing for the game was thorough and well executed - TTWO increased expenditures by $56 M on marketing compared to the same quarter in 2012, and it was certainly evident. I myself was surprised at how many ads I saw for the game, and it is quite evident that this spending had an effective return.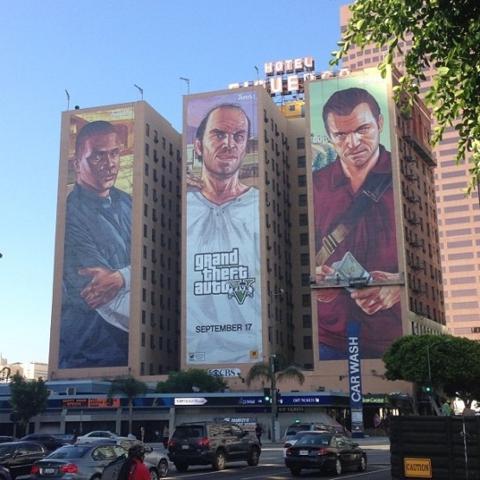 Overall, TTWO was able to generate an incredible following for the game and these efforts certainly added significantly to sales more than the content alone could have.
Financial Results
The distinction in GAAP and non-GAAP earnings to TTWO was particularly important this quarter, therefore I will start my analysis with a quick explanation of the impact. GTA V was released initially as a single player game on September 17th, 2013. Everyone who purchased the game also received access to the Grand Theft Auto Online, the multiplayer version. However this access was not available until October 1st, therefore requiring TTWO to defer the revenues from the game in their statement of operations. Since it would not be relevant in my analysis to follow this deferral, I will only use the non-GAAP figures below.
With this in mind, sales figures including the deferred revenues for the quarter were of $1,269 M and on this same basis the company reported a gross profit of $496.9 M or 39.15%. The gross margin decreased slightly from the prior year and compared to future projections as royalties and software development costs related to the game increased.
The non-GAAP net income was of $325.6 M after a significant increase to marketing expenses to promote GTA and additional expenditures relating to an exchange of a convertible debt note during the quarter.
Earnings Forecast and Valuation
Take Two management announced they anticipate a EPS between $3.50 and 3.75 for the fiscal year 2014 (ending June 30, 2014) on revenues between $2.2 and $2.3 B. of this estimate, GTA V will represent approximately 75% of the revenues for this year. TTWO expects the gross margins relatively consistent at 40%.
Based on this projection, the closing price on Tuesday (October 29th) represents a forward P/E between 4.75 and 5.
Let me repeat that... Forward P/E based on these results of 5!
Of course, it would not be reasonable to pair this forward P/E with just any company as the video game industry is incredibly cyclical and we cannot expect TTWO to release another GTA title next year to similar acclaim and results. However, TTWO has a catalogue of very successful titles, and its first ever opening of the GTA Online leads to a new potential source of income through online purchases by players.
For the time being, this valuation stacks up incredibly well with the competitors EA and ATVI each with more than double forward P/E. On this basis, TTWO is quite significantly undervalued against its competitors and the share price has a good deal of room to move up.

Source - Finviz Charts
Why I like TTWO
The video game industry today is insanely competitive. Consumer demands are incredibly high, and titles that are less than ground breaking and do not deliver the highest quality entertainment simply don't stand a chance.
In the same way, developers without adequately huge and captivating titles are doomed while those with the major titles fight hard to keep their spot on top. In this circumstance, TTWO remains my favorite developer since they are able to continuously and consistently deliver an excellent product. Evidence of this comes from the stellar reviews of some of their biggest titles:
| | | |
| --- | --- | --- |
| TItle | Metascore | IGN Rating |
| Grand Theft Auto V | 97 | 10.0 |
| Bioshock Infinite | 94 | 9.4 |
| Red Dead Redemption | 95 | 9.7 |
| Sid Meyer's Civilization V | 90 | 9.0 |
| Borderlands 2 | 91 | 9.0 |
| NBA 2K13 | 90 | 9.1 |
While many of these series have had titles released recently, there is still plenty of room for more content. TTWO has stated it expects another 10 unnamed titles released between now and the end of the 2015 fiscal year, which will help it maintain a high level of sales and profitability.
Conclusion
TTWO has had an amazing quarter and GTA V has produced incredible sales results. This release was a very profitable release for the company all the while allowing it to expand the franchise into the online game play realm.
Based on the current valuation at 5x the expected EPS of the 2014 fiscal year (ending June 30, 2014), Take-Two is significantly undervalued against its competitors. While we can't expect TTWO to continue delivering titles of such magnitude year after year, I believe their strong portfolio of games will provide the company with strong results rendering them more than just profitable in the coming years.
As a result, I am very bullish on TTWO's future, not just during this stellar quarter but into the longer term and I am looking forward to the company's future as a shareholder nearly as much as I am looking forward to playing the titles as a gamer.
Source - Take Two Q2 Earnings Results
Disclosure: I am long TTWO. I wrote this article myself, and it expresses my own opinions. I am not receiving compensation for it (other than from Seeking Alpha). I have no business relationship with any company whose stock is mentioned in this article.