A Brief History
Incorporated in 1969, DSW Inc is a specialty branded footwear retailer operating in the United States. The company offers a wide selection of brand name and designer dress, casual and athletic footwear for both men and women.
Currently, this company has leading market share (grown from 2% in 2005, when it first went public, to 4.5% today) in the adult footwear industry. The current small but rapid rising market share means that DSW still has a long way to go in its growth journey. The stock performance has been stellar since listed, yielding approximately 17% capital appreciation a year (see chart below)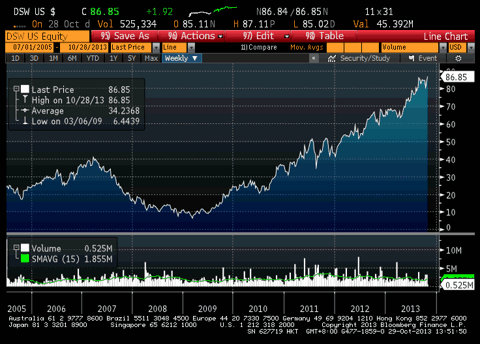 The Investment Story and Research
The company has been aggressively expanding. Revenue and profit has also been growing exceptionally. Their growth strategy involves expanding their store base (management has indicated they are looking to open 500 stores over the longer term, with 376 stores now open), driving sales through enhanced merchandising and leveraging their existing operating model.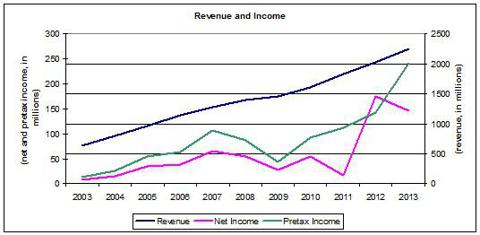 As shown in the above chart (shown end of fiscal year), earnings and revenue have been growing rapidly for the past 10 years. Looking at the net income line (pink line), investors might feel nervous and start to ask, "What's with the recent negative downward trend"?
The answer lies within the tax expenses. As shown above, the pretax income (green line) has constantly been hauling upwards. In 2012, the firm incurred an income tax benefit, as opposed to this year, when the firm accounted for an income tax provision, which ultimately drove down the net income. However, as shown in the pretax income line, the profit generation of DSW's day to day operations is extremely robust.
Gross margins has been wide (north of 30% in the past 3 years) and still edging upwards with its strong operation efficiency (pricing and cost management).
Economic Moat
The business has two distinctive advantage over its competitors: breadth of selection and perception of value with discount.
The company's stores carry a wide selection of footwear under numerous brand names. Many brand names are exclusive to DSW. Currently, 40% of the woman's footwear sales (this division contributes approximately 57% to the overall revenue in the company) is credited to sales of brands that are exclusive to DSW.
Their assortments are priced at least 20% below MSRP, which is very attractive for retailers under the company's reward program.
In conclusion, the investment story for DSW is that it is a fast-growing footwear retailer with strong and exclusive brand names, which is growing earnings by store expansion and market share gains.
Valuation and Key Risks
The major risk in my investment thesis is that in the near future, online store competition might start to capture overall market share from the traditional "brick and mortar" stores (area where DSW generated immense growth over the years). comScore estimates that 13% of the existing footwear revenue in the market is generated via online mechanisms. DSW's revenue growth will suffer if their online business segment (still a small part of the overall business) falls behind.
The stock currently trades at $86.53 as of writing. From the balance sheet (as of August 3, 2013), the company currently has a net cash per share (cash and ST investments over total debt) of 5.94, which is about 6.9% of current market cap. The company generates enough cash flow to self sustain operational costs, hence making this cash a nice "bonus" for investors.
The trailing 12m PE ratio is 25.6x, and excluding the net cash (which is a bonus), the ex-cash PE ratio is 23.8x. Over the past 5 years, pretax earnings have grown at a rate of 22.5% per year. With aggressive store expansion plans and an existing competitive advantage (replicating its existing successful strategy in multiple locations), this growth number should be sustainable at least for the coming three to five years.
Hence, the PEG ratio is close to 1, indicating the stock is fairly valued. The company has taken an initiative to reward its shareholders by issuing a dividend payment from 2011. With a strong capital position and cash generation capability, it is highly likely that the company can conduct a stock buyback program and/or raise dividend in the coming years to further boost returns for shareholders.
Despite the PEG method labeling DSW as "fairly valued," I see DSW to be a wonderful growth company. DSW has a strong balance sheet (no borrowing debt) with net cash, strong sales/income growth with a strong economic moat. I classify this to be a high-conviction call on this fast-growing company. This is a company where investors can buy and hold to enjoy the capital appreciation as the profits rocket forward.
To paraphrase Warren Buffett: I'd much rather buy a wonderful business at a fair price than buy a fair business at a wonderful price.
Disclosure: I have no positions in any stocks mentioned, but may initiate a long position in DSW over the next 72 hours. I wrote this article myself, and it expresses my own opinions. I am not receiving compensation for it (other than from Seeking Alpha). I have no business relationship with any company whose stock is mentioned in this article.