Technology continues to reward those who have been patient with various subsectors and after earnings from both Baidu (NASDAQ:BIDU) and 3D Systems (NYSE:DDD) we think that further patience will lead to further gains. Both companies find themselves as market leaders within their sectors and both are in fast growing, momentum driven areas of the tech world. Being bullish these names does not come without risk as Google (NASDAQ:GOOG) could always opt to re-enter the internet search market in China and HP (NYSE:HPQ) could become a big player in 3D printing. Right now however, that is not the narrative and the momentum and trend should be viewed as one's friend.
Chart of the Day:
Many technology names have been big winners this year and those winners are part of the reason the Nasdaq Composite is once again approaching 4,000.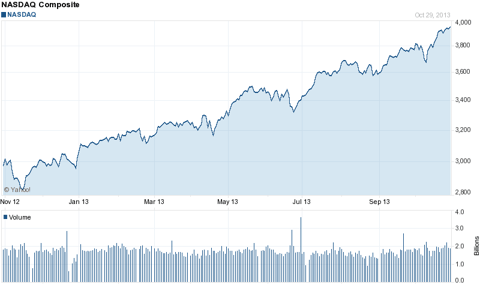 Source: Yahoo Finance
We have economic news today and it is as follows:
MBA Mortgage Index (7:00 a.m. EST): Est: N/A Actual: 6.4%
ADP Emp Change (8:15 a.m. EST): Est: 125k Actual: 0.4%
CPI (8:30 a.m. EST): Est: 0.1% Actual: 0.2%
Core CPI (8:30 a.m. EST): Est: 0.1% Actual: 0.1%
Crude Inventories (10:30 a.m. EST): Est: N/A
FOMC Rate Decision (2:00 p.m. EST): Est: 0.25%
Asian markets finished higher today:
All Ordinaries -- up 0.27%
Shanghai Composite -- up 1.48%
Nikkei 225 -- up 1.23%
NZSE 50 -- up 0.32%
Seoul Composite -- up 0.38%
In Europe, markets are trading higher this morning:
CAC 40 -- up 0.44%
DAX -- up 0.32%
FTSE 100 -- up 0.45%
OSE -- down 0.15%
Chinese Internet Stocks Should Rise Today...
As we anticipated Baidu reported strong numbers for their most recent quarter ended and guided for a better than expected fourth quarter. The current quarter's strong numbers were attributed to strength in Baidu's mobile business, further evidence that the company seems to have cracked the mobile code with the Chinese internet search user. Net income grew by 1.3% for the current quarter, but readers should be aware that the company is investing heavily in their mobile efforts and thus the revenue numbers are what is important. Baidu shares appear set to open at 52-week highs this morning as they guided revenues for Q4 between 9.22 billion to 9.48 billion yuan - well above the analyst consensus of 8.904 billion yuan heading into earnings. Brean Capital upgraded the shares to a 'Buy' from a 'Hold' with a new price target of $200/share for Baidu and we expect the next few weeks will see more firms raise their ratings, price targets and numbers on the company. One might want to wait to sell some into that strength, but we still think the proper move is to hold the remaining position from our recommendation, which is essentially the house's money. For those looking for further information on the company, we always recommend reading/listening to the earnings call transcripts of companies, and this link will take you to Baidu's.
Momentum is clearly on the bulls' side as it pertains to Baidu, so we shall remain bullish here - especially after the positive Q4 guidance.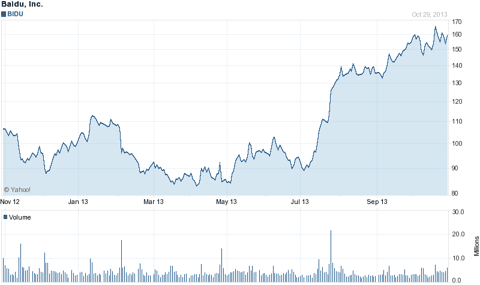 Source: Yahoo Finance
For those looking at other Chinese internet names, we would caution against trying to establish a position in Sohu.com (NASDAQ:SOHU) right now due to their latest earnings disappointment and instead focus on SINA (NASDAQ:SINA) which will report earnings on November 12th and still offers what we would consider a clean slate. One wants to buy the names, which have positive news flows when investing in momentum names, and right now Sohu.com's news flow is more negative than positive. That will be a drag moving forward.
3D Printing Continues The Move Higher...
We have watched as technology has given us a number of mini-bull markets to invest in that seem to have plenty of momentum behind them. Most investors are so zoned in on the social networks that they have missed some of these opportunities but the good thing about our writing these daily market commentary articles is that we get exposure to various momentum names and sectors via our own research and emails from readers. One of the top momentum plays we have been lucky enough to have called this year is the 3D printing sector, with 3D Systems being our big winner within the industry.
One of our big winners this year is about to double from levels where we went bullish. It is always worth celebrating when one has a 100% gainer in a period less than 12 months.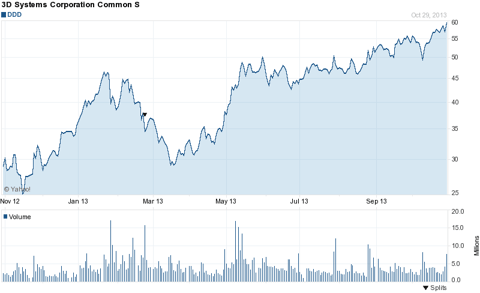 Source: Yahoo Finance
3D Systems appears set to open the session at fresh 52-week highs based off of pre-market activity after the company reported Q3 results, which beat on both the top and bottom lines. Some may look to the company's lowered outlook on their full-year profit guidance but in our view that is bullish, most certainly not bearish as 3D Systems is spending heavily to expand their business. We live somewhat close to the company's headquarters located in Rock Hill, SC and see their news reported in our local paper. The company is expanding their production capabilities and hiring new employees to continue their rapid growth rate moving forward, so like we discussed earlier with Baidu one needs to pay far closer attention to the top line numbers rather than the EPS figures. Also of significance this morning is the news that Canon has joined 3D Systems' reseller network (press release located here).
3D Systems' competitor Stratasys (NASDAQ:SSYS) will report earnings on November 7th and could be another good way to play this rapidly growing market. We like 3D Systems much more, but Stratasys has also been a good performer and is another market leader within the sector.
Disclosure: I have no positions in any stocks mentioned, and no plans to initiate any positions within the next 72 hours. I wrote this article myself, and it expresses my own opinions. I am not receiving compensation for it (other than from Seeking Alpha). I have no business relationship with any company whose stock is mentioned in this article.