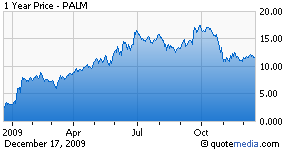 Palm (PALM) is expected to report Q2 earnings after the market close on Thursday, December 17, with a conference call scheduled for 4:30 pm ET.
Guidance
The consensus estimate is (32c) for EPS and $266.17M for revenue, according to First Call. Last quarter, Palm beat average analysts expectations by .15/shr or 60%. Guidance on the last earnings call was for Q2 revenue $240M-$270M, below consensus at the time. The company said they see FY10 revenue $1.6B-$1.8B vs. consensus at the time of $1.57B. The options activity in Palm recently took on a mostly bullish tone, with the bulk of the trading taking place in Palm's December $11 calls.
Analyst Views
Shares of Palm Inc. got a lift Tuesday morning as MKM Partners upgraded their rating on Palm to a Buy. That came a day after another broker upgrade for a stock that has slipped by more than 30% over the last two months on concerns about sales of the company's new line of smartphones. Since Palm is currently posting losses, Susquehanna believes the key metrics in Q2 will be webOS units and expected forward trajectory, gross margins, and projected additional carrier wins. Susquehanna expecta webOS units to decline sequentially in Palm's Q2 to about 590K units, vs. the consensus at 610K; however, they estimate a significant ramp in units to above 1.3M for the next two quarters in order for Palm to achieve its FY10 revenue target. They see minor risks to adjusted non-GAAP revenue/EPS estimates of $259M/(29c). Susquehanna is modeling total smartphone units of 687K (591K webOS units), and a device ASP of $377 ($383 webOS ASP) vs. consensus of 673K (610K webOS units) at an ASP of $379. They estimate gross margins to decline 90 bps sequentially on lower volumes to 27.0% from 27.9%, and expect gross margin to remain under 30% exiting FY10. Susquehanna maintains their Neutral opinion as they believe increased competition in the smarthphone market, particularly from Google's (NASDAQ:GOOG) Android platform, could prove their estimates for Palm's ramp in units in the second half of FY10 aggressive, while valuation at this level and unit sell-in to new carriers and markets should provide downside support. Shares have been under significant pressure since hitting a high above $17 per share in late September, retreating 31% owing to increased competitive risks, demand concerns, and further evidence that a potential Nokia (NYSE:NOK) take-out is unlikely.
KEY ISSUES: Analysts believe Palm will likely announce plans for Verizon Wireless (NYSE:VZ) to sell one of its phones at the Consumer Electronics show in January. Some also expect Palm to have a new phone launch at the show. Verizon Wireless said earlier this year that it expected to be able to sell Palm's Pre in early 2010. Others also see AT&T Inc (NYSE:T) as a potential partner for Palm, which currently sells its Pre and Pixi phones exclusively through Sprint Nextel (NYSE:S). The big question is whether Palm, whose Pre was seen by many as the highlight of 2009's event, will come out with a show-stealing, groundbreaking device again or just an upgrade to the Pre.