By Bryan McCormick
Ahead of its earnings report after the closing bell today, Palm (PALM) presents a tricky situation.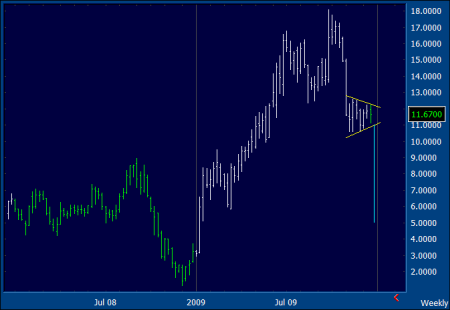 Its weekly chart shows a potential bearish "pennant" pattern, shown here in yellow, that will trigger on a move below $10.90. The potential downside is to the $5 area, indicated by the light blue vertical line.

Against that bearish picture, there is a whopping 38 percent of the float short or more. Traders are clearly expecting extremely bad news.

If the handset maker issues an upside surprise, that has the potential to become one heck of a squeeze. The bearish pattern would be completely voided on a move back above $12.50.

PALM is up 1 percent to 11.73 in afternoon trading. The shares have gone as high as $12.25 and as low as $11.15 in the session.
(Chart data provided by Thomson Reuters)