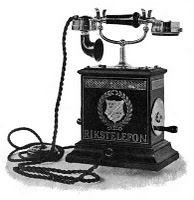 By now, everyone knows that land lines are decreasing, cell phone usage is increasing, and more and more households are now using cell phones as their primary if not their only phone. The phone companies aren't standing still; they are pushing plenty of other services besides the usual telecommunications.

Since investors are constantly being bombarded by the "death of regular telephone services," a lot of downward pressure has been exerted on telecom stocks, maybe a bit more than necessary. This drop in stock prices has caused the yields to go up, creating some interesting income opportunities. WallStreetNewsNetwork.com has turned up a dozen of these stocks yielding more than 5%.

As an example, Iowa Telecommunications Services (IWA), which serves customers in rural Iowa, Minnesota, and Missouri, pays an outstanding yield of 9.6%. The company's operating cash flow of $86 million is more than enough to cover its $53 million in dividend payouts. The market cap is $556 million.

Another high paying telecom stock is Centurytel, Inc. (NYSE:CTL), with a 7.8% payout. This Louisiana based company pays $833 million in dividends, easily covered by the $1.15 billion in operating cash flow. The market cap is $10.46 billion.

To see the rest of the high paying telecommunications companies, check out the free Excel database of top yielding telecom stocks here.

Disclosure: Author does not own any of the above.